There's so much to love about The Mandalorian. Obviously it gifted us all with Baby Yoda, the greatest part of any galaxy. It also features a compelling story, a fantastic cast of characters, exciting action sequences, comedy, hope, and heartbreak. Also, the show looks fantastic. It's one of the best and most fully realized explorations of the Star Wars universe. And now you can show off how much you love all things Mando with your own personal look. A new, limited-edition Mandalorian jewelry set features three memorable pieces seen on the show.
GameStop
GameStop is now accepting pre-orders on its exclusive The Mandalorian Jewelry Set (which we first heard about at Toy Wizards). This Force Pack set comes with three distinct pieces fans of the series will immediately recognize. That includes a wearable replica Client Cog medal, like the one sported by Werner Herzog's Galactic Empire loyalist. Normally we wouldn't endorse supporting that evil organization and its servants, but we definitely support Werner Herzog's time on Star Wars. So we'll make an exception this time for him.
Lucasfilm
The collection also has one replica Beskar credit, which features the same Empire insignia as the ones on the show. It's a reminder that the Empire once possessed it. That rectangle piece of metal was sacred to the Mandalorians. The Client enticed Mando to take the bounty on "The Asset" by promising him an enormous amount of Beskar metal.
We don't recommend melting down this replica to create a piece of armor though. That will ruin your collection and not protect you in any way.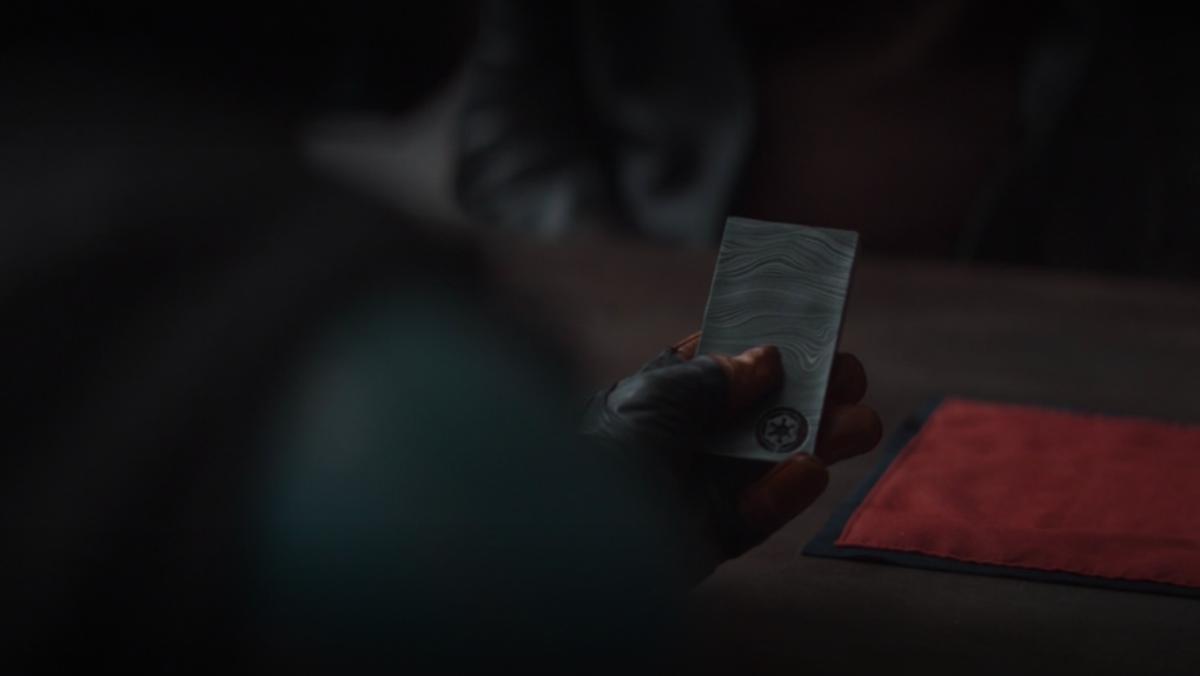 Lucasfilm
And finally there's also a gunmetal tone Mythosaur necklace, which was previously known best as the sigil of Boba Fett. We still don't know why Mando, whose real name is Din Djarin, had one himself. Legend says the giant Mythosaur once ran rampant over the planet of Mandalore long, long ago. Mando gave the necklace to Baby Yoda during the show's first season, proving that "The Child" is so adorable he can even make a symbol of a terrifying monster look cute.
Aww, look at him teething on the monster pendant. Just the best.
The set also comes packaged "in an attractive Mandalorian-themed collector's box that is ideal for display." It features a painting of a Mythosaur on top, with the show's official title, which includes a strutting Mando, on the front of the box. A red interior also shows a black Mythosaur sigil surrounded by the words "Mandalorian Bounty Hunter."
GameStop
You can order yours now for $79.99. GameStop expects to start shipping them this spring, on April 20. You might not want to wait long to place your order though if you are looking to get one for yourself (or for any big-eared green babies you've adopted). They are only producing and selling 9,600 total, with each box will be individually numbered. They will also come with a certificate of authenticity. That's important. You don't want to be fooled by imitation replica jewelry from a fictional galaxy far, far away.
Think about how it would look if you wore a knock-off Mandalorian pendant. That is definitely not the way.
Featured Image: GameStop