Soon Galaxy's Edge won't be the only way fans of the galaxy far, far away can immerse themselves in the world of Star Wars. Last summer, Disney announced another major attraction designed to personally transport us into our favorite space saga. The Mouse House will let guests live out their dream of boarding a ship with the Galactic Starcruiser hotel experience. For two days, visitors can eat, sleep, and live the life of a Resistance member, in what promises to be a hotel unlike any other. But that was probably underselling it. Disney announced it will soon begin taking reservations for the Galactic Starcruiser. And to celebrate, it offered up the latest look at what we can expect. It is absolutely insane.
The Disney Parks Blog revealed (in news we first came across at Collider) that later this year fans can start making reservations for its new hotel. Star Wars: Galactic Starcruiser will open in 2021 at Walt Disney World. It won't be like staying at the Polynesian or Grand Floridian, though. Galactic Starcruiser is not designed as a place to sleep after a long day at the park. It is a park itself.
Visitors will arrive at the hotel's terminal. They will then be "launched" from a pod to "board" the Halycon starcruiser. For two days and two nights, guests will then be completely immersed in a nonstop Star Wars experience. Those staying at the hotel will get to walk through an atrium, take a personal tour of the bridge, have a drink in the Silver C Lounge, and "sneak into" the engine room to see how the ship stays runs.
Young and old alike will get a chance to wield a lightsaber against a training remote. All of your training on the ship, which includes learning its navigation and defense systems, will "ultimately pay off" as part of a "much bigger galactic Star Wars story."
Disney
The experience extends to each guest's own personal quarters too. All of the ship's rooms, which can hold up to five people, are based one ones in the galaxy far, far away. The only thing missing from its bunk beds is an injured Luke Skywalker sleeping in one. Each room also comes with a "view" too. You can look out your window and see the stars, planets, and other ships passing by.
But you won't be cooped up inside for your entire stay. Guests will also get to take an excursion into the park. They'll visit the Black Spire Outpost on Batuu. A special transport will take those staying at Galactic Starcruiser to Disney World's Galaxy Edge so they get the full experience. That way you won't have to miss out on going on Smuggler's Run and Rise of the Resistance.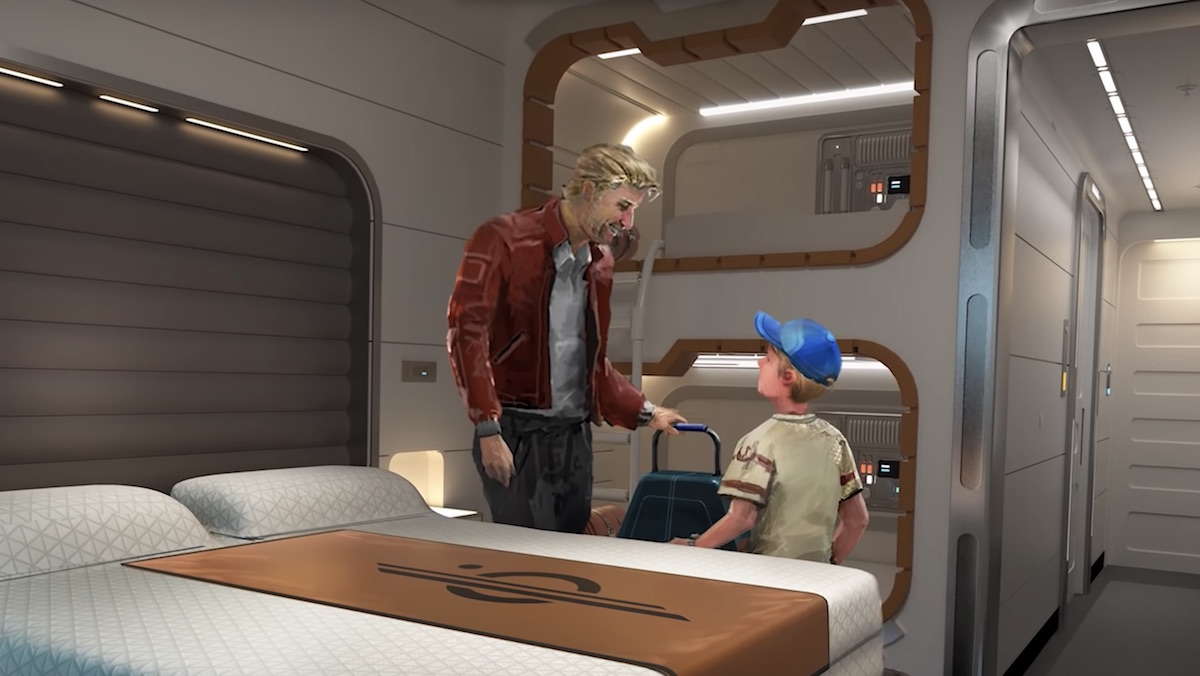 Disney
You can sign up to get updates on the hotel and its opening through the official Disney website. Hopefully we'll soon get an announcement on what it will cost to ride aboard the Galactic Starcruiser. Previous reports said it could be $3,300 for a room, which would be $660 a person for their two night stay.
Any chance we can use the Halycon to do some smuggling of our own? There's nothing more immersive than needing extra credits to get around the galaxy far, far away?
Featured Image: Disney