The galaxy far, far away might have blue milk, and that's great for the kids. But the Star Trek universe is where the beverage choices are a little more grown-up in nature. And we're not just talking about Romulan Ale either. (that one gets all the attention). Well, now you can get your own Star Trek wines. Each is based on drinks seen in various iterations of the franchise. In addition, Wines That Rock, creators of the Federation's finest drinks, has just added two new wine offerings to their selection.
Wines That Rock
The new series of limited-edition wines include the 2021 Andorian Blue Chardonnay. Yes, that's blue wine from a blue-skinned alien race. Andorian drinks were first seen on Star Trek: Enterprise. Also coming soon is one of the most sought after, highly collectible bottles in the Star Trek universe, a 2021 Cardassian Kanar red wine blend. Fans of Deep Space Nine are very familiar with this one, served in Quark's bar on the classic series.
2021 Andorian Blue Chardonnay
Wines that Rock
These bottles of Andorian Blue Chardonnay are one-of-a-kind and hand-numbered. They feature elegant silkscreen designs and a special United Federation of Planets metal medallion affixed to the front. A premium Chardonnay from Santa Lucia Highlands, this wine has a stellar blue color. One that pays homage to the history of colorful Star Trek spirits. It's aged 12 months before bottling and has delicious notes of citrus, peach, and apricots.
Cardassian Kanar Red Wine Blend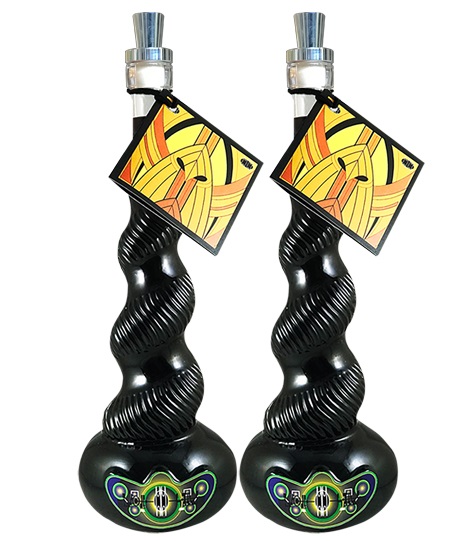 Wines that Rock
In a quest for authenticity, the team conducted a rigorous multi-year search for an original Cardassian Kanar bottle, a unique, serpent-shaped vessel originally utilized in the 1950s through the 1970s in Europe. With only a handful of the original bottles found, they rendered the few remaining in 3D in Southern Italy for accuracy to recreate an identical replica, resulting in one of the most fascinating bottles in the galaxy.
The wine is a delicious, premium red blend of Cabernet Sauvignon, Merlot, Petite Sirah, and Petite Verdot, resulting in a dark, rich wine with notes of ripe blackberries and juicy blueberries, velvety tannins, and a long, delightful finish. Cardassians like Gul Dukat would have been all over this one, pouring a glass for himself at Terok Nor.
Both wines are now available for pre-sale. Star Trek Wines and Wines That Rock is also proud to offer their complete collection, "The Full Armada." It features all six unique offerings: Chateau Picard Cru Bordeaux, Federation of Planets Old Vine Zinfandel and Sauvignon Blanc, Klingon Bloodwine, and now, the Cardassian Kanar Red Wine Blend and Andorian Blue Chardonnay.
All are now available at startrekwines.com.