SpongeBob Squarepants debuted on Nickelodeon on May 1, 1999. Do you know what that means? The show is now old enough to buy alcohol. And we know just how the denizens of Bikini Bottom should celebrate coming of age. They should throw a huge luau at the Krusty Krab and serve cocktails in Mondo's new line of SpongeBob tiki mugs.
And there's already a "Pineapple Under the Sea" recipe for them to try.
Mondo
The latest addition to Mondo's line of pop culture tiki mugs celebrate Nickelodeon's beloved animated series. There are three different options, all designed by Joe Allard and sculpted by Ramirez Studios. The first is a 32-ounce one of SpongeBob himself. The mug ($50) features our favorite fry-cook looking like he might have had a few too many tiki mugs himself. It's like he's giving his concerned friends a double thumbs-up while they get him some water.
SpongeBob's best friend Patrick also has his own mug ($60). It's our favorite of the bunch. The big lovable starfish can hold 25 ounces, but looks shocked that anyone would be drinking out of the top of his pointy head.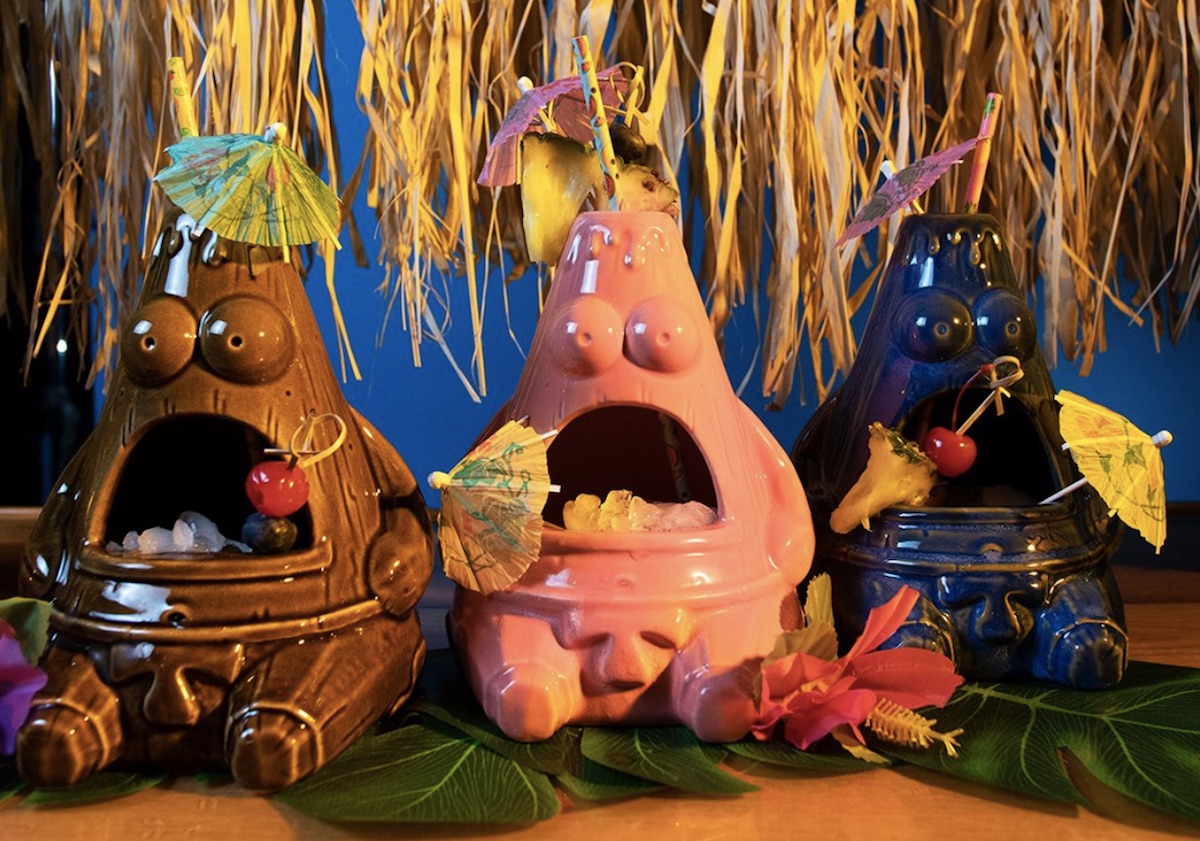 Mondo
Finally there's one based on Squidward's moai-inspired house. The 30-ounce drinkware ($55) is much less of a buzzkill than Squidward would be.
There's no way he'd enjoy any party where guests were drinking out of tiki mugs.
Mondo
Each mug comes with three options. They are all available in a base color that matches the series. And all three designs feature Riptide and Driftwood variants. The Riptide mugs have a blue/brown glaze, and the Driftwood mugs come with a reactive brown glaze.
Mondo also shared a perfect recipe for them. Their "Pineapple Under the Sea" cocktail calls for pineapple juice, rum, blue curaçao, and cream of coconut, along with a pineapple wedge and maraschino cherries for garnish.
Yeah that sounds delicious.
But only people—and TV shows—that are 21 and older should drink them.
Featured Image: Mondo