We've been both intrigued and disturbed by some of the candy cane offerings available at Archie McPhee. The novelty shop's lineup of weird, savory, and sometimes upsetting holiday "treats" have included such flavors as mac & cheese, rotisserie chicken, and pickle. Not exactly peppermint or egg nog. We never thought we'd a more bizarre option than their clam-flavored candy canes, though. Yes, clam. But this year's new additions to the lineup include a flavor that might have finally gone too far. Because while ketchup almost seems reasonable, and pho potentially passable, shiitake mushroom-flavored candy canes do not sound fun(gus).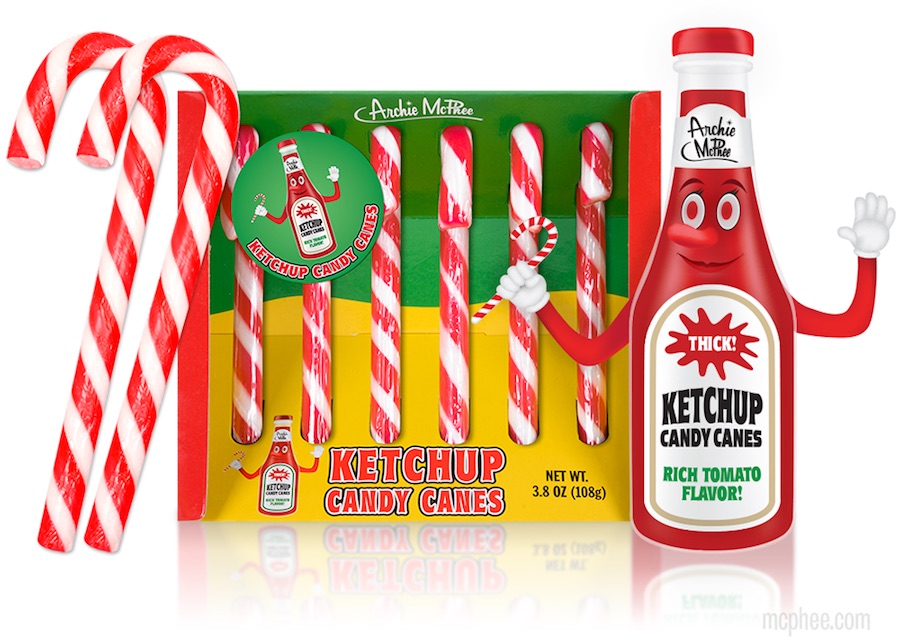 Archie McPhee
Archie McPhee's latest candy cane flavors (which we first heard about at Candy Hunting) have something for everyone—especially the adventurous eaters among us. The company's new ketchup-flavored option—which inexplicably they did not call Catsup Canes!—look like traditional holiday treats. But it's a lie! They taste "like sweet, tomatoey ketchup." That doesn't seem that terrible in comparison to other products in the collection. At least ketchup is sweet.
But the new pho-flavored ones promise to be entirely savory. Archie McPhee describes them as "a reasonable pho-simile" of the popular Vietnamese soup. Ah, yes, our favorite way to "eat" soup. At room temperature and molded into a difficult to lick candy.
Archie McPhee
I will eat ten thousand pho candy canes though before we dig into the last new addition, the shiitake mushroom-flavored ones. What…why….I mean….who is this for? Who wants a candy cane that tastes like any mushroom?
I love shiitake mushrooms in certain dishes. But I've never eaten one and said, "Too bad this isn't raw and also candy." Even the anthropomorphic mushroom on the box is clearly dealing with the issues his own existence raises.
Archie McPhee
If you want any of these flavors, though, especially as a gag gift, you can get each option in a boxes of six 5 and 1/4th-inch tall candy canes for $5.50 a box.
Featured Image: Archie McPhee