Jennifer Walters, a.k.a. She-Hulk, has been breaking the fourth wall all season long. But in the She-Hulk finale, she busts through literal barriers unlike we've seen before. It's clear that she knows she's in a TV show and there are unknown forces pulling the strings. Until now, Jen went with the flow, even when it didn't make much sense to her. However, things got so wildly chaotic in the finale that she broke out of her show and went straight to the Marvel boss. Yes, She-Hulk took on Kevin Feige, the president of Marvel Studios, himself… except she didn't technically. Once again, She-Hulk pulled a fast one on us and gave Kevin Feige a hilarious cameo, not as himself but as an all-knowing AI bot, K.E.V.I.N.
Here's how it went down. After losing her job and ability to become She-Hulk, Jennifer decides to head back to Blonsky's peaceful ranch for respite. She wants to talk to him, but he's hosting a private event. Ya know, an Intelligencia gathering that's on his ranch. And he's been turning into the Abomination. Anyway, Jen discovers that Todd is HulkKing and sent Josh to get her blood so he could have the power that a man deserves. Things go awry when Todd turns into a Hulk, Titania breaks down a wall, and Hulk shows up inexplicably from outer space to fight Abomination, who is being shady but not the villain here.
Jennifer decides that she's had enough with this stupid final, breaks her inhibitor, and goes to the streaming menu. She delightfully leaves her tidy She-Hulk show box and breaks into Marvel Assembled, the anthology show that goes behind the scenes of how Marvel properties are made. She-Hulk pops up on the writing room, who are discussing a terrible idea about the second season. She calls them out for being stupid, but they say it is the story that K.E.V.I.N. wants for She-Hulk. They tell her that no one talks to K.E.V.I.N. and acts like he's their Lord and Savior. Jen beats a few security folks up and goes into a room where Marvel's infamous opening scenes are playing. This is where She-Hulk meets K.E.V.I.N., who isn't the man she thought he would be. It is not the real Kevin Feige but rather a "giant AI brain."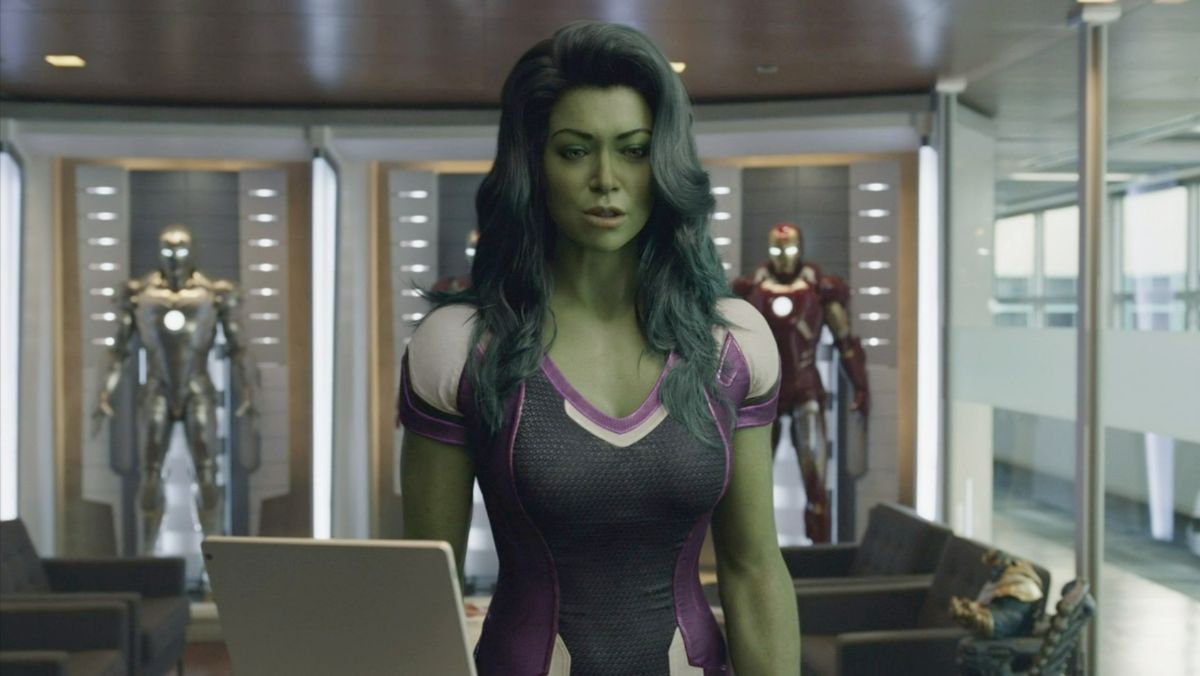 K.E.V.I.N, who is not, but is a Kevin Feige cameo, explains that his name stands for Knowledge Enhanced Visual Interconnectivity Nexus, and he calls the shots on She-Hulk. According to him, his entertainment algorithm is the best in the world that produces near-perfect products. K.E.V.I.N. tells her that it is his show, and she doesn't get to choose. She-Hulk tells K.E.V.I.N. that it is a legal comedy and then gives her closing argument, which is so sublime that you have to read it:
The Marvel Cinematic Universe is known for its big spectacles and high stakes plotlines, but it's often said that Marvel movies all end the same way. Perhaps this is a result of following some unwritten rule that you have to throw a bunch of plot and flash and a whole blood thing that seems super suspiciously close to Super Soldier Serum at the audience in the climax. I propose we don't have to do that. It distracts from the story, which is that my life fell apart right when I was learning to be both Jen and She-Hulk. Those are my stakes, K.E.V.I.N.
The Kevin Feige AI bot processes She-Hulk's information and decides to allow her to rewrite her ending. She gets things to her liking and also requests bringing Daredevil back because he's hot. Todd goes to jail, Blonsky is back in trouble, and all ends well for Jennifer Walters. The K.E.V.I.N. appearance in She-Hulk is such a clever twist yet fits in perfectly with this show's tone and theme.
And the real Kevin Feige was on board with this idea for She-Hulk, encouraging Jessica Gao to step outside of the box for the finale. "[He] really opened my mind to the idea that it's OK to not do that because I was trying to do what I thought was the Marvel expectation of what the show had to be," Gao said. "He was like, 'Why? No one's telling you to do that, you don't have to do that, you can do something completely different, we should be doing something completely different because this show is so different from anything that Marvel has done.' It was getting that permission from him that really made me think, 'Oh.' It just changed everything."
So, Gao drew inspiration from the John Byrne run of She-Hulk comics and went with the extreme wall break. While we probably won't see K.E.V.I.N. again, it is funny to know that Kevin Feige did sort of make a Marvel cameo, after all, thanks to She-Hulk.