If you've ever dreamed of dressing in the flowing gown of Queen Serenity or in the embellished suit of Prince Endymion of Sailor Moon, fashion line Mariarosa is making your wish come true. On your wedding day, no less. The Pretty Guardian Sailor Moon wedding collection is now available for rent or purchase. Featuring six gowns and two tuxedos, it will make you feel like a magical girl on any day.
Wedding star power, makeup!
Mariarosa / Sailor Moon
Whether you're looking for a bridal gown or bridesmaid dress, each gown in the collection is more dreamy than the last. Of course, there's the iconic dress and tuxedo of the Moon Kingdom. The empire-waisted white dress is almost as recognizable as Usagi's school uniform inspired magical girl look—which you can also also wear as a gown.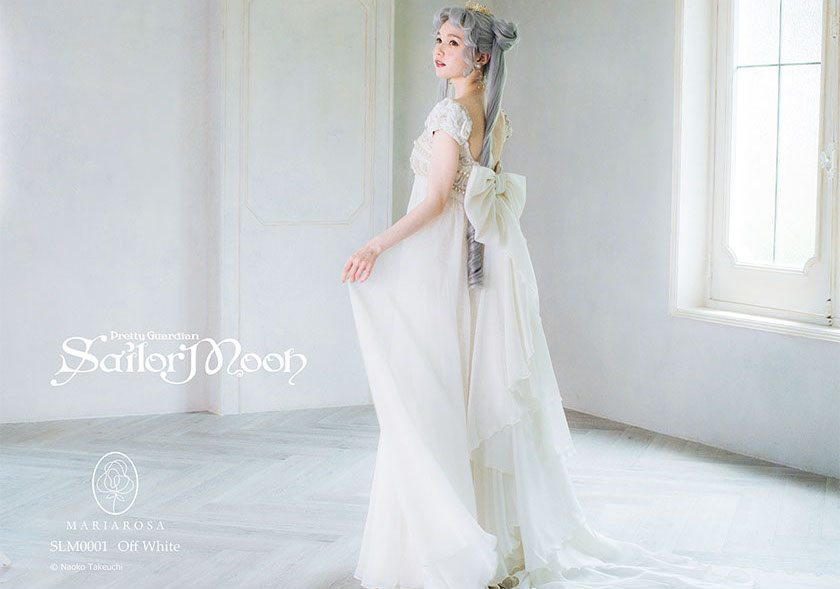 Mariarosa / Sailor Moon
One of the most dazzling gowns incorporates the colors of the inner senshi Mercury, Venus, Mars, and Jupiter. The hues blend beautifully and bring to mind the colorful transformation scenes you've loved for years. Tiny planetary symbols adorn the shimmering fabric. The calming colors of outer senshi Saturn, Uranus, Neptune, and Pluto blend below the bodice of another beaded gown. Whether you wear it for a wedding, prom, or on a Tuesday, this dress in particular will make you feel magical.
Mariarosa
We also can't help but love the bold yellow and black dress based on Luna's transformation in the Sailor Moon S movie. It brings to mind a moment in the movie that's sweet and a little heartbreaking and the layers of black tulle are gorgeous. We want to try it on immediately and do a few spins.
Toei Animation
"Overseen by series creator Naoko Takeuchi herself, the Sailor Moon Wedding Dress Collection is a tie-up between the beloved manga/anime franchise and Tokyo-based bridal apparel provider Mariarosa," r eports SoraNews24.
Mariarosa
Visit the collection website for more information about the magical (girl) collection. The collection will be available for both rental and purchase in Japan later this year. See more photos below.
Featured Image: Toei Animation
Kelly Knox is a freelance entertainment writer in Seattle, WA who writes for Star Wars, DC Comics, and more. Follow her on Twitter.
Mariarosa
Originally published July 1, 2020.