We're having a hard time thinking about anything other than Star Wars: Episode IX. Director J.J. Abrams announced on Twitter today that filming has wrapped on the ninth and final film in the Skywalker saga. He also tweeted out our first clear look at the film in the form of a behind-the-scenes photo of Daisy Ridley, John Boyega, and Oscar Isaac embracing on set.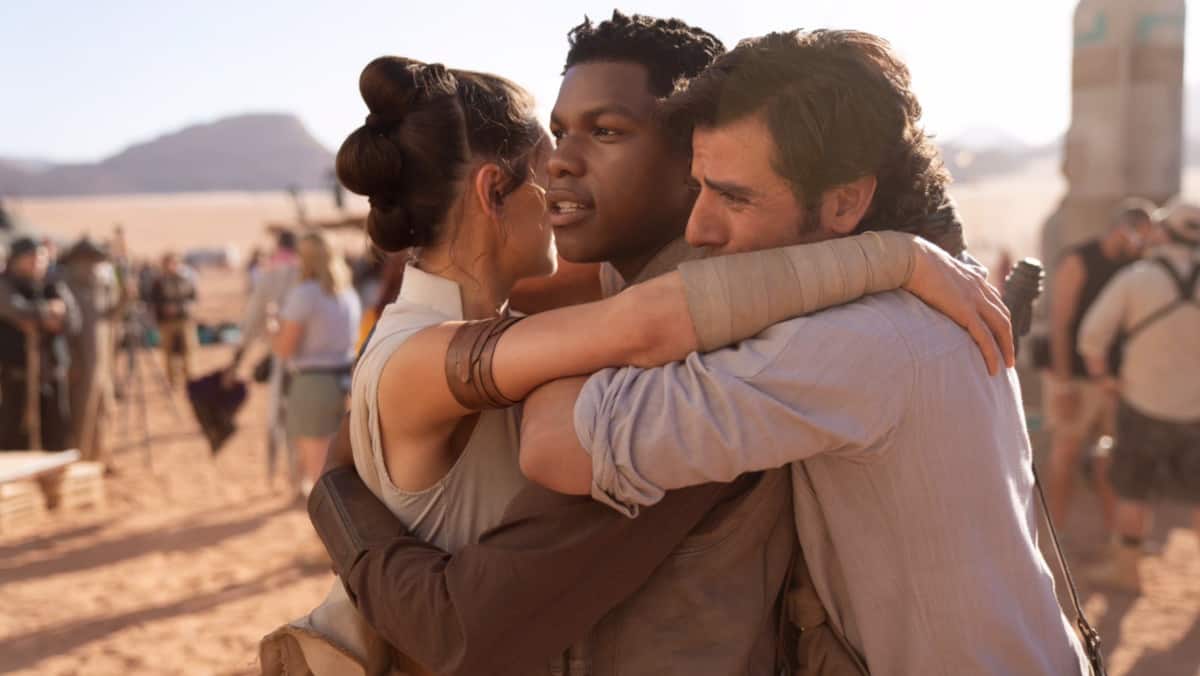 The image is incredibly emotional. Oscar Isaac is clearly feeling all the things, it's the first time we've seen our new trio of heroes together in one space, and the desert settings hints that the Resistance has either returned to Rey's home planet of Jakku, or to Tatooine, the planet that started it all.
But there's another thing one eagle-eyed Twitter user noticed. Rey's hair is back to her traditional three-bun style from The Force Awakens, but it appears more streamlined here, as if she braided them together instead of wrapping them individually. This wouldn't be much of a big deal – it's clearly the style she prefers when she's in a hot climate – but as @Jennifer_deG observed, the hairstyle actually looks very close to the one Leia wore in The Last Jedi.
Rey's hair. pic.twitter.com/8JyeVLbjqO

— Jennifer de Guzman Dreamt that Somebody Loved Her (@Jennifer_deG) February 15, 2019
Obviously, it's not an exact match. Leia's hair isn't in separate buns, but is more of a wavy beehive style. But there is a regality to the style that looks similar to the tighter, more precise look Rey is sporting in IX.
This makes sense if Leia does, indeed, die in the next installment. We know that the late, eternally great Carrie Fisher will appear in Episode IX thanks to re-purposed footage filmed for The Force Awakens. We don't know her exact fate, but even before Fisher's real-life passing, we saw Leia bestowing leadership roles to other members of the Resistance, namely Poe and Admiral Holdo. It seems likely that Rey, who re-joins the crew's efforts at the end of The Last Jedi and shares a touching moment with Leia, will also assume some of her duties going forward. The hair may be a subtle nod, and it may just be a coincidence, but we like to think of Rey carrying the torch of General Leia's profound legacy all the same.
Another cute tidbit about Rey's hair? According to her on-set hairstylist, Flora Moody, the crew refers to the buns as "the balls."
Apparently Daisy and her hair stylist have been calling the buns The Balls and that is cute as HECK pic.twitter.com/1PvQmCdehX

— ★ katie ★ (@starryreylo) February 15, 2019
We can't wait to see more of Rey and Leia when Star Wars: Episode IX hits theaters on December 19.
Images: Disney/Lucasfilm