Seventeen years after his last appearance in 2002's Star Trek: Nemesis, Sir Patrick Stewart will return to the role that made him famous. CBS has greenlit a new series centered around Jean-Luc Picard in his older years. The as yet untitled TV show will air on CBS All Access, home of Star Trek: Discovery, and see a return to the franchise's 24th century time period.
Update 7/10/19
Patrick Stewart has tweeted out a new poster for the new Picard series, which gives us our first look at the former Starfleet legend in his new surroundings. Well, I should say "new-old surroundings," as Jean-Luc is standing in what looks like his family vineyard in France. But he's not alone, as it looks like Picard has a loyal doggo too. We're hoping that he calls his pooch "Number One." You can check out the poster down below:
Along with the poster came a motion poster Tweet. It doesn't tell us a whole lot more, but it's pretty cool.
The official #StarTrekPicard key art is here. Will you be joining @SirPatStew at @Comic_Con next week? #SDCC #StarTrekSDCC pic.twitter.com/sf7ZnDmXlL

— Star Trek on CBS All Access (@startrekcbs) July 10, 2019
Stewart took to the stage at the Star Trek Las Vegas convention in August 2018 and announced the series and his return to the role that made him a household name. Production is scheduled to commence on the series in April 2019. Here is everything we know about the series so far:
The official Star Trek Twitter announced that the Patrick Stewart starring series will be called Star Trek: Picard. It will stream exclusively on CBS All Access in the United States, and on Amazon Prime in more than 200 countries and territories. Canadian Trekkers will be able to view it on Space Channel.
Interestingly, the Star Trek font used in the logo is the original series one, and not the one from The Next Generation. It might mean nothing, but that's never stopped us Trek fans from speculating!
#StarTrek: Picard will stream exclusively on @CBSAllAccess in the United States, on Amazon #PrimeVideo in more than 200 countries and territories and in Canada on Bell Media's @SpaceChannel and OTT service @CraveCanada. @StarTrekCBS @primevideouk https://t.co/f3mVPY449M pic.twitter.com/iDrmtDiQLg

— Star Trek (@StarTrek) May 15, 2019
Who Stars In This New Series?
Besides Patrick Stewart as Jean-Luc Picard, Santiago Cabrera (Heroes) and Michelle Hurd (Blindspot) have also been cast as series regulars. In addition, CBS All Access has announced that Alison Pill (The Newsroom), Harry Treadaway (Penny Dreadful) and Isa Briones (American Crime Story: Versace) were cast as series regulars alongside Sir Patrick Stewart in the upcoming series. No word yet on which characters they will be playing, or if they are even Starfleet officers, or even human. Filming is set to commence soon, for a late 2019 launch date.
What Is The Show About?
The show is set exactly 20 years after the events of Star Trek: Nemesis, in the year 2399. The destruction of the planet Romulus will play a crucial role in the narrative of the series; the planet, home of the Federation's dreaded Romulan Empire, was destroyed in the 2009 Star Trek movie. Jean Luc-Picard will no longer be a Captain in Starfleet, and Patrick Stewart has said his character will be " a very different individual" from when we last saw him. Interestingly, the series will take place roughly at the same time as the "future" segments of the final Star Trek: The Next Generation episode "All Good Things."
Who Is Behind the Scenes?
Alex Kurtzman, the executive producer of Star Trek: Discovery and the co-writer of Star Trek (2009) and Star Trek Into Darkness, is the executive producer for the untitled Picard series. Patrick Stewart himself will also be an executive producer, as well as Akiva Goldsman, Michael Chabon, and Rod Roddenberry.
The series' showrunner is Pulitzer Prize-winning author Michael Chabon. He'll be working closely on the day-to-day production of the series with producer Akiva Goldsman, and Alex Kurtzman, who continues to oversee the overall CBS All Access Star Trek franchise.
In a statement, Chabon said "Star Trek has been an important part of my way of thinking about the world, the future, human nature, storytelling and myself since I was ten years old," said Michael Chabon. "I come to work every day in a state of joy and awe at having been entrusted with the character and the world of Jean-Luc Picard, with this vibrant strand of the rich, intricate and complex tapestry that is Trek."
Hanelle M. Culpepper is directing the pilot episode; she's the first African-American woman to ever helm a Star Trek pilot. Picard's former Number One on Star Trek: The Next Generation, Jonathan Frakes, is also confirmed to direct at least one episode.
Will We See Other Classic Trek Characters?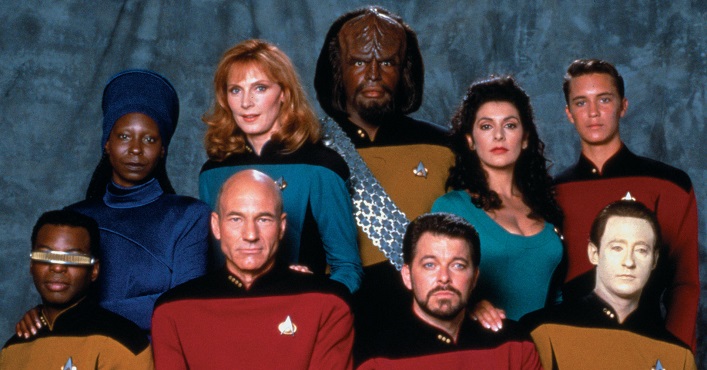 Unknown. But almost all of Patrick Stewart's Star Trek: The Next Generation co-stars have expressed interest in appearing in some capacity. Since The Next Generation took place roughly in the same era as Deep Space Nine and Voyager, characters from those series could easily appear as well. But no casting announcements have been made for classic Trek actors….yet.
Will There Be a Starship?
We know Picard will no longer be Captain of the Enterprise in this series, but aside from Deep Space Nine, every single Trek series has been set on on a starship of some kind. Will this be any different? This is only speculation, but CBS filed trademarks for the names Star Trek: Reliant and Star Trek: Destiny sometime in 2018. Could one of these be the name of the ship the show is based on, and maybe even the name of the series?
Is This a Mini-Series or a Regular Continuing Series?
At first, we thought this Picard-centric show would be a limited event series, running perhaps one single season. However, at a recent red carpet event, Patrick Stewart mentioned the series could run for up to three seasons.
When Will the Series Debut?
Still unknown, but all signs point to a premiere towards the end of 2019, although it could get pushed to early 2020.
Images: CBS / Paramount Pictures / Warner Brothers Television