The Crusades are not something to celebrate. But a recent discovery by a scuba diver in the ocean off the coast of HaCarmel. He found a 900-year-old sword dating back to the Crusades.
Shlomi Katzin's Mediterranean sea dive was more than just a fun swim. According to the Israel Antiquities Authority, he came across some incredible items. Like ancient stone and metal anchors. The swim also yielded pottery fragments. But his most exciting discovery (which we first heard about at Boing Boing) was a meter-long sword that features a 30-centimeter hilt. (For those of us not using a base-ten measuring system, that's over three feet of sword and nearly 12 inches of handle.)
Katzin did not do what we would have done. He did not pretend to be a knight who protects the sea from monsters. Nor did he pretend that fate chose him as the new King of England. (What a missed opportunity!) Instead, he elected to take a far more responsible course of action. Katzin brought his incredible find to the Israel Antiquities Authority's Northern District Robbery Prevention Unit. There they identified the barnacle-covered sword as a historical artifact.
"The iron sword has been preserved in perfect condition and is a beautiful and rare find," said Nir Distelfeld, Inspector for the Israel Antiquities Authority's Robbery Prevention Unit. "It evidently belonged to a Crusader knight. It is exciting to encounter such a personal object, taking you 900 years back in time to a different era, with knights, armor, and swords."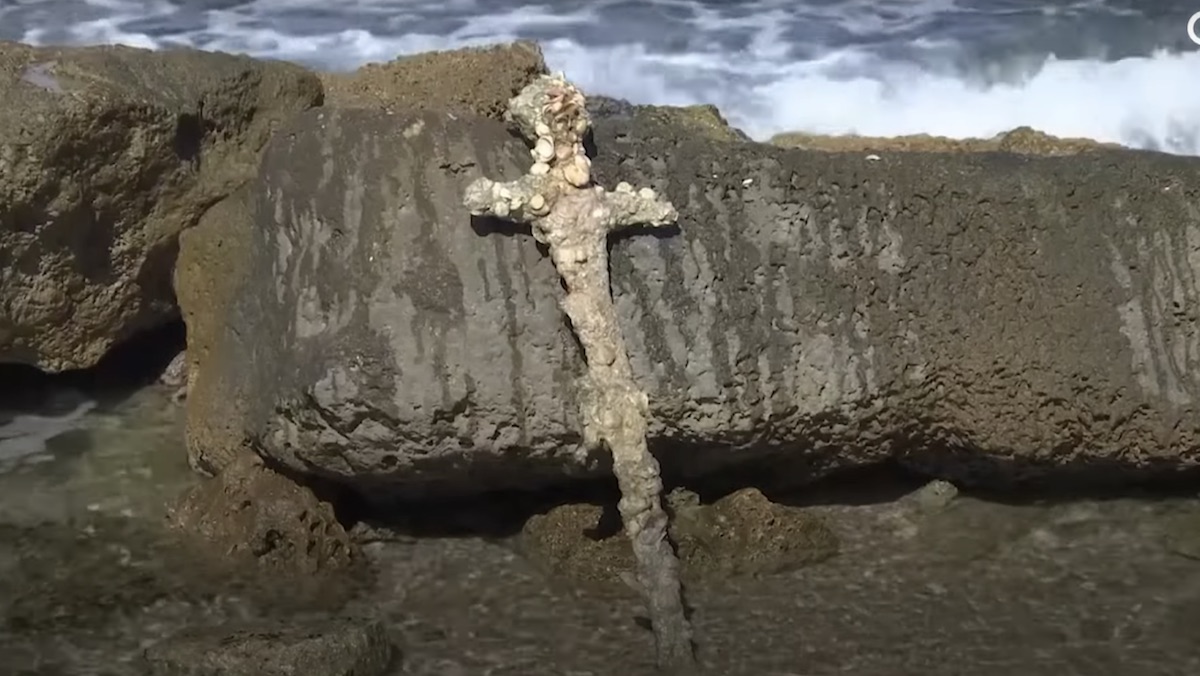 Bloomberg Quicktake: Now

It's not a total surprise Katzin located the Crusades sword where he did. "The archaeological finds at the site show that it served as a small, temporary natural anchorage for ships seeking shelter," said Kobi Sharvit, director of the Israel Antiquities Authority's Marine Archaeology Unit. "Identification of the various finds shows that the anchorage was used as early as the Late Bronze Age, 4,000 years ago. The recent discovery of the sword suggests that the natural cove was also used in the Crusader period, some 900 years ago."
Katzin received a certificate of appreciation for "good citizenship" after turning the Crusades sword over. A nice thank you for a nice deed. Which makes this probably the first time this Crusades sword led to something positive.