Netflix is known for pushing out new content practically every day. It's always a thrill to find a new favorite cooking show, documentary, or drama series, but sometimes you just wanna go back to what's familiar—especially in an uncertain world. There's nothing that screams comfort TV like a '90s flick filled with fun, weird fashion, and characters who take you back to your younger days.
If you have been keeping up with #NerdistAtHome, then you'll know that we are already onto Netflix's throwback selection. We grabbed our snacks, drinks, and watched The Matrix and Hook in recent weeks along with our faithful Twitter followers—and it was a ton of fun.
Get ready to tap into some serious nostalgia with these '90s Netflix movies:
Good Burger (1997)
Paramount Pictures
Welcome to Good Burger, home of the Good Burger, can I take your order? This Nickelodeon classic starring All That alums Kel Mitchell as the not-so-bright fast food cashier Ed and Kenan Thompson as slacker teen Dexter is still full of ridiculous and corny fun.
Bebe's Kids (1992)
Paramount Pictures
They don't die, they multiply. A fun day date at an amusement park goes terribly wrong when Robin discovers that Jamika is bringing her friend Bebe's kids—Kahlil, LaShawn, and Pee-Wee—along for the action. Jamika's son Leon is calm, but Bebe's kids are infamous for their violent and wild antics. There's so many quotable lines and over the top chaos in this cult classic film.
Teenage Mutant Ninja Turtles (1990)
New Line Cinema
It doesn't get more nostalgic than four heroes in a half-shell coming together with a lot of turtle power. Michelangelo, Leonardo, Raphael, and Donatello take on Foot Clan and the infamous Shredder while cracking a few jokes in between. Teenage Mutant Ninja Turtles is totally Friday night Blockbuster rental material to help you escape adulting for a couple of hours of Netflix fun.
Richie Rich (1994)
Warner Bros.
His name is Richie Rich because, well, he's a junior and also filthy rich. Macaulay Culkin is the world's richest kid who has it all—except a good friend. All the classic fodder is here—an evil insider who wants to steal the money, a helpful butler, and a "fish out of water" adventure for good ole Richie.
Back to the Future Part III (1990)
Universal Pictures
A Marty McFly and Doc adventure is always a hit. This movie is the final chapter of an awesome time-travel trilogy with a Western theme and some romance to boot.
Groundhog Day (1993)
Columbia Pictures
We are all living in what feels like a weird time loop right now. So we might as well relive the fun of Groundhog Day! This movie still inspires a lot of chatter about exactly how long Phil spent in his February 2 time loop and what deeper themes were included in its narrative. You can break it down if you want to or you can just laugh at Phil kidnapping a groundhog—neither option is wrong.
The Craft (1996)
Columbia Pictures
The Craft is a cult classic following four teen witches seeking revenge against their oppressors. The quartet continues to have an impact on pop culture with a Craft reboot on the way. It has become a Halloween staple for those who love its '90s teen magical, campy drama but now its on Netflix to enjoy at any time.
Can't Hardly Wait (1998)
Columbia Pictures
What's a '90s teen movie without a ton of the decade's most recognizable faces? Can't Hardly Wait stars Jennifer Love Hewitt, Seth Green, Ethan Embry, Donald Faison, and a lot of other "hey, I know them" people in a flick about a senior high school graduation party where the kids deal with sex, identity, alcohol, and other typical teen problems. It's a popcorn flick that doesn't require you to think or analyze anything.
Mortal Kombat (1995)
New Line Cinema
The theme music is seared into your brain. The characters are iconic. Mortal Kombat packs a ton of action and locations that line up with the video games. Is it the greatest video-game based move of all-time? Probably not. But it is 100 percent okay to enjoy something that isn't "incredible."
The Rugrats Movie (1998)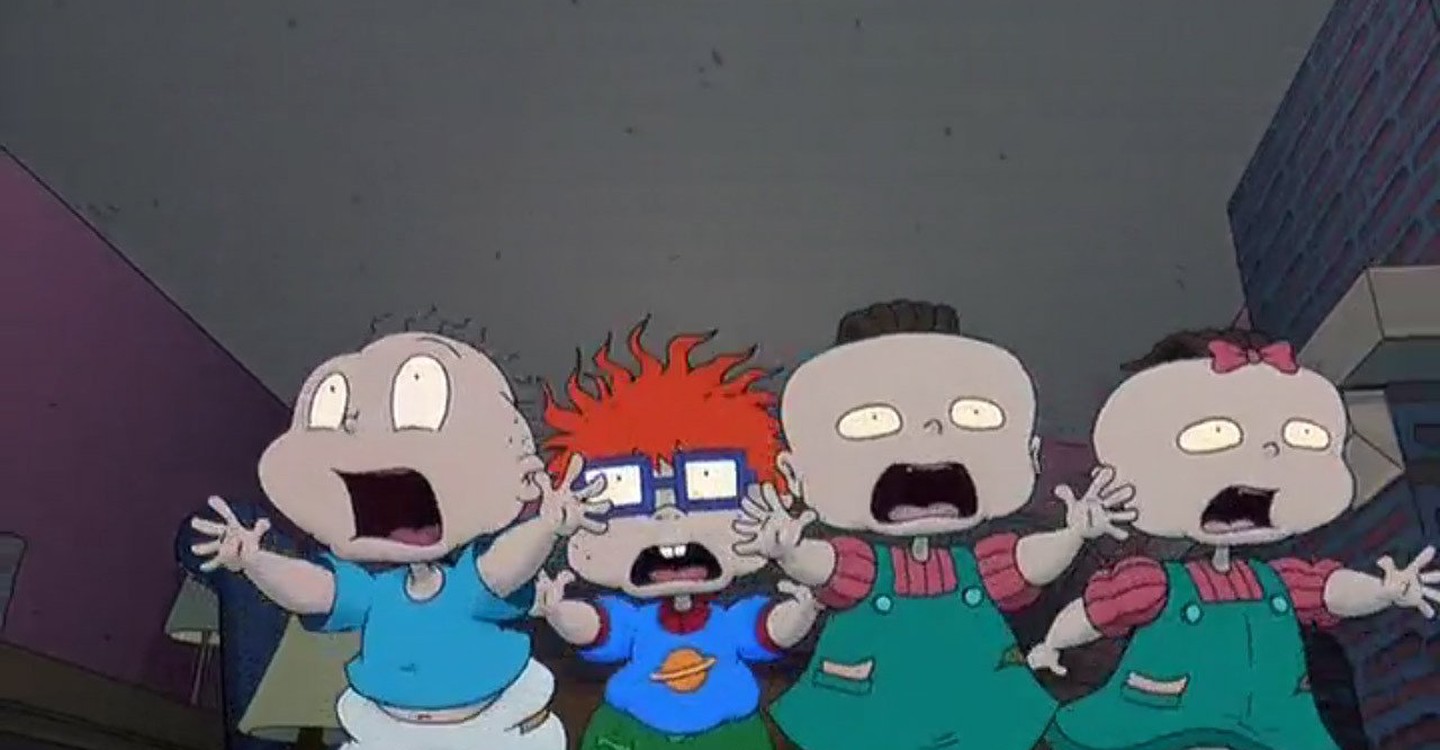 Paramount Pictures/Nickelodeon
A lot of '90s kids have this film on an orange VHS tape, but now they can watch it on Netflix. Tommy and his crew of babies do what they gotta do and cause a lot of confusion in the process. It will probably feel a bit different watching this as an adult but maybe it will still be a fun experience.
It Takes Two (1995)
Warner Bros.
Remember when the Olsen twins were actresses? This story isn't anything groundbreaking—two girls who just happen to look alike meet up and decide to switch places. In the process, they coerce the adults in their lives to fall in love. It Takes Two is filled to the brim with cute mischief and a lot of throwback references and looks.
Jerry Maguire (1996)
Sony Pictures
Show me the money! There's romance, there's sports, and there's Tom Cruise playing a flashy sports agent who wants to be a better man. This movie is all around good stuff that will make you laugh and maybe make you feel some warm feels in your heart too.
Of course, this isn't every single '90s movie on Netflix but it's a great start to a trip down memory lane.
Image Credit: Universal Pictures