There are so many things to do indoors. Even people back at work have likely found pockets of free time typically reserved for social hours, dining out, or travel. How to fill that time? With music, with movies, with games, with shows. But how to settle on what sounds best? It can be an oddly stressful thing.
If you're looking for something breezy, beautiful, and quick, I can't recommend Normal People enough. Not only is the 12-episode series a quick watch (episodes are only 30 minutes), but it recalls a time that feels almost ancient: when we could pack our bodies into pubs, feel the heat of a stranger, the blossom of new love ripening in new spaces. It's a series about genuine human relationships—how they're molded by social status and class, and crumbled by expectations.
It's a deeply empathetic, cathartic, and heartbreaking series that I can't stop thinking about. The perfect quarantine watch, because it feels like the best kind of fantasy of what we might expect on the other side of this storm. Here's why you should watch Normal People.
Hulu
The central relationship is tender and relatable
The BBC Three series, which is found on Hulu in the United States, centers on Connell (Paul Mescal) and Marianne (Daisy Edgar-Jones), two young people from rural Ireland who grow up in the same small village. She's from a wealthy family; his mother Lorraine cleans her house. They're in the same grade at school, but separated by a canyon of social status. He's popular; she's feared and distrusted by her peers. So when they strike up a romantic relationship, it's the forbidden sort. No one can know.
That's the basic premise, but their high school years take up only a few episodes of the series. We follow them to college, where suddenly that dynamic shifts; now Marianne is the adored one, and Connell struggles to find his way. But they always have each other, drawn to one another as if cosmically. Even as they see other people, navigate academia, and carry on with their individual struggles, their passion can't stop crash-landing. Theirs is young love, but also something more. "It's not like this with other people," Marianne whispers to Connell one day after sex.
Even if you've never experienced their exact dynamic, there is a relatability to the emotions conjured in Normal People. The sex is beautiful, not gratuitous. Their subtle glances, light touches, and unspoken conversations echo off the wall. It's a story of all the little things that make up a relationship.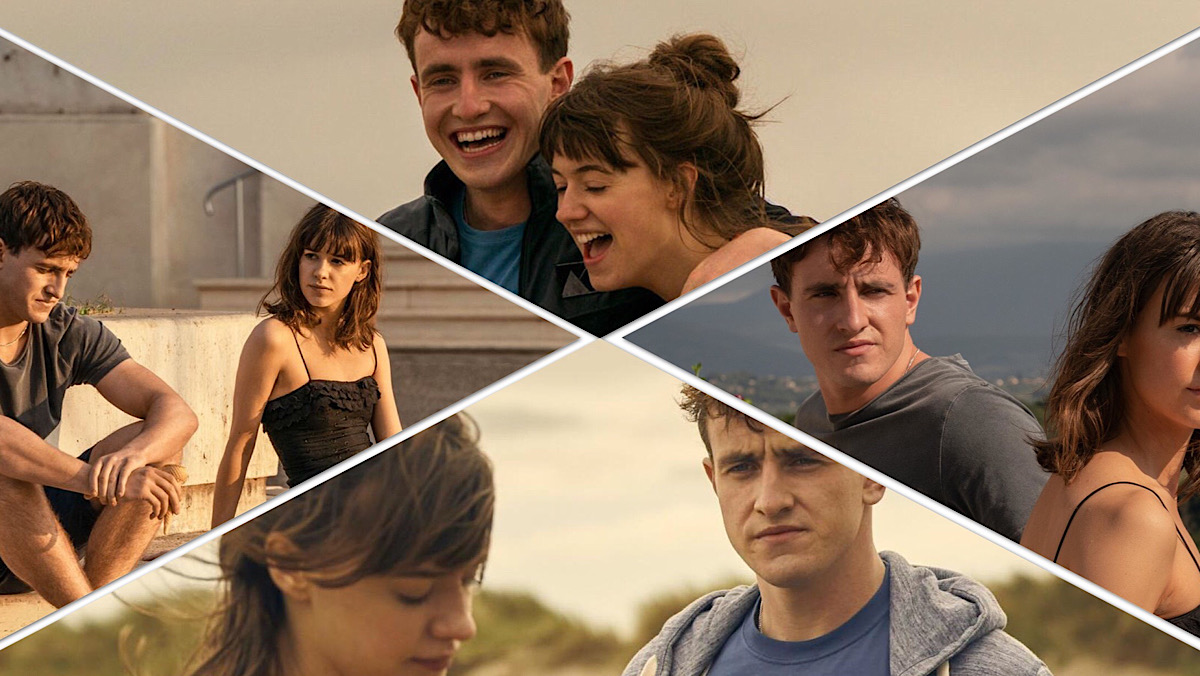 Hulu
It conjures a beautiful, melancholy mood
Normal People is set in atmospheric Ireland—Dublin mainly, where Connell and Marianne attend Trinity College. The sky is a dusty yellow. Green hills swell in the backdrop of the rural scenes. The characters talk in their natural, lovely accents; tender like a song. The soundtrack is made up of melancholy, airy music: Imogen Heap, Elliott Smith, Frank Ocean, August Roads.
Likewise, the dialogue is sparse but pointed. Marianne tells Connell all of the peculiar thoughts that rattle about her head, like how, after watching him play in a school football match, she wanted to watch him have sex—with anyone, not necessarily her. "
Is that weird?" she asks.
"Yeah, that's weird," he says back. They both smile. "But I get it," he says, assuaging her and meeting her in a personal cranial plane reserved just for them.
Everything about Normal People feels—to use a simple, perhaps overused description—real. The characters are archetypes of themselves and yet somehow transcend those archetypes. Marianne, rich and pretty, looks fresh out of the pages of an Anthropologie catalogue; as if to disguise her wealth in a shabby beauty. Connell, poor and handsome, wears the same silver chain necklace and trainers always; his own costume, totems that help him fit in.
These little details lend themselves to a pastiche; lives you can step into, smell, touch. This is a real story, and we're inside of it.
Faber & Faber
It's based on an excellent book
Normal People was directed by Oscar-nominee Lenny Abrahamson and Hattie Macdonald, and written by Alice Birch and Sally Rooney. The latter penned the novel the show is based on (her second after her debut Conversations with Friends), which was a bestseller in the United States.
If you love the particulars of the show, the novel makes for an even more personal experience. The third-person narration puts us right into Connell and Marianne's heads. We know what they're thinking of one another—the good and the bad. We know what they do and do not say. Some of that is translated into dialogue in the TV show, but so much of it goes unsaid on camera. You need the novel to give you details like the thought Marianne has about Connell only weeks into their relationship: "Most people go through their whole lives without ever really feeling that close with anyone."
Abrahamson and Birch are set to adapt Conversations with Friends—another story about complex relationships between young people as they mature into adults—for BBC Three and Hulu as well. Given how beautifully they assembled Normal People, we have to assume it'll sink its hooks into us just as deep.
Amazon Prime
The Hot Priest from Fleabag makes an appearance—sort of
Another Irish character who recently stole our hearts? The Hot Priest from Fleabag. A recent RTE Does Comedy Relief charity special—to raise money for those hurt by COVID-19 in Ireland—saw Connell and Marianne confess to the Hot Priest (Andrew Scott).
"I'm in love, Father, but it's complicated," says Connell in the church confession. "Tell me about it," replies Hot Priest, who knows a thing or two about complicated love.
This isn't a canon sequel to Normal People—which ends where the novel does, and will probably not get a second season, although Abrahamson has teased that it's always a possibility after Conversations with Friends. But it is a sweet way to combine two recent popular Irish properties. If the Hot Priest loving Normal People can't get you into the show, we don't know what can.
Featured Image: Hulu