Denis Villeneuve's Dune comes out this December and the teases keep on coming. Vanity Fair treated us to a spread of incredible images from the film back in March, and now Empire magazine is here to deliver. Earlier this week, they shared our first look at Paul Atreides and Gurney Halleck on Arrakis, and today we have another sneak peek.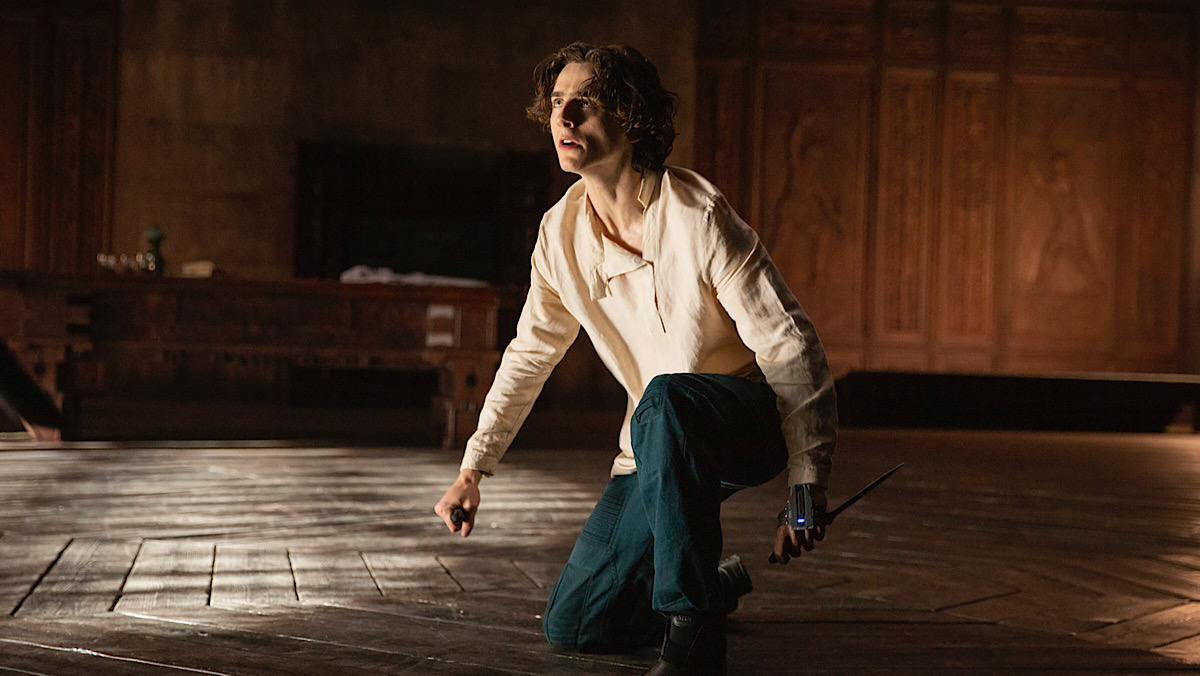 Warner Bros. Pictures / Legendary Pictures
In this image, we see Timothée Chalamet as Paul Atreides in what looks to be a sequence from early in the film. He's holding a weapon and kneeling in what is most likely the training session with Gurney Halleck (Josh Brolin) that happens near the beginning of Frank Herbert's Dune.
In the scene from the book, Paul is preparing for his family's big move to the desert planet Arrakis and studying up on the foreign world. That sets this moment on House Atreides' home planet Caladan. In the background we also see what appears to be diagrams of either fighting stances or battles.
On his wrist, he wears some kind of device that looks identical to the one his father Duke Leto (Oscar Isaac) was spotted wearing in the Vanity Fair photos.

Warner Bros. Pictures / Legendary Pictures
We cannot wait to see how the sequence comes together, and we're especially stoked to see Brolin's take on the character of Gurney. From what we've seen, he appears quite a bit different thank how the character is described in the book, but we're more than happy to see a different interpretation of such a wonderful character.
If you're new to the world of Dune and want to catch up ahead of the film, be sure to follow along with a read-through of Herbert's novel with Nerdist Book Club. See more information here.
Denis Villeneuve's Dune arrives in theaters on December 18.
Featured Image: Warner Bros. Pictures / Legendary Pictures
Editor's note: Nerdist is a subsidiary of Legendary Digital Networks