Netflix enters the 93rd Academy Awards on Sunday with a staggering 35 nominations. These nods spread across 17 films—with Mank, The Trial of the Chicago 7, and Ma Rainey's Black Bottom picking up more than half. Eight years after mounting its first Oscar campaign, Netflix has secured its place as a bona fide contender. But while Netflix's Oscars reach has grown monumentally over the last three years, the streaming platform has yet to secure the top prize. With Mank and The Trial of the Chicago 7 nominated for Best Picture, Netflix could finally take it home, becoming the first streaming platform to do so.
Netflix's near decade journey for Oscar glory has been long and often tempestuous. So much so that the conversation extends far beyond a little gold statue. For the streaming company, it's about expanding accessibility and bringing the movie industry into the future. But for its detractors, it's about traditions, the art of filmmaking, and the fate of the theater industry.
Netflix
The Shift to Original Content and First Awards Push
After a short-lived initial foray into original content production during the mid to late aughts—under Red Envelope Entertainment—Netflix embarked on a more forceful endeavor. This time, under its own banner and for its rapidly growing streaming service. On the television side, it was an immediate success. House of Cards, Netflix's first solo television endeavor, debuted in 2013 to overwhelming acclaim; it eventually earned the streamer nine of its first 14 Emmy nominations. A consistent presence in a new era of prestige TV, Netflix has remained a power-player at television award shows.
While things boomed on the television end, Netflix took a more subdued approach to films. The streaming platform's first play for an Oscar came with its acquisition of and campaign for The Square, a documentary about the 2011 Egyptian revolution. The film scored a Best Documentary Feature nomination, the first of many in the category. But expanding to other categories proved a difficult feat. Most notably, and controversially, due to its digital-focused release strategy.
Even before the streaming platform expanded into original films, Netflix executives questioned the traditional theatrical release window. In 2013, then chief content officer Ted Sarandos warned theater owners that their refusal to adapt would "kill theaters" and eventually movies themselves. His solution entailed releasing major movies on Netflix the same day they hit theaters. (A "day-and-date release.") The National Association of Theatre Owners (NATO) quickly countered that Netflix's proposal would prove detrimental to cinemas.
Netflix

The Struggle to Break into Major Categories

Almost exactly two years later, Netflix debuted its first original feature: Cary Fukunaga's Beasts of No Nation, starring Idris Elba. The streamer stuck to its guns with day-and-date release. But major US theater chains refused to show the film, which ultimately ran a quiet limited theatrical run. It marked the beginning to Netflix's theatrical release strategy, one without fanfare or interest in box office returns. Instead, Netflix approaches theatrical release as the checking of a box—for the filmmakers working with the streamer and to hit the Academy Award eligibility requirement. ( The Academy of Motion Picture Arts and Sciences traditionally requires a basic theatrical release for eligibility purposes.) Despite an Oscars campaign—and even a Golden Globe nomination for Elba—Beasts was shut out by the Academy.
Globally, the film industry took issue with Netflix's attitude towards theatrical releases. The streaming platform debuted two films at the 2017 Cannes Film Festival: Bong Joon Ho's Okja and Noah Baumbach's The Meyerowitz Stories. Its mere presence proved a source of tension. While both films were eligible to compete for festival prizes—Okja competed for Palme d'Or, the festival's top prize—the festival amended the rules going forward that barred films without French theatrical distribution from competing. Netflix subsequently refused to screen films in 2018 and 2019 over the rule change. (However, Da 5 Bloods was slated to premiere out of competition before the 2020 festival's cancelation due to COVID-19.) In South Korea, a trio of major theater chains, which make up 93% of theaters, refused to show Okja on similar grounds.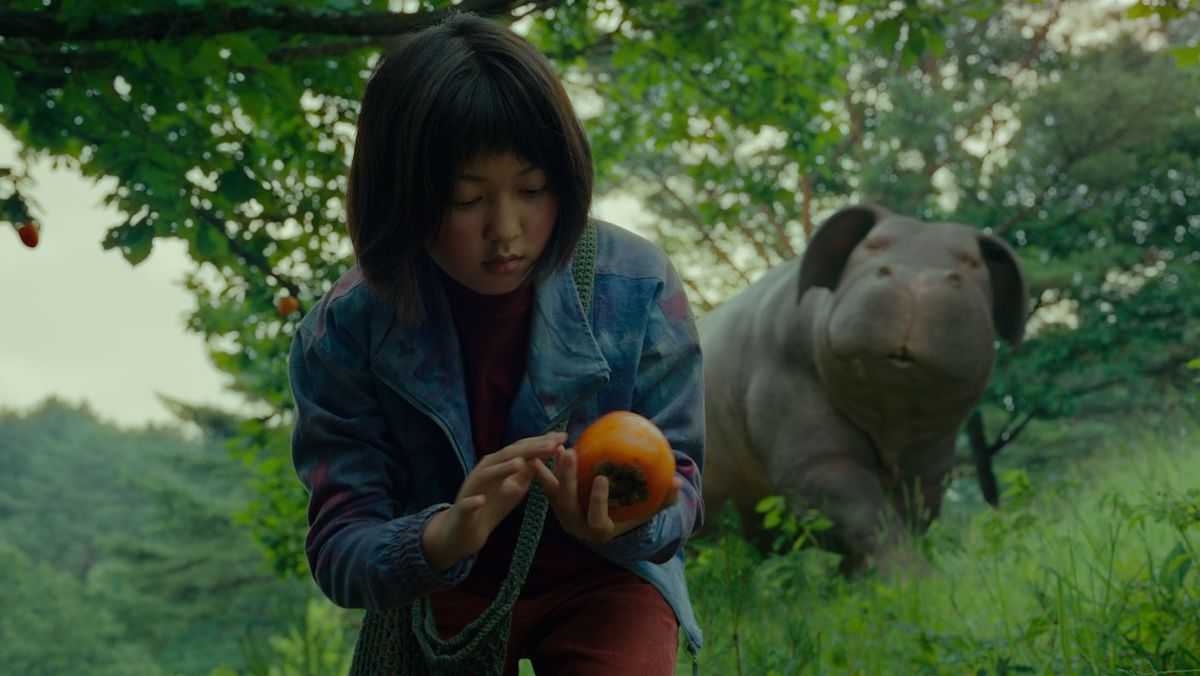 Netflix
But while Netflix teamed with top auteurs for original films, others publicly rebuked the company. Most notably, Christopher Nolan. The director told IndieWire that he'd never work with Netflix, calling their rejection of theatrical release norms "bizarre." In the 2017 interview, Nolan distinguished Netflix's streaming competitor Amazon as a platform that adheres to theatrical norms while still releasing its own content. Earlier that year, Amazon bested Netflix by becoming the first streaming service to have a movie nominated for Best Picture with Manchester by the Sea. But Netflix's own Academy breakthrough lurked around the corner.
Netflix Finally Gains Momentum
2018 was, in general, a major year for Netflix in its play for the Oscars. The streaming platform finally moved beyond the documentary categories at the 90th Academy Awards with Mudbound, which earned four nominations. Just a few months later, Netflix added some awards muscle to its roster. The streaming platform acquired famed awards strategist Lisa Taback's consulting firm, bringing her and her entire team in-house. Taback, who worked on a number of successful Oscar campaigns—including several for Harvey Weinstein—was part of the Mudbound campaign.
Netflix
Additionally, Netflix made a small but monumental shift. It abandoned its day-and-date theatrical release strategy. Roma debuted in theaters three weeks before launching on the streaming platform; nevertheless, AMC and Regal didn't show the film. And while the window between theatrical debut and streaming has varied—often ranging from a week to three—Netflix continues to observe the practice.
With Roma, the streaming platform really broke ground at the Oscars. Following a relentless campaign push—which reportedly cost at least $25 million—Alfonso Cuarón's film picked up 10 nominations, including Best Picture. (It won three: Directing, Cinematography, and Foreign Language Film.)
A year later, Netflix made a triumphant return with 24 nominations; among the lot were two Best Picture nominations for Noah Baumbach's Marriage Story and Martin Scorsese's The Irishman. Baumbach continues his partnership with Netflix via an exclusive deal. But it was Scorsese's decision to work with Netflix on The Irishman that feels more significant. Especially considering the director's noted passion for film preservation.
Netflix
For Scorsese, the decision was more than just about the theatrical release. Granted, at his request, The Irishman had a four-week exclusive theatrical release before launching on Netflix. Scorsese didn't see space for his film in a traditional studio setting, especially as investors balked at the production's costly de-aging technology. Netflix agreed to back the film, the rumored cost ballooning to $250 million. The company later shelled out a reported $40 million of the film's Oscar campaign. In wooing filmmakers like Scorsese, and becoming the first streaming platform to join the MPAA, Netflix has signaled that it is here to stay.
An Industry in Peril
The tension between Netflix and the movie theater industry may have already reached a breaking point, if not for the COVID-19 pandemic. During the release of The Irishman, the streaming platform and major theater chains attempted to work out an agreement. Both stuck to their guns; Netflix wouldn't go above a 45-day exclusivity period, while a pair of major chains insisted on 60 days. (Per The New York Times). Negotiations fizzled.
At the dawn of the pandemic in March 2020, movie theaters began closing their doors. All over the world, theaters have since shuttered for good; COVID-19 afflicted institutions from Arclight Cinemas to the small Northern New England theater chain I frequented growing up. By the summer, initial optimism about the pandemic's longevity had faded. After initial calendar reshuffling, studios finally began reckoning with their growing roster of unreleased films. For many, that meant additional theatrical delays. Others sold distribution rights to streaming platforms or launched films in a VOD format. Future Oscar nominee The Trial of the Chicago 7 moved from Paramount to Netflix.
Last fall, the Academy amended their rules to allowing streaming-only films to compete, giving studios crucial flexibility to carve out release strategies without forgoing awards season. And now, the 93rd Academy Awards has a greater streaming presence than ever. Most notably, five of the eight Best Picture nominees are intricately linked to a streaming platform. Netflix has Chicago 7 and Mank; Judas and the Black Messiah debuted on HBO Max concurrent with its released in theaters; Amazon Studios distributed Sound of Metal; and category frontrunner, Nomadland, was released on Hulu the same day it bowed in most theaters. (Hulu and Searchlight Pictures, the film's distributor, are both owned by Disney). Beyond that, the acting categories are overwhelmingly stacked with nominees from streaming films. (Alongside performances in the Best Picture nominees, we see nods to the stars of Netflix's Ma Rainey's Black Bottom, Hulu's The United States vs. Billie Holiday, and Amazon's One Night in Miami… and Borat Subsequent Moviefilm.)
David Lee/Netflix
The streaming-centric 93rd Academy Awards may actually be an Oscars anomaly. Warner Bros. has indicated their day-and-date release on HBO Max and in theaters is not permanent. Disney-owned studios will likely continue their theatrical runs before launching on one of the company's streaming sites. But it's all pointing to a larger conversation. Namely: just how deeply rooted in streaming many of the major studios are. And beyond that, how streaming and theaters can coexist. If, that is, they can reach a compromise.
As the uneasy future of streaming and theaters looms, Netflix has just one hurdle to jump in its quest for legitimacy: a truly successful Oscar night. In the last two years alone, Netflix has notched nearly 60 nominations, but has walked away with few victories. (Recent winners include Laura Dern's Best supporting Actress for Marriage Story.) On Sunday, with nominations in nearly every category, the streaming platform has its best shot yet. Whether Netflix has finally won over the Academy, despite its very expensive best efforts, we'll find out soon.
Featured Image: Nico Tavernise/Netflix