One of the more endearing moments from this latest season of Stranger Things was when Dustin bonded with young Erica over the inherit geekiness of the My Little Pony franchise. And as a way of honoring those 1980s roots of My Little Pony, Hasbro is launching two throwback elements to the earliest days of the land of Equestria.
First off, the My Little Pony: The Retro Show has now officially launched on YouTube, and you can view the first episode down below. The show features '80s and '90s-inspired videos that will take fans on a trip down memory lane, and remind fans of a certain age of the old Pop-Up Video series from VH1.
With My Little Pony: The Retro Show, fans can travel back to a time of scrunchies and slap bracelets. The show taps into the vintage Pony heritage with 80s and 90s-inspired videos, and Pop-Up Pony gives fans a peek behind the curtain of music videos from the original series. Meanwhile, Behind the Magic takes a retrospective look at iconic My Little Pony characters from the 80s. And some special surprise episodes will pay homage to some of their totally tubular friends. (Yes, "tubular: was a thing people used to really say once upon a time.) There will be new episodes uploaded every Thursday.
In addition, six of your favorite My Little Pony: Friendship is Magic characters are getting a big '80s makeover. This new Collection includes the Mane 6 — Twilight Sparkle, Pinkie Pie, Applejack, Fluttershy, Rainbow Dash, and Rarity — redesigned with signature colors and a retro twist. Featuring styling inspired by the original pony figures introduced in the '80s, figures are 3 inches tall with reimagined cutie marks and long rooted hair. Take a trip to the '80s with this collection pack that combines the current form of the beloved My Little Pony characters with the iconic design of retro figures.
These special retro version of My Little Pony favorites are available for pre-order now on Amazon.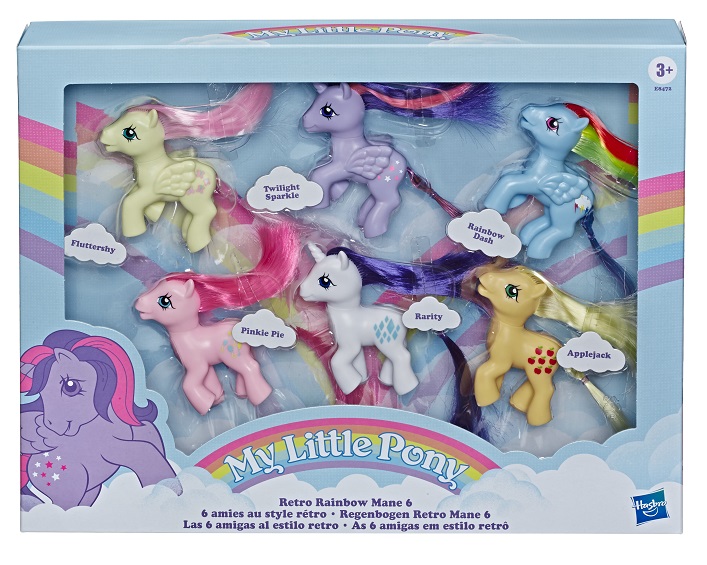 Images: Hasbro