Many of the animated classics from the so-called "Disney Renaissance" have been getting the live-action treatment, and most to great success. And now the latest to get a new big screen adaptation is Mulan, which just released its final trailer just in time for the Super Bowl.
You can check out this final trailer down below:
This newest trailer shows how this movie differs from its much more lighthearted 1998 musical animated version, as it looks to be a lot more of a hardcore action film, with big effects and even bigger stunts. And so far, not a talking dragon in sight! Although there does appear to be some magic at play here, in the form of a villainous witch. Has there been a #JusticeForMushu hashtag trending yet?
Here's Mulan's official plot synopsis:
"Acclaimed filmmaker Niki Caro brings the epic tale of China's legendary warrior to life in Disney's Mulan, in which a fearless young woman risks everything out of love for her family and her country to become one of the greatest warriors China has ever known. When the Emperor of China issues a decree that one man per family must serve in the Imperial Army to defend the country from Northern invaders, Hua Mulan, the eldest daughter of an honored warrior, steps in to take the place of her ailing father. Masquerading as a man named Hua Jun, she is tested every step of the way and must harness her inner-strength and embrace her true potential. It is an epic journey that will transform her into an honored warrior and earn her the respect of a grateful nation…and a proud father."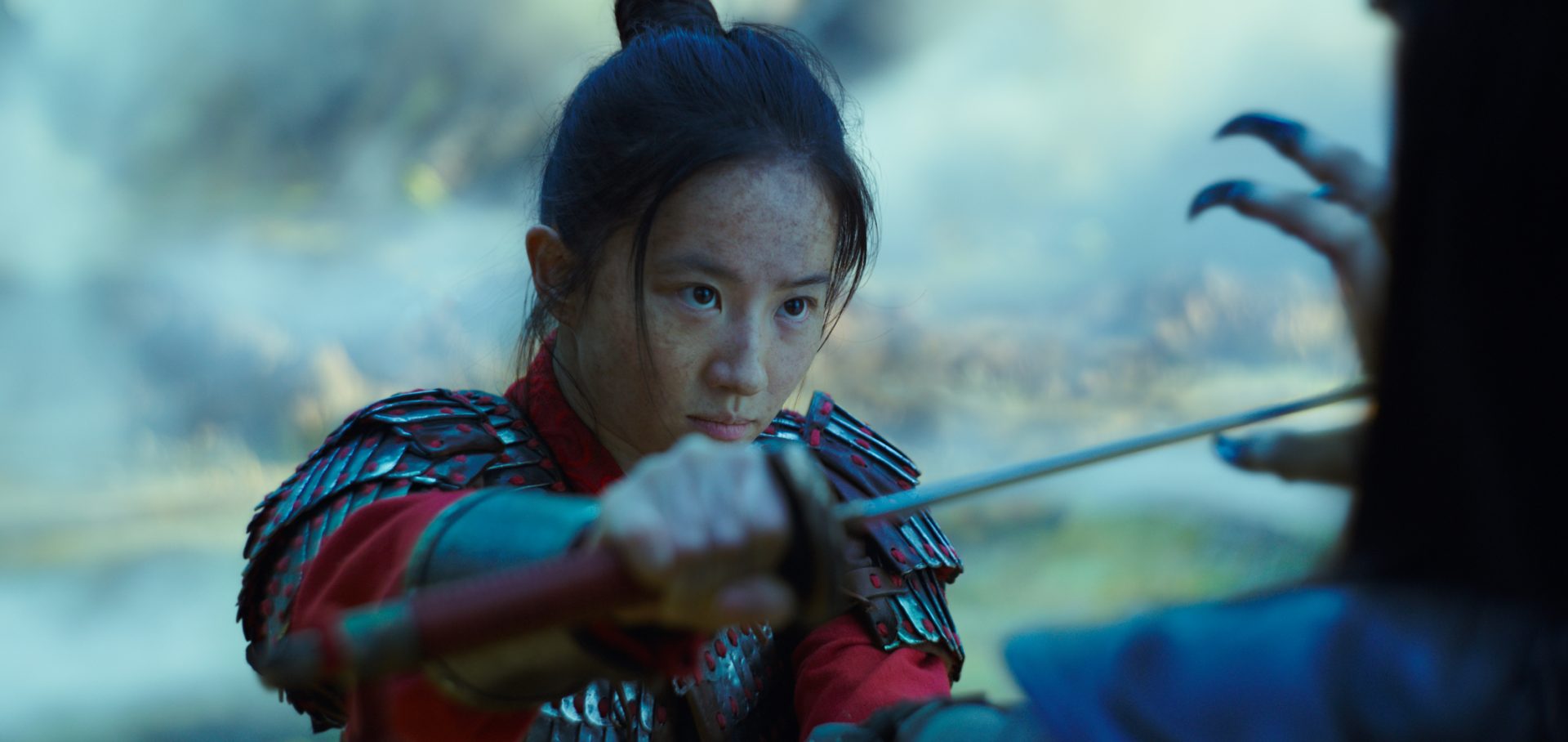 Walt Disney Studios
Mulan follows up the tremendous back-to-back billion dollar successes of both The Lion King and Aladdin last year. And only two years ago, the live-action version of Beauty and the Beast cleaned up at the box office as well, making over a billion dollars. There are still some '90s era classics that have yet to be reimagined, however.
If Mulan performs as well as everyone expects it to, we imagine we'll see version of Hercules, The Hunchback of Notre Dame, and maybe even Tarzan on the horizon. And how long before Disney attempts to remake The Nightmare Before Christmas and Toy Story? We suspect we'll see at least one of those hit the big screen before the end of the decade.
Mulan features a celebrated international cast that includes: Yifei Liu as Mulan; Donnie Yen as Commander Tung; Tzi Ma as Zhou, Jason Scott Lee as Böri Khan; Yoson An as Honghui; Ron Yuan as Sergeant Qiang; with Gong Li as Xianniang and Jet Li as the Emperor.
The film is directed by Niki Caro from a screenplay by Rick Jaffa & Amanda Silver and Lauren Hynek & Elizabeth Martin, suggested by the narrative poem "The Ballad of Mulan." The producers are Chris Bender, Jake Weiner and Jason Reed, with Bill Kong, Barrie M. Osborne, Tim Coddington and Mario Iscovich serving as executive producers.
Mulan hits theaters everywhere on March 27.
Featured Image: Walt Disney Studios