There are lots of embarrassing things about me. Which one might others consider the most shameful? Maybe that I like Ryan Reynolds' Green Lantern movie? But a close second is probably that I also genuinely look forward to eating fruitcake during the holidays. That's why I'm definitely the target consumer for Mountain Dew's newest Christmas crossover concoction. Because MTN DEW Fruit Quake combines the neon green soda with the season's much-maligned sweet treat.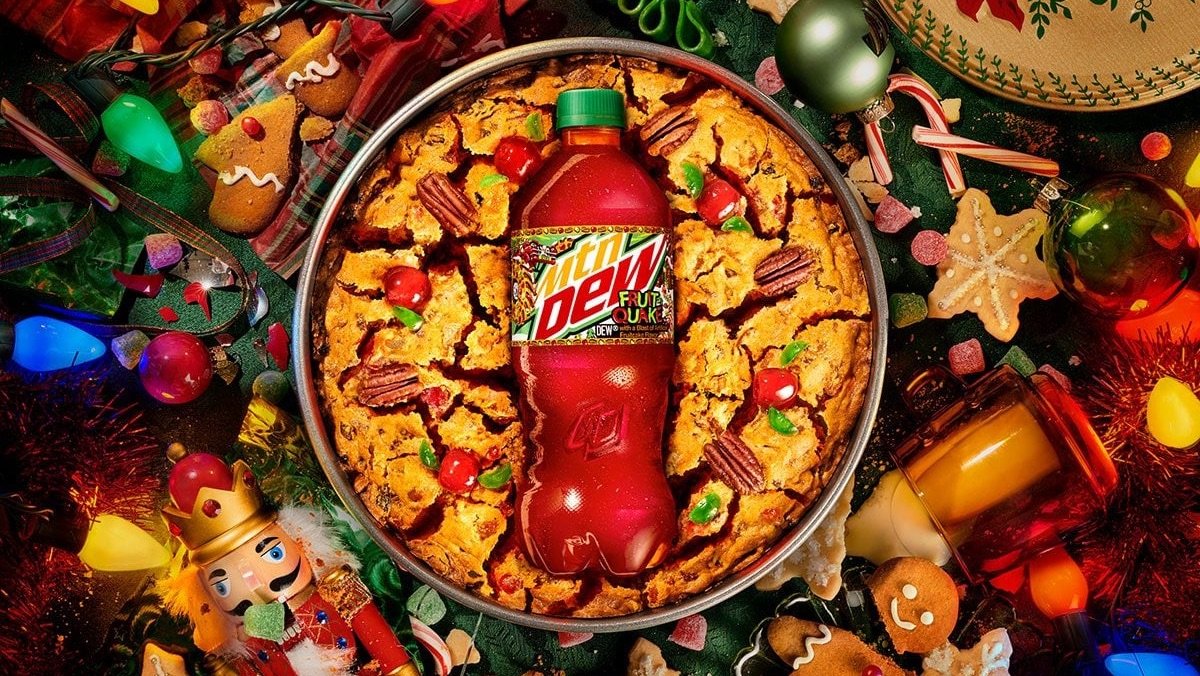 Featuring what it calls "a blast of artificial fruitcake flavor," MTN DEW Fruit Quake (which we first heard about at Food & Wine) will certainly shakeup any holiday gathering. The beverage combines the tastes of Mountain Dew with the notorious December confection.
What exactly does that mean for the taste? We haven't found any of the limited-time beverage in stores yet, but fruitcake features dried fruit, nuts, and seasonal spices. While it doesn't appear the soda has actual nuts in it, it seems as though your enjoyment will come down to how much you like cola blended with Christmas flavors. Reviews for the drink are all over the place.
I guess it's only fitting that a mixture like this is getting mixed reactions. Don't care. I must have it. Fortunately I can buy it in stores. The drink's official webpage lists chains where you can nab some yourself. You can also opt to buy both cans or bottles. But regardless of the one you choose, if you serve it as your own holiday party maybe pour it into one of those big crystal bowls. You know, get really fancy. Fancy with MTN DEW Fruit Quake.
As for me, I'm just going to drink it on my own. I like both Mountain Dew and fruitcake that much and I don't care who knows. I am a little embarrassed I admitted liking Green Lantern, though.