In the more than two decades since its release, Moulin Rouge!'s legacy endures—as a glamorous, mesmerizing romantic tragedy and an iconic modern jukebox movie musical. Now, for the first time ever, fans can stay at an iconic Parisian landmark from the film. Yep, visitors can spend a night in the secret room inside the Moulin Rouge's red windmill. And they can do so by booking it on Airbnb.
A handful of lucky fans will snag the trio of available dates for just $1.05 (€1). (We first saw this at DesignTAXI.) A night in one of Montmartre's most iconic landmarks? The whole thing sounds incredibly romantic. The red windmill, first built in 1889 and rebuilt in the 1920s after a fire, has never been open to the public before. Per a press release, Airbnb worked with a 19th century French historian to turn the windmill's interior into a lush Belle Époque era haven. In addition, those spending the night in the windmill, can also recreate the " Elephant Love Medley" in the stunning rooftop terrace to their heart's content.
Claudine Van Den Bergh, lead dancer of show Féerie, serves as the Moulin Rouge Airbnb host. Of course, a trip to the Moulin Rouge is not complete without a pair of tickets to the cabaret.
Click To View Gallery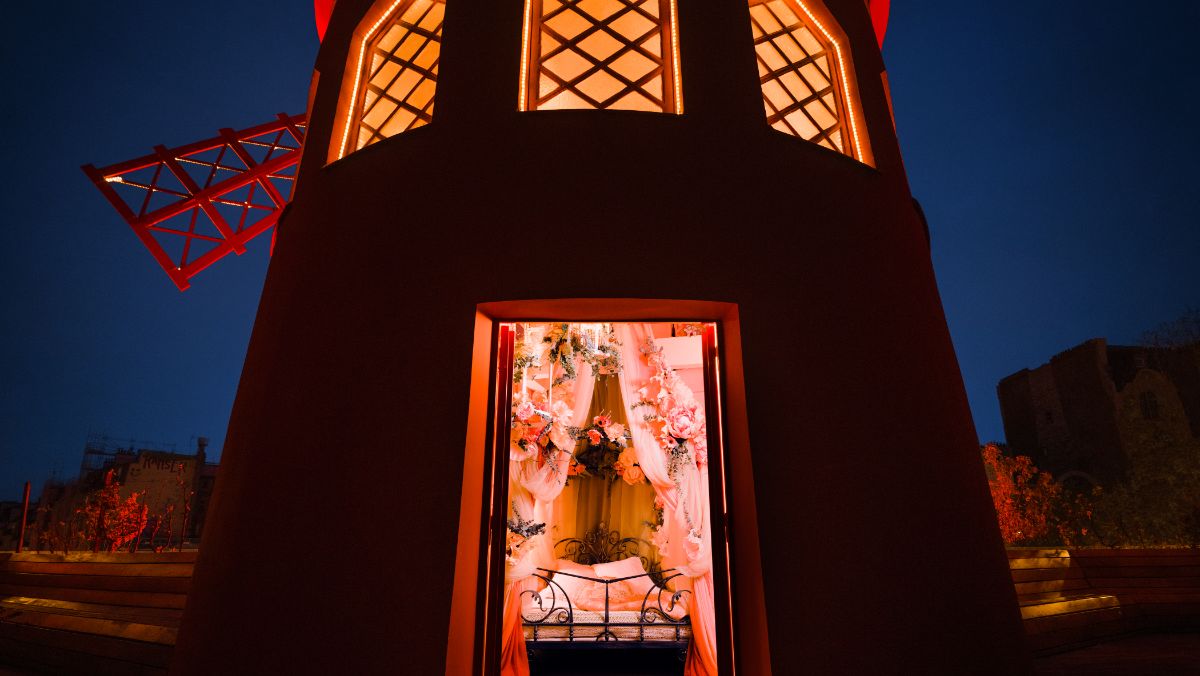 Here are just a few of the highlights from what is surely an unforgettable trip to the Moulin Rouge:
A private tour of the Moulin Rouge, taking the lucky attendees backstage to learn all about the storied cabaret club's costumes and history
A nice aperitif on the rooftop terrace, a three-course dinner prepared by Moulin Rouge chef Arnaud Demerville, and breakfast in the morning.
"Best seats in the house" to Féerie, with a meet and greet with Van Den Bergh and the cast.
A meet and greet with lead dancer and Airbnb Host, Claudine Van Den Bergh in her dressing room
The Moulin Rouge Airbnb is available for booking for one-night stays on June 13, June 20, and June 27. Hopeful visitors can request their stays on May 17 at 7p.m. CEST (a.k.a. 1p.m. ET/10a.m. PT) on the Airbnb listing site.