Where a mere year away from Dune: Part Two hitting theaters, completing the big screen adaptation of Frank Herbert's classic science fiction novel. In the meantime, how will you satiate your love of all things Arrakis? Well, the folks at Mondo have got you covered. They have just revealed a stunningly gorgeous new poster that celebrates Denis Villeneuve's first Dune film, and it comes in both a regular and variant edition. Artist Rory Kurtz stunningly rendered this artwork.
This incredible Dune poster becomes available on November 22. So this Thanksgiving, you'll be grateful for the bounty on your table, and also all that wonderful spice melange. The poster features young Paul Atreides (Timothee Chalamet) and his mother, the Lady Jessica (Rebecca Ferguson), contemplating the future of their noble house on the sands of Arrakis. You can check out both the regular and variant edition Dune posters down below:
Dune
Artwork by Rory Kurtz/Edition of 375
Printed by DL Screenprinting/$70
Dune (Variant)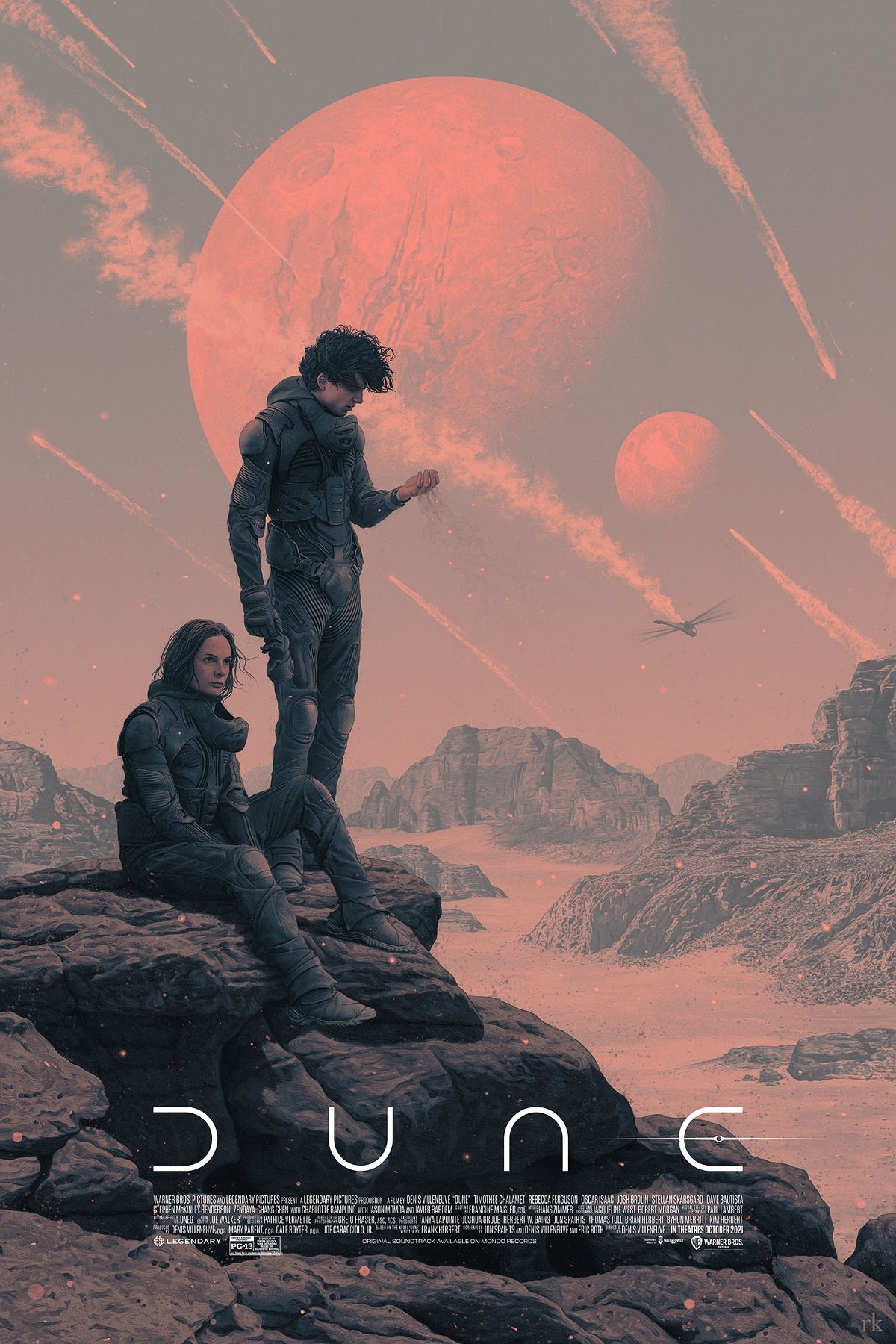 Artwork by Rory Kurtz/Edition of 190
Printed by DL Screenprinting/$100
There will be a lot of other Dune products to tide you over until the second chapter arrives in theaters. There's a Dune graphic novel adaptation, which arrives on December 6. There's also the Dune: Awakening open-world MMO game. Not to mention the new Dune: Spice Wars video game.
And the arrival of Dune: Part Two won't be the end of the live-action franchise either. The streaming series Dune: The Sisterhood, focusing on the Bene Gesserit sisterhood, is already in pre-production. It's an open-ended question as to whether the rest of Herbert's Dune books get any kind of continuation. However, there is much more story to tell after Part Two hits theaters.
To purchase one or both of these Dune posters, be sure to head on over to Mondo's official website for more information.
Editor's Note: Nerdist is a subsidiary of Legendary Digital Networks