Fred Rogers passed away in 2003. His iconic kid's show, Mister Rogers' Neighborhood, aired its last original episode in 2001. And yet, the beloved host feels more important than ever. The world seems to be getting crueler as our problems get bigger. His kindness and empathy is exactly what we need in all of our neighborhoods. It's why in recent years he's been the subject of both a documentary and a featured film. Now though he's being commemorated in a way that truly captures not only his loving heart, but his enduring, towering legacy. Mister Rogers' alma mater has unveiled a massive seven-foot tall, 3,000-pound statue of its famous graduate. And it will forever show him doing what he did best: talking to kids.
Rollins College in Winter Park, Florida recently shared with the world the work of British artist Paul Day. The piece (which we first learned about at My Modern Met) is a massive statue that memorializes Fred Rogers, his famous show and its characters, and the children of the world who loved him so much. Titled "A Beautiful Day for a Neighbor," it shows the TV host in his signature sweater and sneakers. He's also holding his hand puppet Daniel. He's using Daniel to entertain a group of diverse children; they're enraptured by Mister Rogers.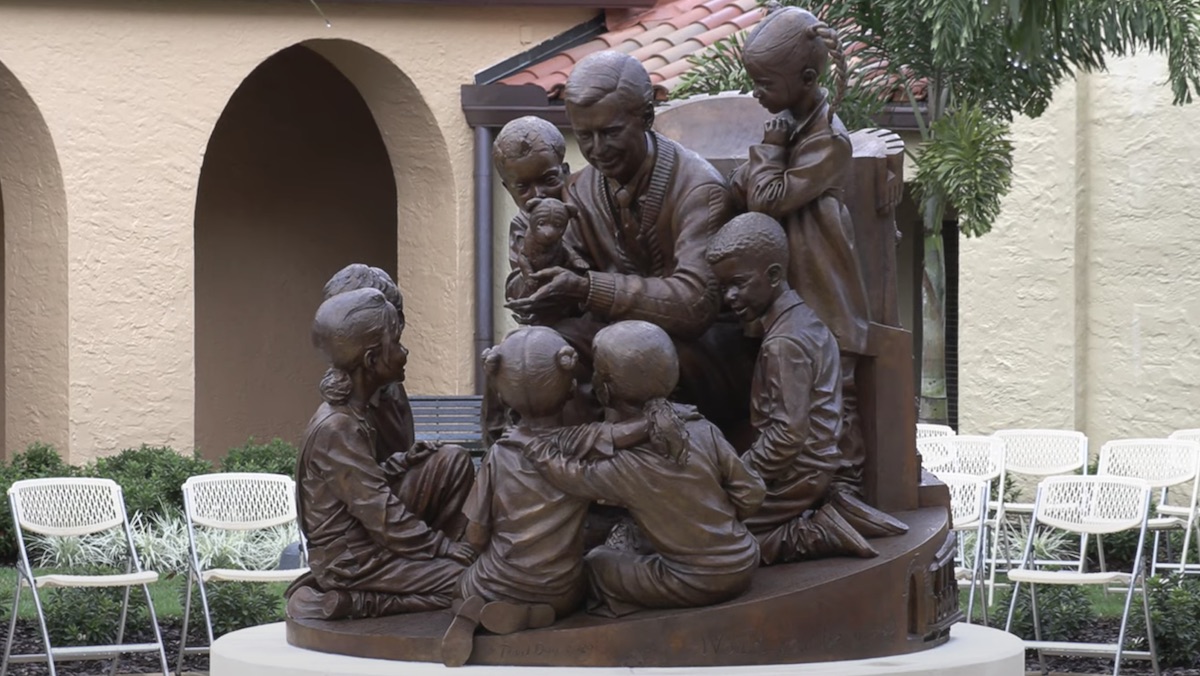 The back of the statue is also an ode to his series. It features more of his puppets and characters living in the castle of the Neighborhood of Make-Believe. And the lyrics to the series' theme adorn the bottom part of the piece.
Trustees commissioned the piece as a gift to the college. Day made it in his studio in France. In total it took 11 months and more than 4,000 hours to finish. Rollins says most of the work went towards "constructing an initial model utilizing wood, steel, aluminum, wire, polyurethane, and 5,000-plus pounds of clay." A team of four then made molds to cast the final bronze shell.
The massive work of art is now part of a permanent outdoor tribute to Fred Rogers. It's only fitting. Rain or shine, he'll be there to remind us—and inspire us—that, no matter what is going on around us, every day can be beautiful day in the neighborhood if we make it one.