Marvin T. Milk a.k.a Mother's Milk b.k.a. MM, played by the fantastic Laz Alonso, is one of the most grounded and well-crafted characters on The Boys. He isn't the fearful (until recently) Hughie nor the often callous and unpredictable Butcher. He's not a supe but instead a highly skilled medic, loving father, clever fixer, and a man whose past haunts him. And, in the midst of many hijinks, he's the serious yet caring guy who's often unintentionally funny as hell. But, there's one more claim to fame for MM: T-shirt God. It's a small detail that many may not notice; however, it says a lot about his personality.
Alonso himself spills the details about his threads, affirming that the shirt choices are intentional. "I work with our onset costume coordinator, the head of the costume department, and every episode, we pick a shirt that kind of thematically encompasses what MM is going through and where we are in the story," he tells Nerdist. "We have always done groups and artists and this season, we also started doing songs. For example, we did Childish Gambino's 'This is America.'"
And that's just one of many incredible choices. In honor of his style, here's an ode to a bunch of the awesome shirts that Mother's Milk wears on The Boys.
Season 1
Episode 7 – De La Soul
When we first meet Marvin Milk, we don't know much about him. In fact, he's the last member of the OG Boys crew who begrudgingly returns. Soon, we uncover more about his life in almost perfect tandem with the intro of his incredible shirts, majority of which lean into Black culture. This one's an ode to the eclectic hip-hop trio responsible for songs like "Me Myself and I." It's a nice nod to a group that was highly influential when MM was likely coming of age.
Episode 8 – The Big X
Mother's Milk wears a black T-shirt with a big X scrawled across the front. It's presumably a sign for "don't cross me," which, well, says a lot about him. (Sometimes, an X is used to represent the Bronx; however, MM is a Harlem native so that's probably not it.) He doesn't have the powers (or twisted mind) of supes like Homelander but he's still a force when pissed off. And, he looks really, really good in black. Or anything, to be honest. Moving on…
Season 2
Episode 1 – Wu-Tang Clan
Wu-Tang ain't nuthing ta f*** with and neither is Marvin. Once again, this logo shirt speaks volumes. I'm pretty sure that Laz Alonso himself likes Wu-Tang (because why wouldn't he?!) but it is a known fact that MM is a Wu fan. And if you don't know about Wu-Tang, you better ask somebody.
Episode 2 – Boogie Down Productions
Boogie Down Productions was a hip-hop collective in the '80s featuring the legendary KRS-One, DJ Scott La Rock, and D-Nice, the DJ who infamously made the beginning of covid more tolerable with his "Club Quarantine" live DJ sets. Strong political and social commentary anchored their storytelling about the harsh realities of the South Bronx. It's very dope to see him show such a pivotal and frankly underrated group so much love.
Episode 3 – Public Enemy
Once again, MM doesn't miss, this time paying homage to Public Enemy. Long before Flava Flav became a reality show icon, he was a part of this collective alongside Chuck D. There isn't a person over the age of 30 who doesn't know "Fight the Power," which is essentially what MM does as a Boys member. A true king of the people. Too bad it gets whale guts all over it.
Episode 4 – NY Giants Love
MM is a NY native, so it's not surprising to see this Giants shirt. This one has those nice pops of color that we all recognize from the NFL team's uniform colors. More blues and reds, please.
Episode 4 – Power to the People
MM rarely gives us a double dose of T-shirts in one episode. He is a busy guy, after all. But we get a wardrobe change into a Black Panther shirt. No, not the comic character but the organization. His shirt is particularly about the program ran in the late 1960s-early 1970s to feed Black youth breakfast before school. And, I must admit, the material looks soft and cozy against his muscles.
Episode 5 – Run-DMC
The odes to NY hip hop abound with the infamous Run-DMC shirt that MM rocks with his signature leather jacket. MM's taste in music and T-shirts is truly unmatched.
Episode 6 and 8 – Black Fist Hoodie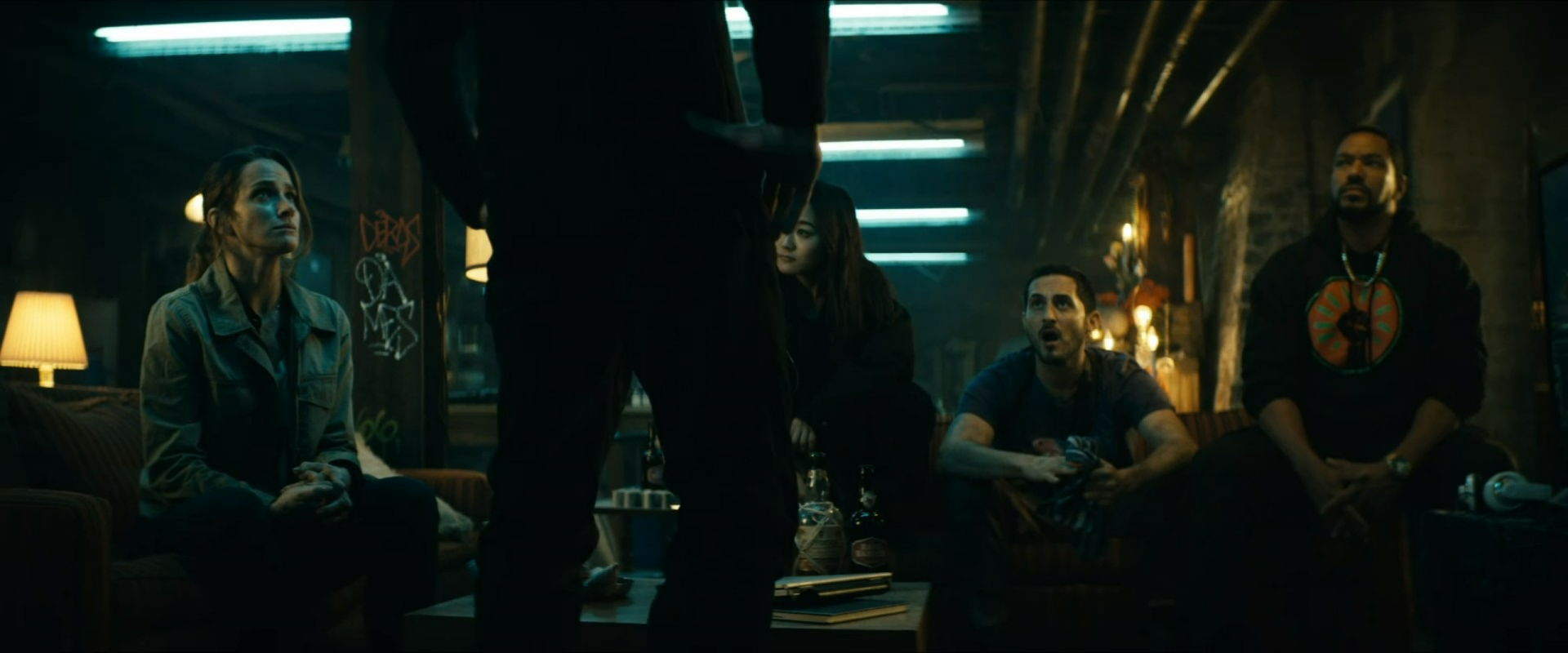 A shirt looks great but a hoodie. Wow. Perfection on MM. This hoodie is actually a part of Mississippi rapper and humanitarian David Banner's "Black Fist" clothing collection. Love to see him in a hoodie so nice that he wore it twice.
Episode 7 – Camouflage Yankees
The New York Yankees get some love in this episode with a camouflaged logo shirt. Marvin is a former Marine (and yes, they do wear camo sometimes) so it's a small homage to his past.
Episode 7 – Phife Forever
MM pays homage to Phife, a member of A Tribe Called Quest. The rapper died in 2016 and Forever is the name of his final album, which was mostly completed at his time of death.
Season 3
Episode 3 – N.W.A.
Our precious guy links up with the Boys and gets back on his T-shirt bullsh*t in the best way. He rocks an N.W.A. shirt as the crew reunites. We even hear the group's single "Express Yourself" playing as MM does his usual meticulous cleaning. And he brings back the jacket AND shades. Very hot content.
Episode 4 – Ruff Ryders
RIP to DMX. MM's Rough Ryders shirt is for the label and rap collective that included X, Eve, Swizz Beats, The Lox, and more. The "R" is instantly recognizable to '90s hip-hop fans, appearing on shirts as well as pendants for chains.
Episode 5 – Stop the Violence
What a phrase to wear when you're always in the midst of it. We've seen MM wear a Boogie Down Productions shirt and "Stop the Violence" is one of their song titles. Interestingly, this coincides with the division among the Boys when Butcher and Hughie start taking sh*t too far.
Episode 6 – This Is America
MM is tired of taking the high road and having to keep a level head as a Black man. (I'm not a man but whew, I get it.) This lines up well with his "This Is America" shirt, which shares a title with Donald Glover's song about the injustices that Black people face. I don't think MM will ever wear this shirt again, cause, well, Herogasm.
Episode 6 – The TNT Smile Time Hour
This is one shirt that's actually just specific to this universe and something that MM would never wear. It's a shirt from the supe twins' former show but you gotta wear what you can wear when your shirt gets… messed up. I must say, that color looks impeccable on his skin.
Episode 7 – Dark Man X
Like the Ruff Ryders logo, DMX's is also iconic. And MM continues his deep love of Black shirts, rocking one with a red logo on it. Love to see it. Alonso tells us more about why he wanted MM to wear this shirt in episode seven. "We did a shoutout to DMX and the Ruff Ryders this season," he says. "The DMX one is in the episode where I knock out Todd. That [moment] was declarative. And we wanted to have that shirt during a moment when MM exhibits a moment of gaining back his family and control."
Episode 8 – Snoop Dogg
The West Coast gets a little love with this Snoop Dogg shirt. Perfect 10, no notes.
Episode 8 – 2Pac
He ends the season and this episode with a shirt that makes total sense considering his Snoop shirt. 2Pac is heavily associated with Cali thanks to his Death Row days; however, he's an East Coast native who spent his high school years in the DMV, Baltimore to be specific. It turns out that Laz Alonso is himself a native of the area, hailing from DC.
I'm thankful for every dope ass T-shirt he wears and how they fit. Give that costume person and Laz Alonso a raise. Let's keep up the good work in The Boys season four.