In this unprecedented time of Star Trek abundance (five shows and a movie!), let's honor Majel Barrett for her many contributions. Proudly wearing the "First Lady of Star Trek" mantle, she supported Gene Roddenberry's creation and ensured its legacy. Majel Barrett acted in every iteration of Star Trek between 1965 and 2009. (Barrett died in 2008.) She played Number One in the original pilot, which only aired in part as an episode of the reimagined show, and later became Nurse Christine Chapel and Lwaxana Troi. Roddenberry and Barrett married and had a son, Eugene "Rod" Roddenberry, who continues their legacy to this day.
The Comic-Con Museum in San Diego is in the Star Trek spirit. The exhibit "Gene Roddenberry: Sci-Fi Visionary" has everything a fan could want: costumes, a captain's chair for photo ops, as well as scripts, concept art, and even rejection letters. There's also a timeline of Star Trek's journey from idea to the ultimate science fiction franchise. Majel Barrett's contributions are highlighted, beginning in 1961 when she first met Gene.
Her role behind the scenes, championing Star Trek with the studio and the fans, repeats over the decades covered by the timeline. Her annotated script from the original Star Trek pilot, in which she played Number One, is also on display. Some of Barrett's most memorable Lwaxana Troi costumes add color just in time for Women's History Month. In honor of this stunning display, Rod Roddenberry spoke with Nerdist about his mother's tireless effort, spirit, and humor and how she saved Star Trek time and again.
Who Wears the Pants?
The Number One character is back in Star Trek: Discovery and the upcoming series Strange New Worlds. It's exciting for many longtime Trek fans as well as Rod Roddenberry. "I'm thrilled that they have Number One," says Roddenberry, who is an executive producer on all of the current Star Trek shows. "I can hear my mom saying to Rebecca Romijn, 'Go get em.' I never like to actually speak on behalf of my parents, but that's exactly what my mother would say."
The new Star Trek show will also feature Christine Chapel, the role Majel Barrett took on when the original series was reworked. Audiences and studio executives in the 1960s were likely more comfortable with her as a nurse in a minidress than a lieutenant commander in pants. Over the years though, Chapel worked her way from nurse to doctor and even commander by Star Trek IV: The Voyage Home. "I know she loved being Number One in 'The Cage,'" he confirms. "I know she didn't love being knocked down to Nurse Chapel, but then I know my father got to make it up to her with Lwaxana Troi."
The Mother of All Roles
Lwaxana Troi is one of the most memorable recurring guest spots in all of Star Trek. Characters and fans alike may have rolled their eyes at her antics, but she always showed heart, tolerance, and humor. It turns out this wasn't a stretch for Majel Barrett. "Instead of casting her for the role, they cast her and then designed the role around her," Roddenberry reveals. "So if anyone really wants to know who my mother was, 100% like Lwaxana Troi. She had the strength that Lwaxana Troi had, spoke her mind like Lwaxana Troi, but was also tender and loving as she was with Alexander, Worf's son, and with Odo. She had all of those qualities."
Roddenberry also confirmed that Lwaxana was her favorite character to play. "There wasn't a director saying, 'Okay, now be more over the top.' No, that was her," he says. "If anything, they might have said, 'Oh, you might want to bring it back in, back in a bit.'" There aren't many portrayals of women who go through the range of human (or Betazoid) emotions and still get to have as much fun as Lwaxana Troi. She, and her costumes, bring such an energy boost to the screen in those nine episodes of The Next Generation and Deep Space Nine. If only she could reprise the role in Picard or Lower Decks. No doubt she would fit right in with either tone.
Hello Computer
Majel Barrett's voice acting role as the Federation computer guaranteed her work even after her last on-screen appearance in 1996. She contributed to the movies and hundreds more episodes of TV, until her death in 2008. Barrett also voiced the computer in video games and the RPG Star Trek Online. She even provided the voice in parody form for an episode of The Family Guy. "I did not know she had done that until I saw that episode," says Roddenberry. "I absolutely loved it. I think it's incredibly important for her to continue to do that. Sure that one's sort of in jest, but still it's always honoring Star Trek. It's always honoring the role."
Barrett resumed her roles as Nurse Chapel and the ship's computer back in the 1970s when the original five year mission continued in animated form. She also voiced Lt. M'Ress, Amanda Grayson, and more than a dozen other characters.
The 2009 reboot Star Trek movie is the last time we heard Majel Barrett's voice as the computer. Both she and her son intended it to continue even after her death. "We do have a library of sounds. We tried to get all the correct phonetic sounds as well as some key Star Trek terms," he reveals. "We found out that we didn't have every sound, and at the time the technology wasn't there to fill in the gaps. But it has been roughly 15 years since we've had that conversation."
Generations grew up associating Barrett's voice with technological marvels. The engineers at Google cite her as inspiration for their virtual assistant. "We need to find the people out there who can artificially fill those gaps to make her voice come back to life so she can be the voice of the computer," affirms Roddenberry. "So sure, there's a chance. 100% in the next 100 years it'll happen. I'm just hoping it happens in the next five."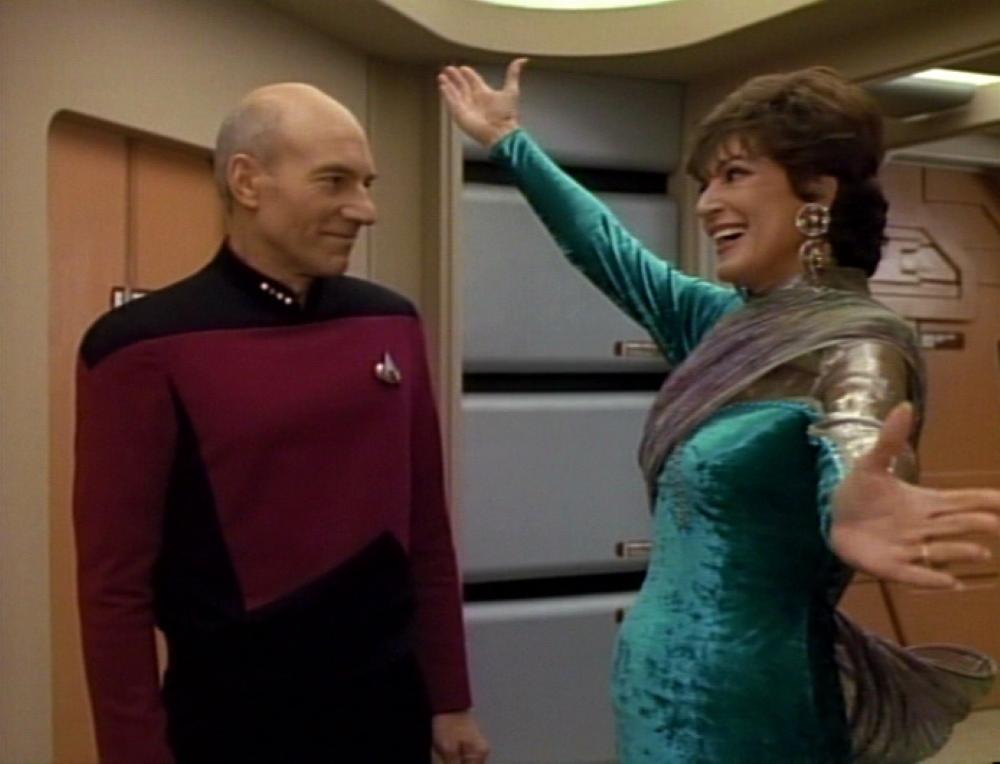 The Star Trek Mission Succeeds
While we wait for the day we hear Barrett's computer voice again, we can remember the time she dedicated to keeping Star Trek alive during the lean years. Neither she nor Gene ever gave up hope that it would persist. They fought to get it on the air in the first place, to keep it on the air, and for the movies. After Gene's death in 1991, Barrett continued the work.
"After my father passed away, there were lawsuits and the courts froze up the accounts," says Roddenberry. "I was in college. And my mother, without me really knowing, was kind of fighting. She rolled up her sleeves and got my father's old speeches and edited them. She modernized them. She put some of her words into them and she kind of went on the lecture circuit, the conventions. And that's how she made money, doing what my father did when Star Trek went off the air. I've got to give my mother tremendous credit for not just sitting around and wondering what to do. She did what had to be done. And that was something that I never really got to thank her for and something I didn't really appreciate at the time, but now I realize is incredible."
Roddenberry affirms that his mother was utterly devoted to both Gene and his vision. "She did not create Star Trek, but she was certainly the power behind the throne," says Roddenberry. "My father couldn't have done it without her. So as cliché as it is, she was the woman behind the man in this particular case and that's just the way it was."
Fans can see the Star Trek exhibit "Gene Roddenberry: Sci-Fi Visionary" at the Comic-Con Museum in San Diego through June 2022.
Featured Image: Paramount Pictures