Sony may have pulled Spidey out of the MCU, but they aren't slowing down on exploiting Spider-Man's vast array of characters for potential spin-offs. Not only did we get Venom and soon Morbius, but now it's been announced (via Collider) that the Spidey supporting character Madame Web has her own movie in development… which is pretty surprising.
Unlike characters including Spider-Woman, Spider-Gwen, or Silk, Madame Web has never been traditionally portrayed as a superhero in the comics. In fact, unlike all those other super powered arachnid ladies, she's actually a senior citizen!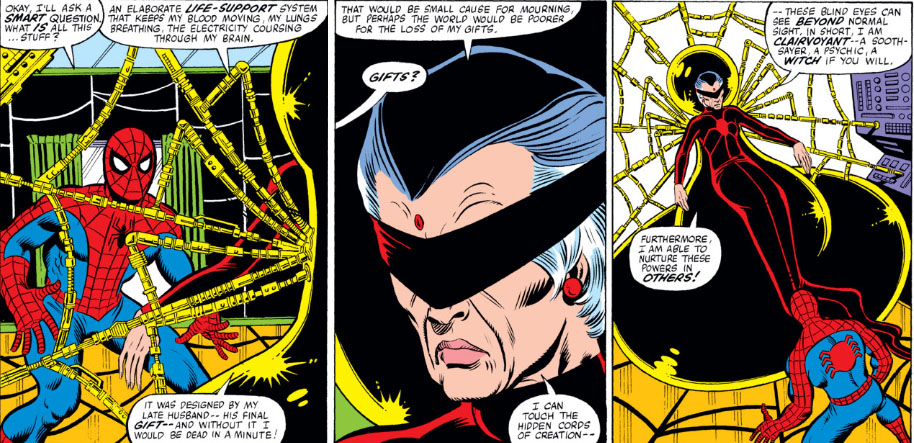 First appearing in a 1981 issue of Amazing Spider-Man, Cassandra Webb was an elderly blind woman who helped Spider-Man through her clairvoyant visions. She suffered from a chronic neuromuscular disease, which made it very hard for her to move and breathe on her own, so she was connected to a life support system that took on the appearance of a giant spider's web. Her precognitive powers helped Spider-Man on many cases, and she became an oracle for him to go to in times of need. Not only has she shown up several times in the comics, but has been prominently featured in video games and the '90s Spider-Man animated series.
Marvel
Given Hollywood's disinclination to make action adventure films about characters much north of 40, it seems likely that Madame Web will be drastically re-invented for the big screen. A young version of Madame Web was shown in the animated series Ultimate Spider-Man vs. Sinister 6, but that version was actually a renamed Julia Carpenter, who in the comics was the second Spider-Woman. She was kind of Madame Web in name only, but Sony could possibly be going that route.
Marvel
While it would be cool as heck to see a superhero movie about an elderly person with limited mobility and a power that doesn't involve punching things, it would be shocking if Sony decided they would be that daring with anything related to their Spider-Man franchise. But we are totally here for a comic book movie about an elderly blind woman if they decided they have the chutzpah to go that route.
Whatever form it takes, the Madame Web film is set to be written by Morbius screenwriters Matt Sazama and Burk Sharpless.
Images: Marvel Comics