You don't need a questionable photo app to see what the future holds for an elderly Batman and Joker—not when you have MAD Magazine! The long-running humor magazine is celebrating Batman's 80th birthday with some of the last original content from its talented writers and artists. And we've got your first sneak peek at the hilarious tribute in the upcoming MAD Magazine #9.
"What if Batman Were Actually 80 Years Old," from comedian and writer Arie Kaplan and comic book artist Pete Woods, shows us that the real dynamic duo was Batman and the Joker all along. What would their cohorts be up to in their twilight years? And who aged the most gracefully? (Spoiler: Not Alfred.) Take a peek at some possible futures for the Bat-Family in our gallery below.
Image: Mad Magazine
Image: Mad Magazine
Image: Mad Magazine
Writer and artist Kerry Callen penned "Batman Funnies," putting the not-so-Dark Knight and his favorite frenemies in timeless newspaper comic strips. Callen's homages to Cathy, Peanuts, The Far Side, and Calvin and Hobbes are spot on.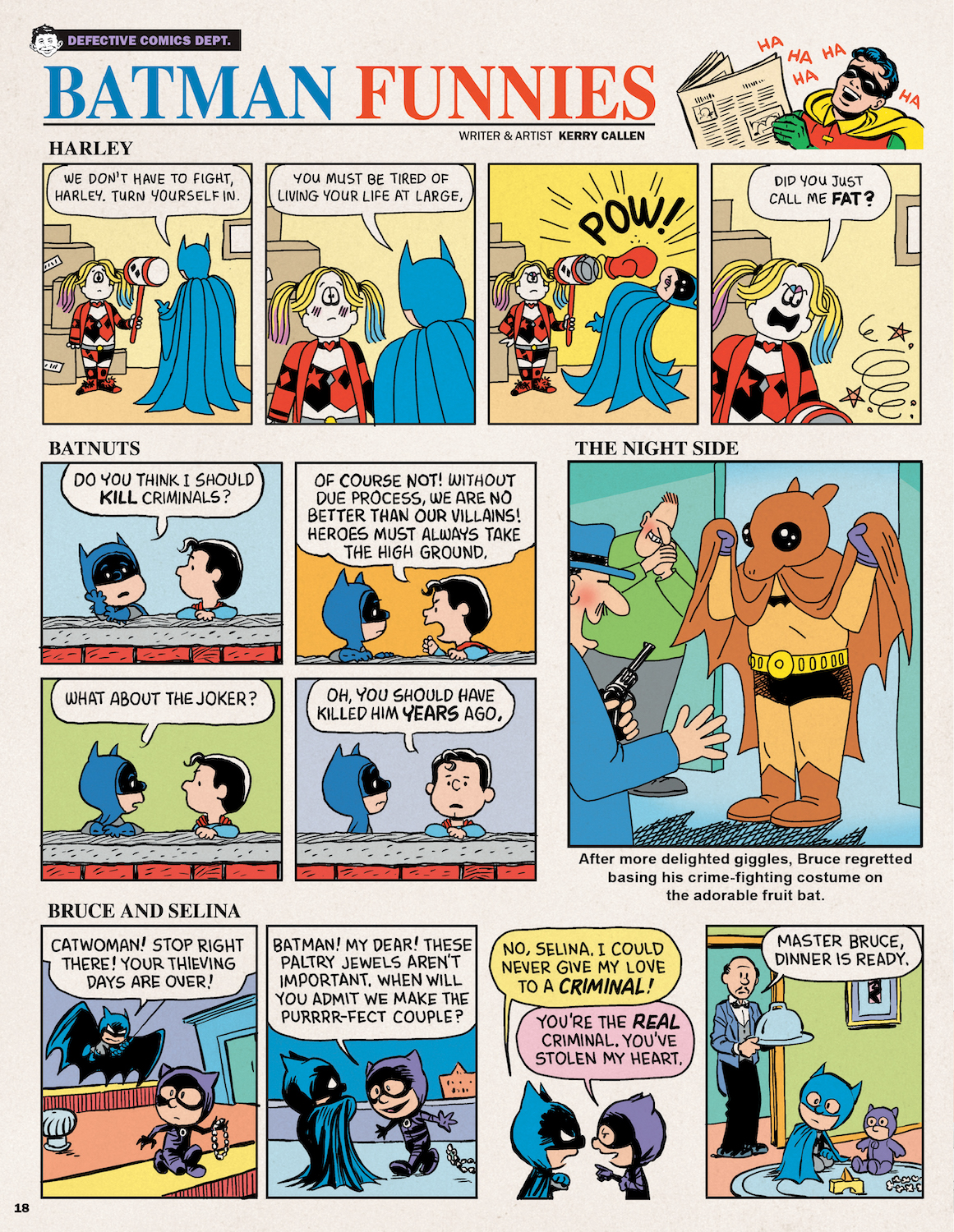 "Batman Funnies" by Kerry Callen for Mad Magazine

We adore the idea of Bruce as Calvin and Alfred as the long-suffering dad figure. It's just too perfect.

MAD Magazine #9 will be available in digital format and newsstands this August. Don't miss your chance to honor both legends in one hilarious tribute!

MAD Magazine #10, coming later this fall, will mark the end of new, original content in the humor publication. Contrary to early rumors, it's not the outright end of circulation for the storied magazine, however. Following Issue #10, subsequent issues will be available in comic book stores and direct to consumers via subscription, blending occasional new work with classic MAD material. Look for the issues bimonthly.

What's your first memory of MAD Magazine? Share it in the comments.

All Images: MAD Magazine / DC Comics