Attention Pokémon people! Anybody looking to ketchum up to Ash in terms of coolness will want to check out this new, limited-edition line of custom Pokémon skateboards that's set to be released in February of this year on PokemonCenter.com. Although interested buyers will want to move quickly to grab one of these Poké cruisers, because only 150 of each design is being made and they'll all doubtlessly sell out with Ninjask-level celerity.
The skateboard collection, first announced in a recent press release from The Pokémon Company and featured further in the image gallery below, will be a collaboration between the media franchise and Bear Walker, an Alabama-based skateboard designer who's clearly at the top of his game. Check out Walker's Instagram for proof of that statement, as well as a look at the unique type of boards he builds—thanks to the way Walker carves designs into the boards, the boards themselves don't require any grip tape whatsoever to provide traction.
Bear Walker
The five Pokémon that will be getting the skateboard treatment for the time being are: Charizard, Gengar, Gyarados, Mewtwo, and of course, Pikachu. Obviously these are some of the most iconic characters from the franchise, so it makes sense they'd get Mount Rushmore'd into the wooden boards right off the bat. This is only "Series 1" of the collection, however, so we're going to go ahead and guess that there are potentially more boards where these came from. (That's only speculation though, as we couldn't find any official word as to any plans for a Series II, III, etc.)
Hit the streets in style with a @wearebearwalker Pokémon board. Each board features a handcrafted deck sporting a unique Pokémon design that will look as good on display as it will at your feet.

Learn more about #PokemonCenter X Bear Walker ➡️ https://t.co/Tf6kUL6DS8 pic.twitter.com/4XhXPRy94C

— Pokémon (@Pokemon) January 27, 2020
Also, when we say buyers will want to move fast to get their hands on these boards, that isn't hyperbole in the slightest—and no, this is not a sponsored article. That's definitely the case because there will only be 750 boards made for Series I (5 characters X 150 boards per character), and pictures of the collection along with a link to the page where people can buy them, have already been posted by the official Pokémon twitter and Instagram accounts. You know, the accounts that have 5.7 million and 3 million followers respectively.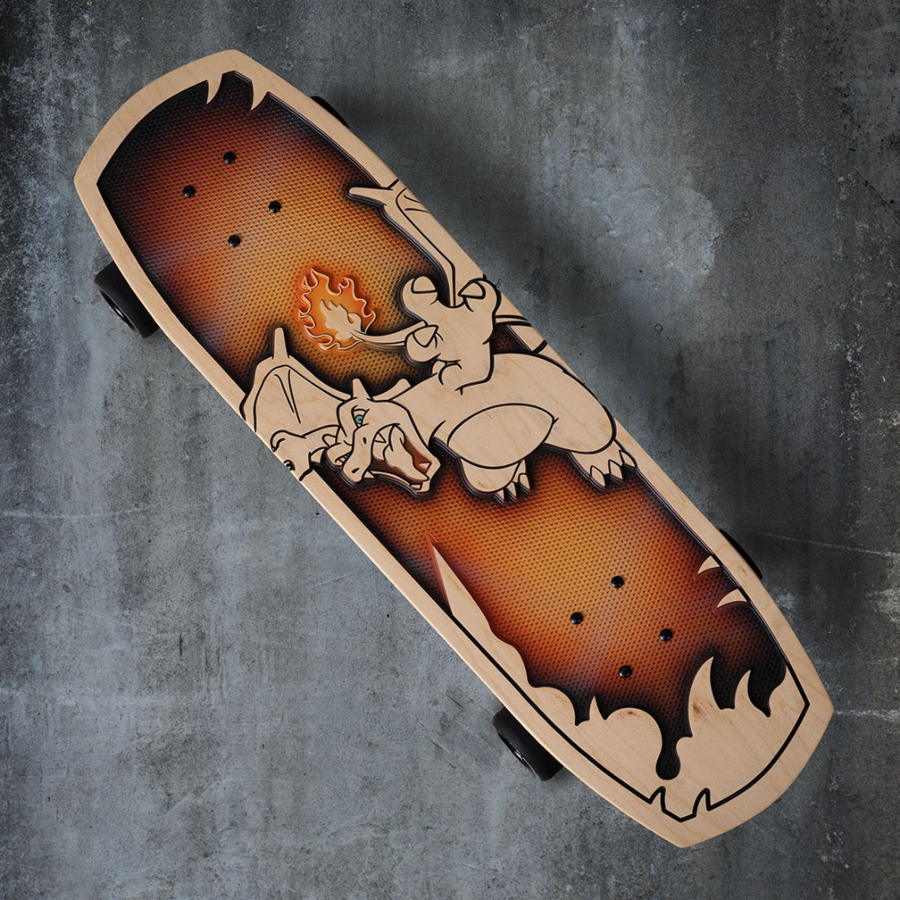 Bear Walker
The good news is that people who love Walkers' boards, but don't think they'll be able to grab one of these limited edition Pokémon versions, can still check out the many other options the craftsman has up on his site. Each piece of carved wood on wheels calls for a decently fat stack of paper though, with the limited edition boards currently available ranging in price from $185 to $200. There will also probably be a similar price to pay for those who want the chance to kick, push, and GO!
What do you think about these Pokémon-themed skateboards? Are you ready to catch them all, or do you like some of Walker's other pop-culture boards a whole lot more? Pop some feelies in the comments!
The Pokémon Company / Bear Walker
The Pokémon Company / Bear Walker
The Pokémon Company / Bear Walker
Images: The Pokémon Company / Bear Walker