Lightyear is a great summer sci-fi film that goes beyond the Toy Story boundaries to explore space travel's affect on people and communities. But the absolute breakout star is Sox the robotic cat. Voiced perfectly by Pixar writer and artist Peter Sohn, Sox steals every scene. He is a dedicated companion to Buzz Lightyear as he navigates his mission and emotions. It got me thinking about the other cats in space who keep humans company and provide comfort. Here's a list of favorites.
Félicette
Let's start with a real-life astronaut! Félicette was one of 14 cats trained for a suborbital mission in 1963. She took a 13 minute flight before parachuting safely back to Earth. Like other females in the early days of the space program, her contribution is sometimes overlooked. But in 2017, a Kickstarter campaign successfully raised funds for a statue in her honor and shared photos and videos of her training. The statue is on display at France's International Space University.
Spot and Grudge
Delightfully, we learn there were multiple cats aboard the ship in Star Trek: The Next Generation. But we only got to know Data's ginger kitty Spot in a few episodes. As a companion, Spot helped Data explore his humanity. Like many cats, she was drawn to certain people, like Barclay, and disliked others. In Picard, Agnes has a robotic cat assistant named Spot 73, a wonderful homage. And there's also Grudge in Discovery, an excellent co-pilot and companion to Book.
Goose
Technically not a cat, as the Skrull keep trying to tell everyone in Captain Marvel. Goose is actually a Flerken but passes for a cat on Earth. He is arguably the best MCU character ever. Like Sox, Goose is more than just in the background. He is crucial to the team's success and proves to be a clutch ally in their escape with the Tesseract. But like many cats, he is temperamental and doesn't always appreciate affection. As Nick Fury can attest.
Jones
Jones is the only other survivor of the Nostromo's encounter with Xenomorphs in Alien. And thank goodness he makes it, or this would be a sad entry. Jones manages to avoid being eaten or impregnated. He curls up into cryo-sleep with Ripley and wisely stays home in the sequel. Ship's cats are usually beloved by crewmembers traveling far from home and Jones is no exception. For more about his story, there's an illustrated book from his point of view.
Sox
Sox may be the most useful of all cat companions in space. He can do literally everything Buzz (and the plot) requires. His various accessories include a fire extinguisher, tranquilizer dart, blowtorch, and flashlight. And of course sleep sounds like white noise and whale calls. There's also his willingness to talk about feelings, perhaps the greatest asset of all as Buzz's real journey becomes the friends he made along the way. Good kitty.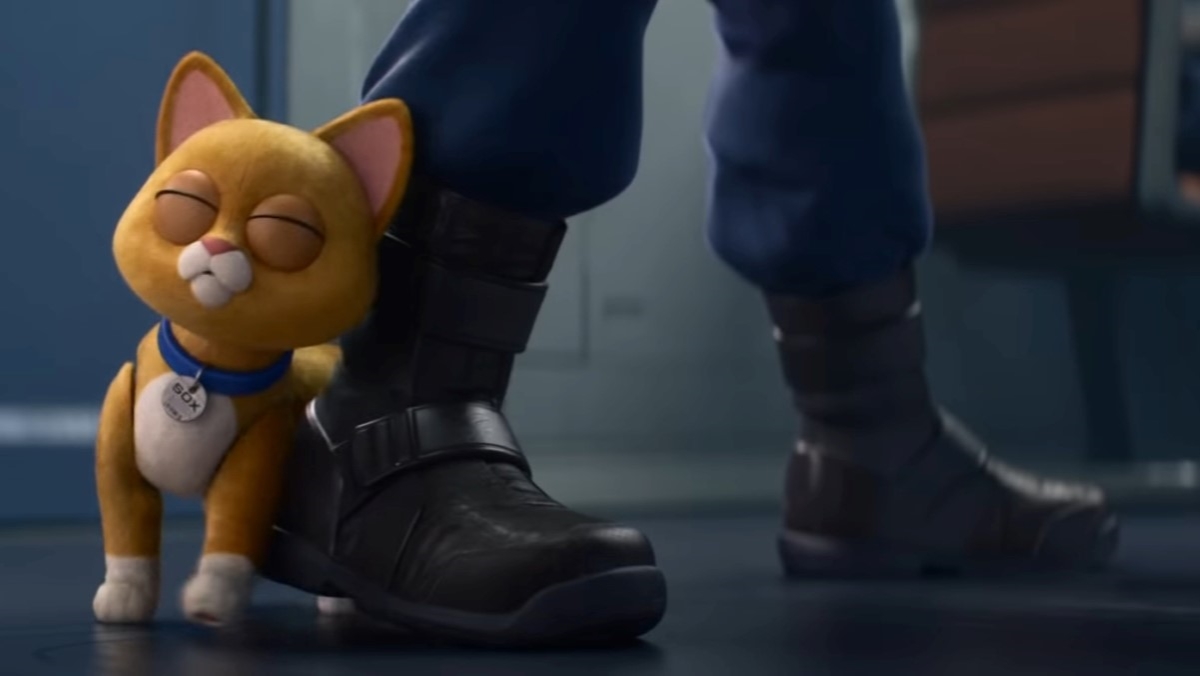 Here's hoping for more cat companions in our lives, our science fiction, and our real-life space travels someday!
Melissa is Nerdist's science & technology staff writer. If it's not obvious, she is a cat lover. Especially ginger kitties. Melissa also moderates "science of" panels at conventions and co-hosts Star Warsologies, a podcast about science and Star Wars. Follow her on Twitter @melissatruth.