Growing up, I didn't have a lot of money. I got used to buying things second hand and using the bare minimum for most things. So as an adult with a bit of spending money, I was curious about peripherals for my gaming rig. In the past few years, the gaming business has skyrocketed with the popularity of E-sports and now there is a huge market for gaming mice, keyboards, headsets, chairs, and more. I took a look around and asked myself, "What should I buy? What would actually enhance my games?" After a bit of poking around, here's what I picked up.
The first thing I decided to upgrade was my mouse. I had a hand-me-down, standard 4 button mouse that was constantly collecting dust and cat hair that interrupted the optical sensor and often made my characters run off cliffs or in circles. It was frustrating, to say the least. I didn't want to spend a ton of money, but I wanted something that was geared towards gaming, so I took a look at Mad Catz's selection.
Their R.A.T. line is relatively affordable and offers a lot of features that make them appealing. I went with a R.A.T. 4+ which has a lightweight chassis and adjustable palm rest that eases the strain on my wrist and shoulder during long bouts of adventuring in my MMORPGs. The R.A.T. also has a super precise optical sensor (7200 DPI) and the chassis can be taken apart for easier cleaning which means no more impromptu cliff diving for me. Horray! Being such a spartan gamer before, I'm still a bit overwhelmed by the 9 programmable buttons the mouse comes with. In short, the R.A.T. 4+ is a huge improvement over my normal mouse and with its sleek design and ominous red under-lighting, it looks really badass.
Considering my success with the R.A.T. 4+, I decided to try out one of Mad Catz's keyboards. The S.T.R.I.K.E. 2 membrane gaming keyboard was appealing as it advertised RGB lighting effects.
I was not prepared.
These lighting effects are fascinating you can have this keyboard play several different light shows like it has a string of Christmas lights stuffed under the keys. I particularly like the "breathing" lights option which pulses through all of the different light combinations and is less frantic than the "twinkle" function, but most of the time I leave it set to a static rainbow of red, purple, and blue underlight.
Besides the fun of the ambient lighting, the keyboard has a satisfying click to the keys and is water-resistant (which is super important around here since I drink a lot of tea and own cats. Spills happen with unfortunate frequency). Did I need a super-fancy keyboard? Probably not. Is it helluva fun to play on? Heck yeah!
The biggest leap for me was headphones. I've never had a great sound system for my computer and hadn't realized the world of difference it can make. I got a Corsair HS60 because it was compatible with so many different systems (PC, MAC, PS4, Xbox One, the Nintendo Switch, and mobile devices).
It's a surround sound set with a unidirectional microphone so I could talk to my friends while playing without picking up the sounds of my cats crashing around the house during their midnight runs (If you haven't realized it yet, I have a lot of cat/gaming related issues). I thought I knew what games sounded like until I put on the Corsair headset and played the Siege of Boralus cutscene from World of Warcraft. My jaw literally dropped. It was like having only listened to a poorly tuned radio station for years and then suddenly sitting down for a live concert. The depth of sound was amazing. Later in the game, I spent a good 3 minutes sitting in silence as I listened to in-game rain.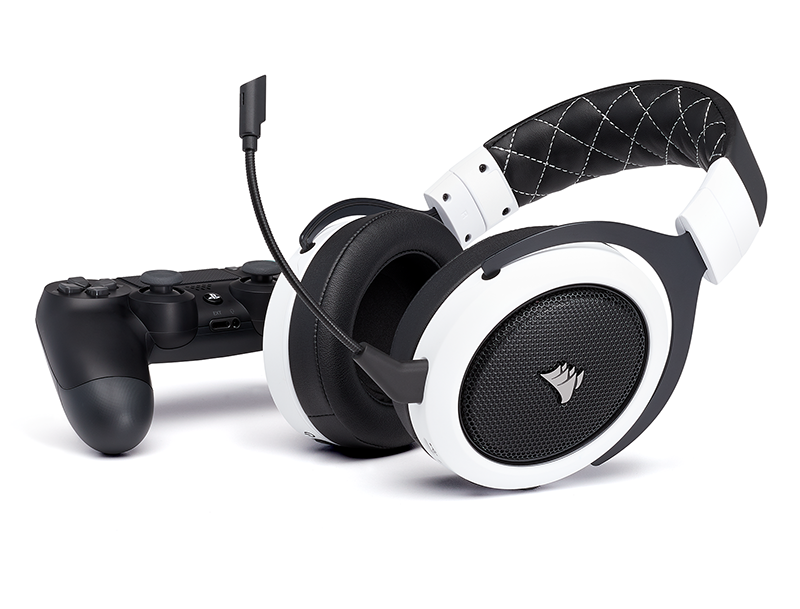 I was also impressed that during the whole time that I was dumbfounded by the sound quality, the ear pads were not bothering me. I have a lot of piercings in my ear and most headphones irritate them after a while, but the Corsair managed to fit comfortably for hours on end. Adding headphones to my gaming rig was the single most important upgrade I made and if you want to purchase just one thing to make your experience more immersive, invest in good headphones. They changed everything for me.
The Culprit

It's surprising just how long it took for me to finally pick up equipment for my computer considering how much time I spend gaming. Even though I'm not a competitive player, pouring hours into Overwatch or Fortnite, and who needs super powerful and precise equipment, adding these small touches to my system smoothed out some problems (mostly cat-related) and makes playing games that much more fun. Recently I went to Pax East and saw some of the exciting new products that headed to the market. Now that I've had such a great experience with these peripherals, I'm looking forward to seeing what else I can pick up.

What upgrades have you added to your gaming rig? What gaming equipment can you not live without? Let us know in the comments below!
WANT MORE VIDEO GAME FUN?
Image Credits: Mad Catz, Corsair, Jessica Fisher
Hailing from New York, Jessica Fisher is a writer, artist, and all around geek. In addition to Geek & Sundry, she writes for Gameosity.com and produces the Gameosity Reviews Youtube Channel. Find her talking about all things geeky on Twitter as @miniktty.