No matter where in the world they are visiting, guests at Disney Parks are welcomed at the front gate by a beautiful train station. Soon, you won't even have to travel outside of your house to see that iconic depot, thanks to LEGO's newest set, a scaled-version inspired by Disney's iconic train station. It won't just sit idle on your shelf though, because it comes with its own motor to get it moving.
LEGO has announced the Disney Train and Station, which is based on the theme park's railroads around the globe. Priced at $330 and using 2,925 pieces, it includes 16 curved and 4 straight pieces of track (which measures at a 37" long and 27" wide oval when pieced together). The train will run along it thanks to a LEGO Powered Up Hub and motor. The battery-powered train and its sound effects are controlled via the LEGO Powered Up app, which can connect to your smart device via Bluetooth.
The collection comes with a locomotive, tender, passenger car, parlor car, and station building. The locomotive of the train (which measures 4" high, 30" long, and 3" wide) "features a large red fender, red wheels with working coupling rods, a big smoke stack, and a driver's cab." The train's cars also have room to seat the five "uniquely decorated" minifigures: Mickey Mouse, Minnie Mouse, Chip 'n' Dale, and an all new, exclusive Goofy. The parlor car also comes with armchairs, along with a table covered with flower vases and a small tea set. Each car connects to each other via magnets.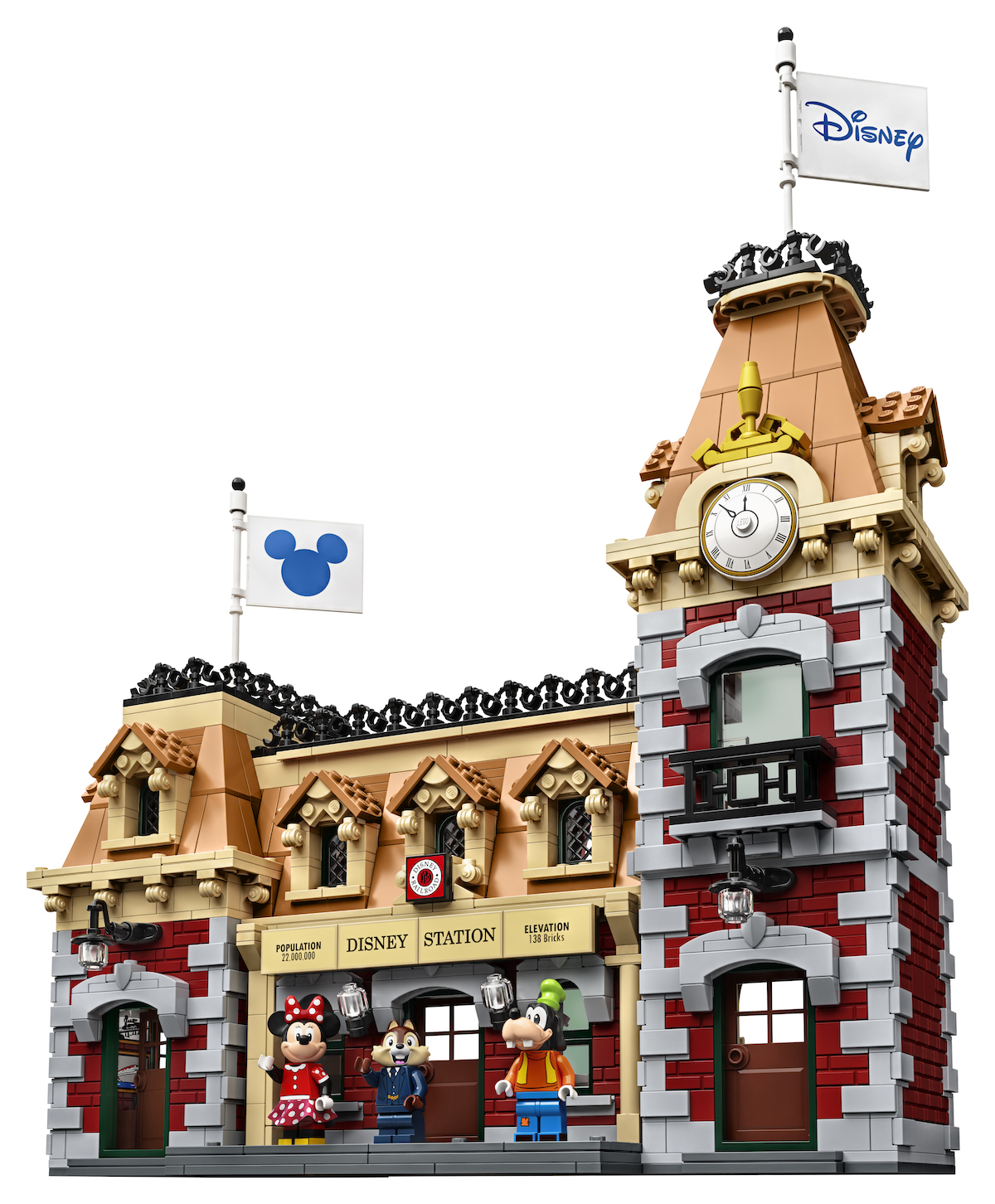 The station (over 15" high, 14" wide, and 6" deep) is adorned with an exterior featuring "a detailed facade with balcony, clock, and two flagged towers." The interior comes with "a ticket counter, café corner, and an array of brick-built furnishings and details," which includes draped windows, wall clock, ceiling chandelier, and a tower room "with a little Disney surprise."
The Disney Train and Station set will be available directly from LEGO stores and LEGO.com on September 1, 2019, though LEGO VIP members can order theirs on August 19. Until then, you'll still have to visit a Disney park to see that iconic train leaving the station.
Images: LEGO