Some people are incredible plant parents. Others, fabulous plant godparents who swoop in, swoon over a stunning pothos, and go on our merry ways. I have a handful of plants but I'm being honest, they're alive and thriving because I live with a Plant Person. I love how houseplants brighten up a space, whether it's a fig tree in the corner or a soothing array of succulents. It's the keeping them alive aspect that I struggle with—and not without great effort. So naturally I am living for LEGO's growing botanical collection. In early 2021, LEGO unveiled a pair of flowery builds, with a bouquet and a Bonsai tree. And now another array of delightful LEGO florals are set to debut. Meet the LEGO Succulent set, the LEGO Orchid, and get reacquainted with the LEGO Bird of Paradise.
The new additions bring the LEGO Botanicals set up to five. This means there are so many occasions with which to decorate the house with LEGO plants. Whether it's a soothing Bonsai tree in the living room to a pair of succulents in the dorm, there's a use of each of them.
LEGO Succulents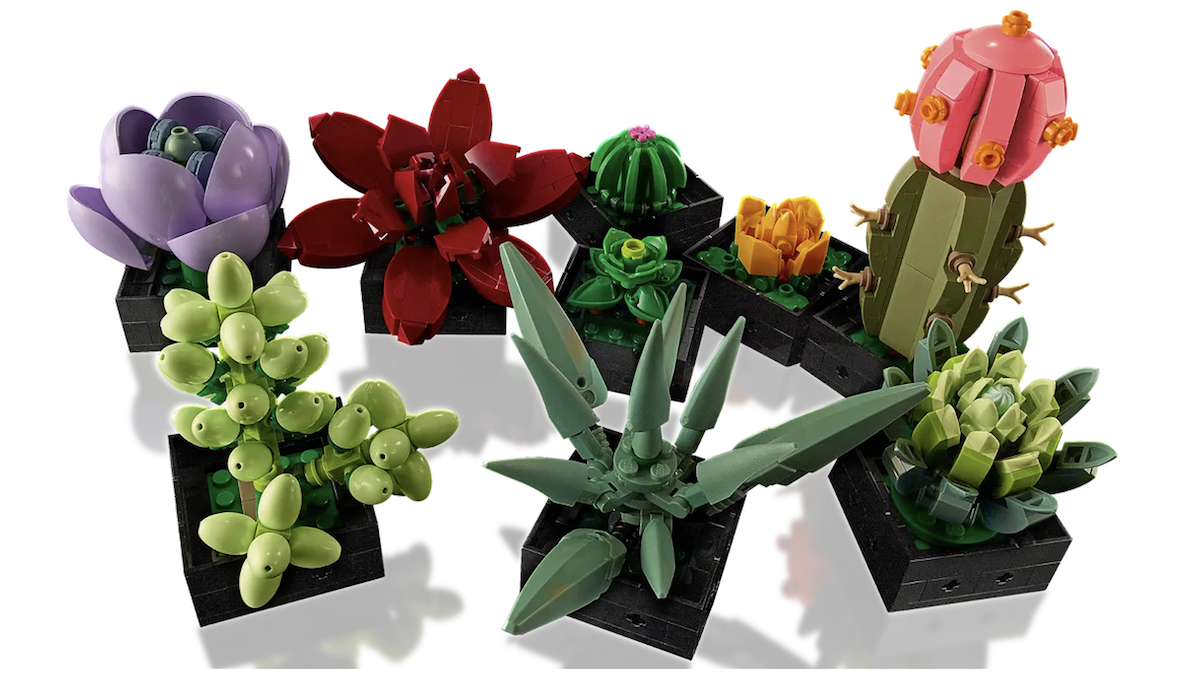 Succulents might be the most addicting plants. And not just because they're nearly unkillable. (But still killable nonetheless.) They're small, usually affordable, and serve as the perfect accent to a space, no matter how small. This, obviously, is what makes LEGO Succulents so exciting. The LEGO set consists of 771 pieces, which can create nine succulents. Once built, you can arrange them all together, across a bookcase, or even scattered among real, live succulents. This latter option is the ultimate succulent remix. And what makes the collection quite fun is the variety of succulents one can make, both in size, shape, and color. The LEGO Succulents collection is available for preorder, with a May 1 shipping date. Buy it for $49.99.
LEGO Orchid
An orchid is one of the most stunning and peaceful plants. Imagine an orchid that never died—just stood the test of time on the mantle. The LEGO Orchid is absolutely that girl. Consisting of 608 bricks, the LEGO Orchid is inspired by a real orchid. It features five leaves, two air roots, and a buildable blue vase. The completed build stands about 15 inches high. The LEGO Orchid is available for preorder, with a May 1 shipping date. Buy it for $49.99.
LEGO Bird of Paradise
The most elusive member of the LEGO Botanicals collection is the Bird of Paradise, which even LEGO has dubbed "Hard to Find." It's not necessarily a new member of the collection, like its plant siblings above. But we thought we'd give it another shout since it is beautiful, on backorder but still available to order, and would look like a star on a shelf. The LEGO Bird of Paradise set is quite a weighty set, boasting 1173 bricks. Currently, the Bird of Paradise is available to order for a May 5 shipping date. Buy it for $99.99.
The LEGO Botanicals collection is for sure a keeper. From a dorm room to the office, the lovely array of LEGO plants has a little something for everyone.