Joe Manganiello is a man of many eclectic talents. The actor has long been a recognizable face (and voice) in shows like True Blood, Star Wars Resistance, One Tree Hill, and Critical Role. But he's also known as a comic book lover and superhero stalwart. He's not only a huge comics fan, but he's also played characters in both the DC and Marvel movie universes. (He was Flash Thompson in Sam Raimi's Spider-Man movies and Deathstroke in Justice League.)
Manganiello's new movie, Archenemy, is a subversive take on superhero storytelling. Director Adam Egypt Mortimer has created something truly trippy and transgressive with this film. Archenemy focuses on Max Fist (Manganiello), an enigmatic and troubled homeless man who may or may not be the last son of a dead planet called Chromium. When we chatted with Joe about the radical sci-fi flick, we also asked him about his other passion: tabletop gaming.
Pull up a chair & grab your dice as Alex Stedman & Variety pull the curtain back on my ultra secret weekly Dungeons & Dragons Campaign...https://t.co/LNams1Hts7

— JOE MANGANIELLO (@JoeManganiello) May 6, 2020
Running a D&D Campaign in 2020
Earlier this year, Manganiello revealed he'd been running a star-studded Dungeons & Dragons campaign. The news took the internet by storm. But how has the game been faring in the face of the global pandemic? It's adapting, just like all of us have had to in 2020. "As far as my game goes, I had to switch over to Zoom and Roll20 for my group," Manganiello told Nerdist. "I had to get savvy with the maps and really learn how to enter Roll20 maps. I've been able to do that. So when I've been in town and I haven't been working—which, actually, I've been working a lot—I still run the game for my guys."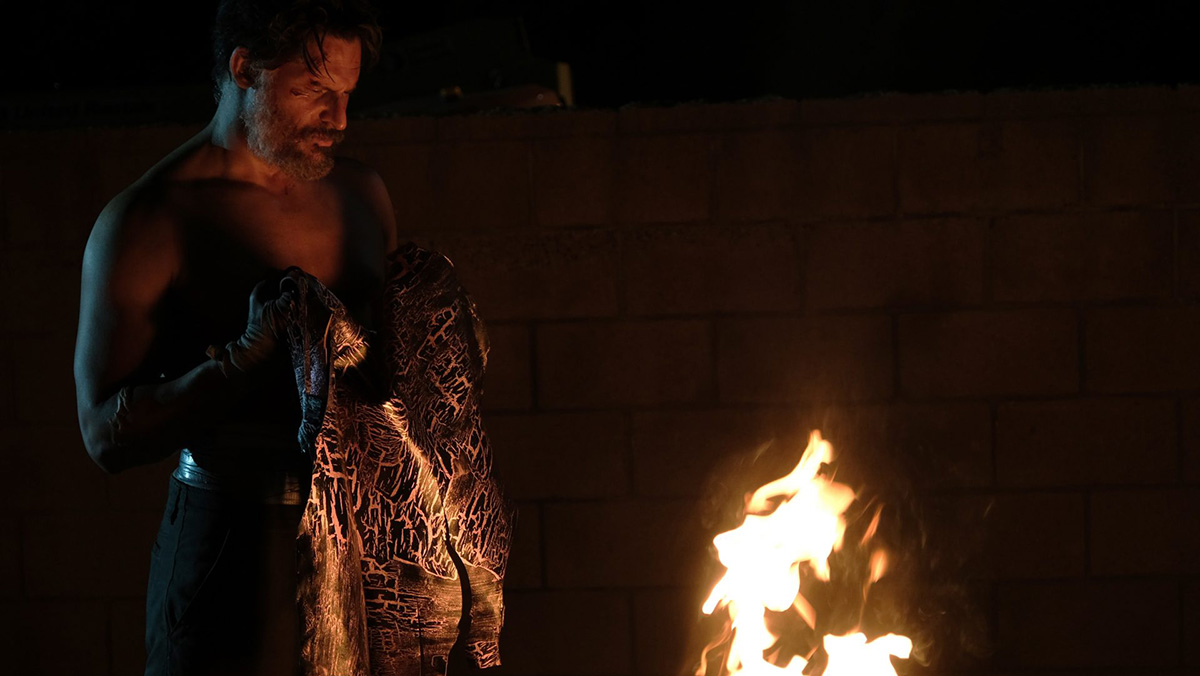 RLJE Films
Unleashing Arkhan onto the World of D&D
2020 saw Manganiello design his own crew of miniatures, which were recently unleashed on the world of Dungeons & Dragons. The team of figures is led by the actor's own OC, Arkhan the Cruel. He's a dragonborn paladin/barbarian whom Manganiello created for his own games before sharing him with the world. "It's been a fun year because, you know, all my little Arkhan and friends figures, the Baldur's Gate: Descent Into Avernus module that I designed got released in stores and sold online," Manganiello said. "So seeing those circulate and seeing people play the adventure module and get to play as Arkhan is great."
Getting through 2020 has been difficult. But a vital part of that has been virtually sharing our passions and hobbies. So it's pretty amazing to be able to share that with one of our favorite actors. After all, how often do you get to play as Deathstroke's OC?
Archenemy hits Theaters, On Digital, and On Demand on December 11.