Ever since, How I Met Your Father was even announced, everyone was asking one big question. Will How I Met Your Mother (HIMYM) characters appear on How I Met Your Father? Of course, How I Met Your Father isn't a HIMYM sequel. And for the most part, with only small exceptions and Easter eggs, the two shows in the franchise have stayed separate. Until now, at any rate. Because in the How I Met Your Father finale, fans of both shows received a treat. A fan-favorite HIMYM star finally bridged the gap between the shows. Beware, How I Met Your Father finale spoilers lie ahead.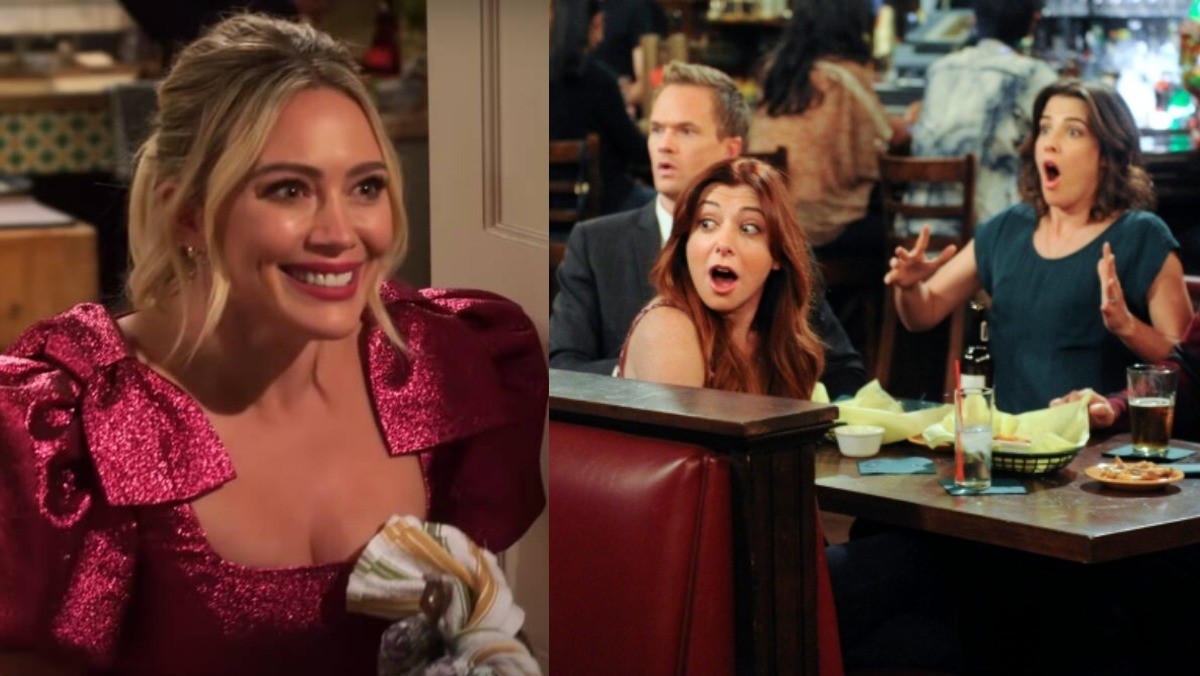 But who was the mysterious How I Met Your Mother character that graced the world of this new show? Why none other than Cobie Smulders' Robin Scherbatsky arrived on the scene of How I Met Your Father. In a generation-clashing moment, two stars that have made big impacts on different parts of our lives sat down together. And it all started when Hilary Duff's Sophie Tompkins made her way into MacLaren's Pub.
MacLaren's Pub was a featured location on How I Met Your Mother. Barney, Lily, Marshall, Ted, and, of course, Robin shared many a drink there over the years. How I Met Your Father even brought back classic employee Carl the Bartender to pour Duff's Sophie a drink. Anyone who loved the original show could already feel the nostalgia pouring out.
Once situated with her drink, Sophie encounters none other than Robin, now a famous journalist, who gives her some sound advice on life and love. How I Met Your Father has seen some smaller HIMYM cameos, such as The Captain and Becky, but this makes for the first major crossover moment. As the two chat, Robin, of course, references her HIMYM relationships and arcs. She speaks of Ted when she says, "I once had a guy say 'I love you' on our first date," to which Sophie replies, "Dude sounds like a real piece of work." Cue the laugh track among the viewers at home.
But Robin has more insights to share. She offers, "But a good piece of work. Which brings me to my advice: Do not waste your time being scared, Sophie. Fear can make you run away from things that could be good, great even. Things that are supposed to be a part of your story. So, really think about it… What did Jesse do wrong other than say everything you ever wanted a guy to say, just faster than you expected?"
Of course, Jesse also has some piece of work to him, and things don't go exactly as planned for Sophie's newly advised self. But Robin has a little more wisdom yet to deliver. "If I've learned anything at all about love," She sagely concludes, "it's that timing is everything. Sometimes, timing's a b***h."
Robin has certainly learned that, but she's still on her journey too. According to TVLine, in 2022, Robin has been separated from Barney for six years. And she still has nearly a decade to go before finding love with Ted again. But seeing her again, here, in this fun interlude really lets us reconnect with the character. And we have to say, we love hearing her (well-earned) advice.
While seeing Cobie Smulders' Robin again in How I Met Your Father's world delights us, we like that the two shows will remain separate. As How I Met Your Mother and Father's executive producer and director Pam Fryman shares with TVLine, "It's a gift instead of a promise." And a beautiful gift, for sure.