Television in the 1970s was absolutely wild. Sitcoms were edgier, dramas spent more money, and TV movies played multiple nights per week. So many TV movies, in fact, that the breadth of genres went very wide. Horror and thrillers, often quite scary, would grace television screens on some random night and chill viewers to the bone. Infamously, Steven Spielberg's 1971 TV movie Duel proved so popular that he made his leap to theatrical features. Recently, distributors like Kino Lorber and Warner Archive have remastered some of these televised horrors and put them out on Blu-ray for posterity. And a lot of them are really good.
Kino Lorber
This is by no means a complete or thorough discussion of horror/thriller TV movies from the 1970s, nor is it meant to specifically talk about the best ones ever. It's more a mélange of the kinds of movies you'd get on your screens, were you a TV viewer back then. Maybe some of you were! I don't know you.
The Night Stalker
For many, the be-all, end-all of TV horror in the '70s involves an investigative reporter and renowned seersucker suit-wearer, Carl Kolchak. Producer Dan Curtis (Dark Shadows) commissioned Richard Matheson (The Twilight Zone, I Am Legend) to write an adaptation of the then-unpublished novel by Jeff Rice titled The Kolchak Papers. In the age of Watergate, Rice's idea was to make the hero a Woodward and Bernstein-esque reporter, looking for truth and encountering government cover-up. Only it had a vampire in it!
The Night Stalker, which aired on January 11, 1972, as the ABC Movie of the Week, followed Carl Kolchak (Darren McGavin), a fairly sleazy and hard to like investigative reporter as he looks into serial killings in Las Vegas. He quickly discovers the victims don't just die, they have most of their blood drained. He rubs everyone the wrong way, including the chief of police, the sheriff, the district attorney, and his own editor Tony Vincenzo (Simon Oakland).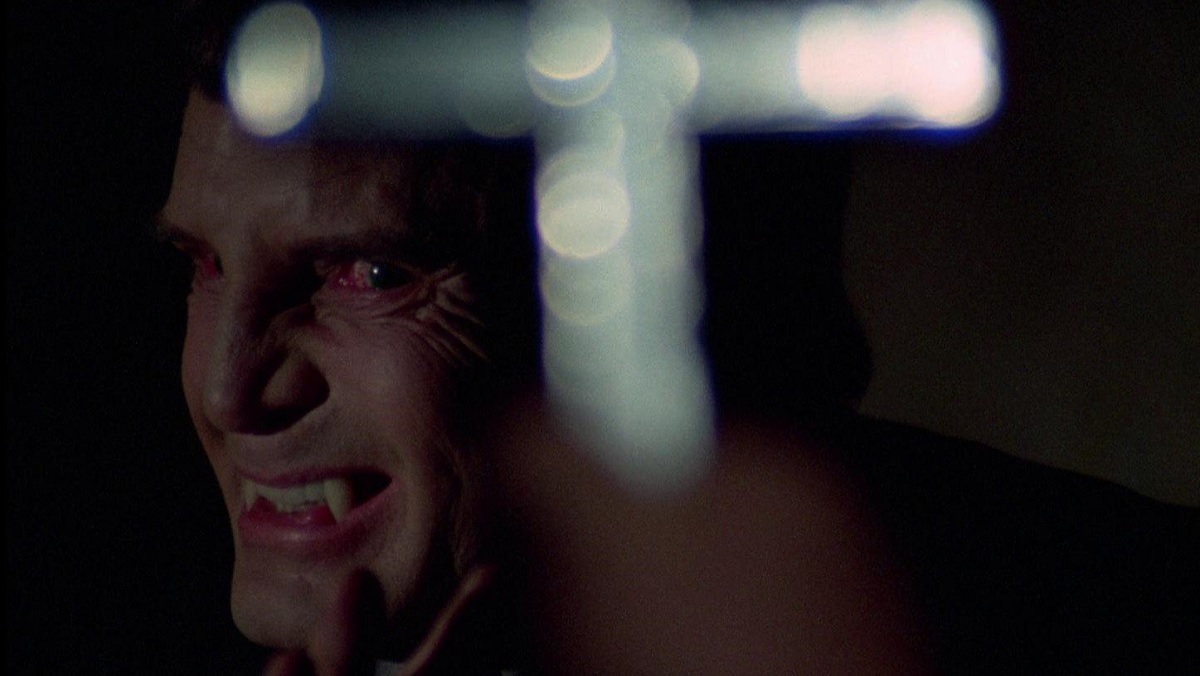 Universal
The suspect, Janos Skorzeny (Barry Atwater), turns out to be a centuries-old vampire who has been on the authorities' radar for years. Kolchak takes it upon himself to fight Skorzeny and even though he succeeds in staking him, and the FBI witness it, he's run out of town.
The Night Stalker was immensely popular, the most viewed program of the year. It's also still one of the most effective and at times quite scary horror things of the era. ABC would have been foolish not to capitalize on that.
The Night Strangler
One year later, a follow-up movie aired. While Stalker director John Llewellyn-Moxey did not return to direct, Curtis, Matheson, McGavin, and Oakland came back for the sequel, The Night Strangler. This time, Carl Kolchak has relocated to Seattle, along with Tony Vincenzo for some reason, and he's back to annoying authorities in his effort to uncover the truth.
Universal
The problem with The Night Strangler is that it's basically a retread of The Night Stalker. It's not a vampire this time, but it does have an ancient killer. Dr. Richard Malcolm (Richard Anderson) is an alchemist who created an elixir of life back in 1868 and has resurfaced every 21 years for a period of 18 days to extract blood from people in order to make his next batch. It's…fine. It's more Kolchak, so that's a plus, but it really just feels like the same movie with different circumstances.
Kolchak: The Night Stalker
The original idea was for there to be a third Kolchak movie, The Night Killers. But ultimately Curtis and Matheson both backed away. Star McGavin was game, but ABC wanted to capitalize on the ratings. Instead of a third movie, they greenlit a TV series. Kolchak: The Night Stalker premiered on September 13, 1974. Initially, the show was under the shepherding of writer Rudolph Borchert, but he and McGavin didn't get along, and eventually the young writer David Chase became the de-factor story editor. You know Chase; he only went on to create The Sopranos.
Each episode had Kolchak, now based in Chicago working for the fictional Independent News Service, still with Vincenzo as his irascible editor. This is the show that birthed the now-ubiquitous "monster-of-the-week" format for sci-fi/horror series. Kolchak went up against Jack the Ripper, voodoo zombies, invisible UFOs, ghosts, and even a headless biker.
Kino Lorber
To be quite frank, not every episode of Kolchak: The Night Stalker works as well as others. That said, several episodes are legitimately great. "The Vampire" is a direct sequel to The Night Stalker, about one of Janos Skorzeny's victims turning into a bloodsucker. "The Spanish Moss Murders," directed by Gordon Hessler, is a fascinating and weird story of a creature that's a projection from the mind of a man undergoing a sleep study. "Horror in the Heights," written by Hammer horror legend Jimmy Sangster, finds a creature killing old Jewish people by appearing to them as beloved friends. "Demon in Lace" has a succubus possessing the bodies of recently deceased women in order to feed on the lifeforce of lusty men. Great stuff.
Kolchak: The Night Stalker only lasted 20 episodes but its legacy and the legacy of the other Kolchak movies gave birth to later supernatural detective shows like The X-Files.
Women in Big Houses
Kino Lorber
The Kolchak saga is a bit of an outlier in the realm of '70s TV horror, in that it starred a man. Most horror TV movies gave us women as central figures in order to ensure maximum terror. A trio of moves out now from Kino Lorber feature women traipsing around very large houses, looking particularly afraid.
The first of these is The Screaming Woman which aired on ABC only 18 days after The Night Stalker. Directed by Jack Smight (The Illustrated Man) and adapted from a Ray Bradbury story, it follows a wealthy older woman (Olivia de Haviland) who has recently returned home from a stint in a mental hospital. Soon after she's back, while out on a walk, she hears a woman screaming for help and realizes it's coming from under the ground. She begs her son to help her dig, but he (and eventually the whole neighborhood) thinks she's delusional. Can she convince anyone in time?
Universal
Later in 1972, ABC aired The Victim, which starred Elizabeth Montgomery (Bewitched) who travels from San Francisco to her younger sister's mountain home for moral support upon learning her sister will file for divorce from her husband (George Maharis). We know that the sister has been killed by someone and they are somewhere in the very large house. While this sounds like a really good premise for a movie, it amounts to watching Montgomery walk from room to room calling "Susan? Are you there, Susan?" a million times.
Universal
The final release is the absolutely buck-wild Scream, Pretty Peggy from 1973. Directed by Gordon Hessler and co-written by Jimmy Sangster and Arthur Hoffe, the movie follows Peggy (Sian Barbara Allen), a go-getter college student who forcibly takes a job as housekeeper for sculptor Jeffrey Elliot (Ted Bessell) and his alcoholic mother (Bette Davis). Peggy, who is presumptuous to the point of audacity, starts asking a lot of questions about Jeffrey's absent sister Jennifer. Well, is she absent? Someone sure has been stabbing people with knives.
Women Versus Monsters
If women walking around very large homes isn't spooky enough for you, they eventually added legitimate creepy monsters to them. The 1973 ABC Movie of the Week Don't Be Afraid of the Dark finds Sally (Kim Darby) and her husband Alex (Jim Hutton) inheriting an old mansion from Sally's grandmother. While checking out the old building, they learn the grandmother had the handyman brick up a fireplace in the basement. Why would she do that? Well, turns out there are tiny little monsters trapped in there who now have plenty of room to haunt Sally and make her seem crazy.
While the premise sure is weird, Don't Be Afraid of the Dark is surprisingly effective for its time. It made such an impression on Guillermo del Toro that he wrote and produced a big screen remake in 2010.
Warner Bros.
And finally for our purposes, we've got maybe the gold standard of monsters-on-tv movies, 1975's Trilogy of Terror. We've got our friend Dan Curtis back, producing and directing, and Richard Matheson back co-writing with William F. Nolan. This movie is an anthology of three unrelated stories, each starring Karen Black as different characters. While the first two stories are fine, the third, "Amelia," has Black alone in an apartment terrorized by a haunted Zuni warrior doll. It's one of the finest and scariest pieces of TV ever.
These are just some of the wild and interesting offerings of horror TV movies. They're a lot of fun, and pretty short if you're in the mood for a sub-80-minute piece of '70s ephemera. And in October, why wouldn't you be?
Kyle Anderson is the Senior Editor for Nerdist. You can find his film and TV reviews here. Follow him on Twitter!