With everything going on at the moment we're all eager for distraction. Luckily, if you enjoy the darker side of life, Shudder has a spectacular lineup of horror films to choose from. Seeing as we're all stuck inside our homes for the foreseeable future, we've utilized Shudder's extensive catalog to curate a super cool movie marathon focusing on some of horror's biggest and brightest names. So pop some corn, Skype some friends, and get ready to scare yourself silly!
Classic Directors:
Shudder has a brilliant selection of horror films from iconic directors and revisiting their groundbreaking work is a great way to start your mini-stay-at-home film fest!
New Line Cinema
Carpenter is nothing short of a horror icon and Shudder has a solid selection of some of his best movies. The Fog is an underrated Carpenter pick and centers on a quaint seaside town that's cursed by the spirits of the dead, starring Adrienne Barbeau as a radical radio DJ. Halloween is arguably Carpenter's masterpiece and was the film that popularized slashers in mainstream America. Jamie Lee Curtis is a powerhouse and The Shape is still as scary as ever! In the Mouth of Madness is the Carpenter film you're least likely to have seen and it is splendid. Sam Neill plays an insurance investigator hunting down a missing horror author named Sutter Cane. Atmospheric, spooky, and delightfully '90s, In the Mouth of Madness is a great watch.
Cineriz
He's the king of giallo and Shudder has a few of his lesser known and best flicks available to Shudder. Argento showcases all his most famous tropes in this triptych of terror which features psychic teens, serial killers, mysterious murder investigations, psychic mediums, religious iconography as well as all those stunning, rich color palettes that set Giallo movies apart.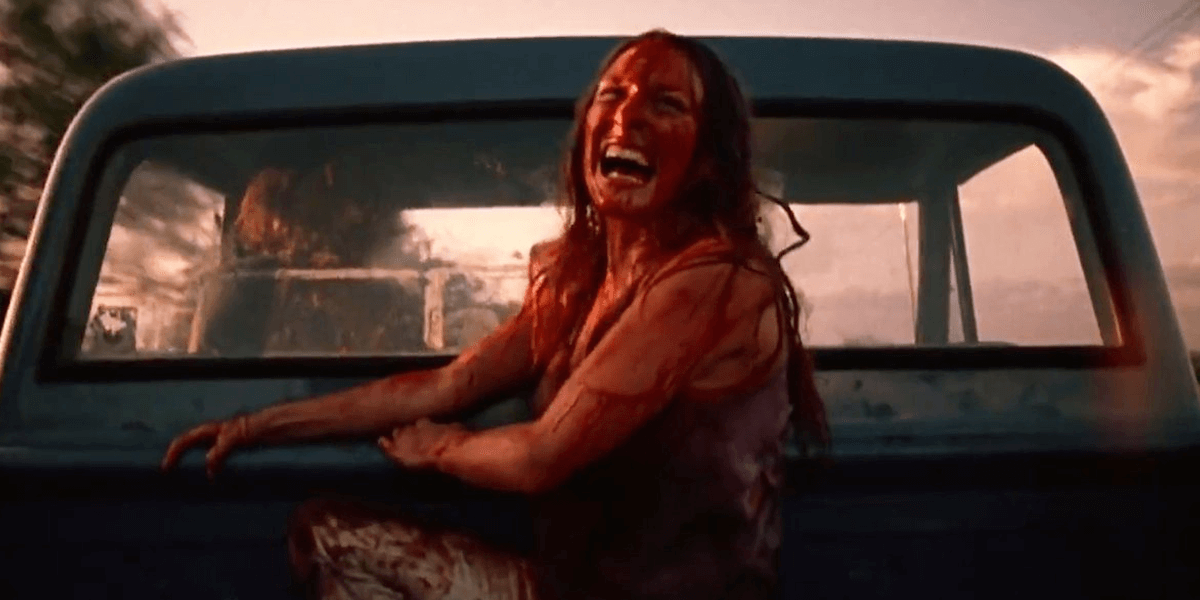 Bryanston Distributing Company
There's no film quite like The Texas Chain Saw Massacre. Tobe Hooper's stunning low budget horror movie stands alone in the realm of genre classics. Introducing the world to the horror icon that is Leatherface and showcasing the raw skill and talent of the cast and crew, this road trip nightmare has inspired 1,000 movies since, none of which have come close to capturing the terror, exhilaration, or ultimately the hope of the original 1974 feature.
Vanguard
He's one of horror's best and his two scary as hell rural cannibal horror feasts are streaming on Shudder right now. If you've never felt the terror of this dark double bill then it's the perfect time to meet the flesh eating Jupiter family and their newest victims!
Cult Favorites:
One of the most exciting things about Shudder is the service's expansive collection of curated cult classics that'll make you feel like you're digging through your old VHS store. These fun and frightening flicks are a perfect follow up to those big horror masterpieces!
New World Pictures
Though it was long disregarded as another empty slasher, Slumber Party Massacre is actually one of the earliest meta-slashers. Yep, long before Craven turned his eye to the trend in Scream, Holden Jones made this madcap slasher comedy about a group of girls who are terrorized by a maniac wielding a power drill. And SPM2 is also great and Shudder has that too!
Moma
Though it was nearly lost to time, Bill Gunn's radical Black vampire movie Ganja & Hess is a vital part of horror history. A beautiful, strange, and seductive story about lovers who are turned into immortal bloodsuckers, this is a revolutionary film that most horror lovers have never seen. Even if you can't commit to our whole schedule this is a movie you need to see so move it to the top of your watchlist!
Unidis
This early giallo classic has a body count to die for and is one of the few horror movies set in the world of high fashion. When a slasher strikes in a famous fashion house an inspector is put on the case but nothing is quite as it seems. Turning the whodunnit on its head, Bava delivers a sensual, terrifying, and inventive low budget euro-horror classic.
Media Blasters
Miike has made over 100 films and remains one of the most exciting and prolific filmmakers working today. Ichi the Killer is a brutal and brilliant horror-drenched take on the Yakuza genre that centers on a sadomasochistic enforcer who comes up against the titular killer who has a talent for torture. One of Miike's best and most horrifying, this masterpiece of the macabre is not for the fainthearted, but it's worth taking it.
Game Changers:
There are plenty of horror movies that have changed the landscape of the genre that we love. It was hard for us to pick just five, but these are vital additions to your ultimate horror marathon and will remind of just why you fell in love with horror in the first place.
George Romero
It's hard to overstate how important George Romero's Night of the Living Dead is. Not only is it a searing and stark horror film with a sharp political edge, but it began the craze of zombie stories in Western cinema. Still a chilling and exhilarating watch to this day, Night of the Living Dead is the perfect pick for a cozy day under quarantine.
Warner Bros.
Arguably the first slasher movie, this Canadian Christmas horror is a must watch for horror fans. As a group of sorority girls get ready for the festive season they begin to get strange phone calls that hint at an ominous threat. Radical for its time and massively influential, Black Christmas is a great watch no matter what time of year it is.
Kaijyu Theatres
I still remember the first time I ever watched Tetsuo Iron Man: a terrifying cyberpunk body horror the likes of which has never been replicated, a man driven mad by his metal fetish, a couple who commit a horrendous crime, and a curse that brings a new meaning to metalhead. Tetsuo Iron Man influenced all your fave directors and now you can enjoy it in your own home!
Next Entertainment World
Even though the zombie genre is overrun with movies that are dead on their feet, Train to Busan blew audiences away with its electrifying trapped room concept. It's deceptively simple and incredibly effective as a group of strangers have to survive the zombie apocalypse whilst on the titular train. One of our favorite horrors of recent years, this is a stone cold genre classic.
Unseen Gems:
Shudder has an incomparable choice when it comes to wonderful discoveries that you might not have had the chance to watch yet. Finish your marathon with these awesome, underseen gems to truly reignite your love of horror old and new!
Kaleidoscope Entertainment
Starting off our lesser known segment of programming is Alice Lowe's excessively dark and delightful tale of pregnancy, murder, and revenge! After her husband dies in a freak accident, Ruth begins to hear her baby imploring her to seek revenge on those around her. Lowe is a uniquely gifted horror talent and we adore this bleak and brilliant twist on the revenge genre.
Hammer Films
I hadn't watched this weird and wonderful Hammer Horror flick until I discovered it on Shudder and it's now one of my favorites. Vampire Circus does what it says on the tin, throwing a small village into chaos when a glamorous and enticing new circus comes to town. Keep an eye out for the snake dance sequence, you'll never forget it.
Lukas Feigelfeld – Hagazussa
Forgotten Film Entertainment
After all the excitement of the marathon so far, Hagazussa is the perfect time to chill out and trip out with this exceedingly strange and atmospheric chiller. Experimental and bizarre, this entry has to be seen to be believed, but take it from us that it is a witch-centric horror movie like nothing you've ever seen before.
CBS
You've seen Bela Lugosi as Dracula. You've seen Christopher Lee as Dracula. But you've (probably) never seen Hollywood legend Jack Palance as Dracula. Well, thanks to the good folks at Shudder now you can. Curtis' little seen Dracula adaptation was made for TV and is the perfect mix of cozy, creepy, and—as with most Dracula movies—camp. Palance's performance is perfect and this is the perfect example of an unusual piece of genre film history that would never see the light of day without Shudder.
Shudder
Shudder is literally the only place you can stream One Cut of the Dead, which honestly makes it worth the price of membership alone. This ultra low budget take on the zombie craze is a total delight. Funny, scary, silly, and endlessly inventive, One Cut of the Dead centers on a crew trying to make a zombie film when the real zombie apocalypse happens. This brilliant guerilla movie will leave you satisfied and inspired to finally make your filmmaking dreams come true.
These are just some of our favorite flicks currently streaming on Shudder that we thought might keep you entertained. You can enjoy hundreds and hundreds more with the amazing service. Even better, due to the fact that a lot of people are currently housebound, the kind folks at Shudder have extended their usual week-long free trial to a 30-day free trial if you use the code SHUTIN. (Not an ad, we just think they're doing a cool thing)
Header Image: Compass International Pictures