We're quickly approaching the holiday season. That means it's almost the happ-happiest time of the year! Well, for some of us. Christmas and the accompanying winter holidays are full of Yuletide joy, sure. But they can also be a melancholy time of the year. If you're not really the merry type, there's plenty of holiday-themed media that reflect the less happy qualities of Christmas. For this list, we're focusing on TV episodes set during the holidays that have a horror tinge. Because what better way to let out your pent-up seasonal frustrations than with some depressing, ghoulish television? Here are 10 episodes of TV to put you in the anti-holiday spirit.
The X-Files, "How the Ghosts Stole Christmas"
The X-Files got a little bizarre and experimental in its sixth season. More so than usual, that is. A good example of that is this sixth episode, " How the Ghosts Stole Christmas," which puts Mulder and Scully together on Christmas Eve. Mulder wants to investigate a haunted house in Maryland and woos Scully away from her family to check it out. Inside, they find the ghosts of a couple played by Ed Asner and Lily Tomlin. Things get weird and time-bendy and gory. But don't worry; it all ends with one of the more precious scenes in X-Files history, when Scully and Mulder exchange gifts and spend Christmas evening together.
Black Mirror, "White Christmas"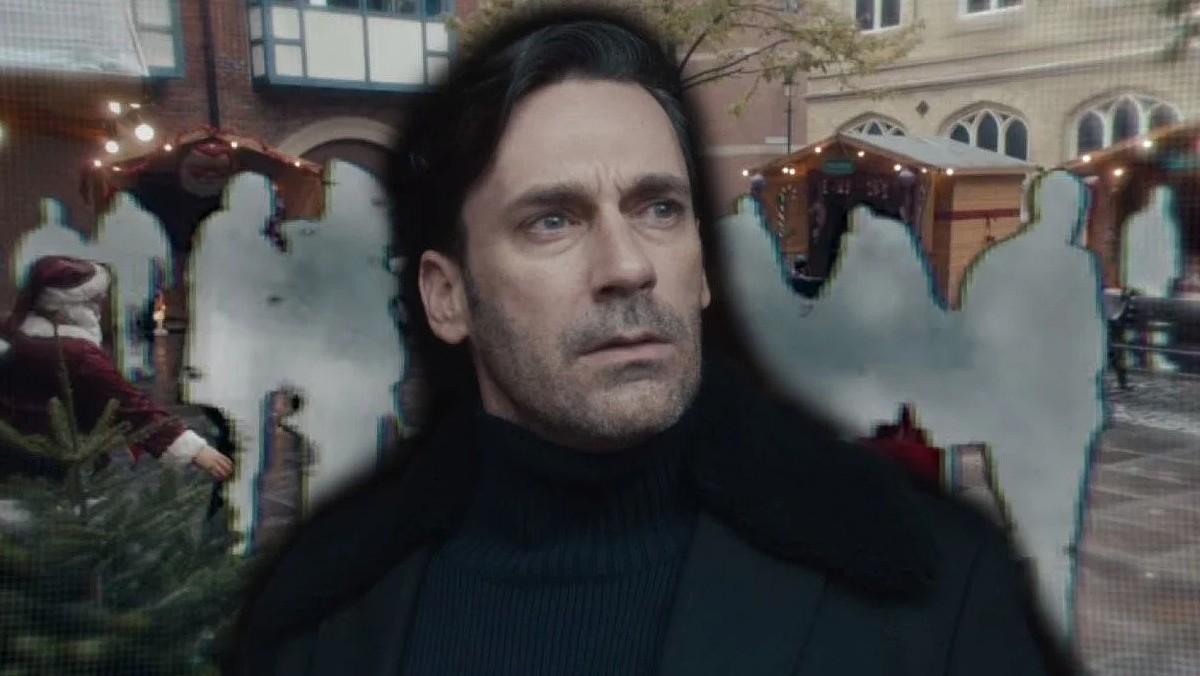 Netflix
This is hands-down the most grim entry on this list. It centers on two men, Joe Potter (Rafe Spall) and Matt Trent (Jon Hamm), who live together in an isolated cabin. They're both there due to past transgressions in their personal lives. Matt ran an online group where men used each other to spy on women in dating scenarios. Joe was involved in a miserable scenario with an ex that led to the deaths of two people, including a child. That's not even half of what makes this episode of Black Mirror such a hard watch, so prepare yourselves for utter misery should you decide to watch this one this holiday season.
The Twilight Zone, "The Night of the Meek"
It's hard to really classify this episode as scary or miserable, since it's actually one of the more endearing on the list. But it's still an episode of The Twilight Zone, meaning there's a twinge of melancholy and supernatural laced within. The episode centers on Henry Corwin, a department store Santa fired from his job when he shows up to work drunk. Down-on-his-luck Henry is a generally good man who only wishes that he could bring happiness to others, and for "the meek to inherit the Earth." When he stumbles upon a magical bag that is able to produce whatever gift a person most desires, his luck changes forever.
Tales from the Darkside, "Seasons of Belief"
CBS Television Distribution
This episode of HBO's Tales from the Darkside was directed by Michael McDowell, who would later co-write Beetlejuice and The Nightmare Before Christmas. It stars E.G. Marshall as a father of two small children who tells the kids of a dangerous Christmas creature known as the Grither. The Candyman-esque monster is like the anti-Santa Claus and will show up if you say his name. We're meant to believe it's a made up story, but this wouldn't be a horror episode if this thing didn't really exist. Indeed, the Grither eventually comes to the house, and the expected horror ensues.
The Night Gallery, "The Messiah on Mott St."
This Rod Serling-penned episode of The Night Gallery is one of the finest hours of the series. It centers on a man named Abraham (Edward G. Robinson) who lives with his grandson in a small apartment. He falls ill and the doctor pays a home visit, but urges Abraham to go to the hospital. But he's afraid what will happen to his grandson if he leaves and doesn't return. A man of Jewish faith, Abraham, believes the Messiah will come to watch over him and that he doesn't even need the hospital. What follows is a beautiful episode of television that blends together Christmas and Jewish traditions, and might just warm even the coldest of hearts.
Buffy the Vampire Slayer, "Amends"
20th Century Fox Television
In this season three episode of Buffy the Vampire Slayer, Angel is haunted by the monster he has been. The vampire, revived from the dead, can't seem to forgive himself for past murders and acts of evil. Buffy comes to learn that he is haunted by the First Evil, an entity that walks Angel to the brink of madness and suicide. But as he waits for the sun to come out and strike him dead, snowfall comes instead. A forgiving white snow blankets the California town of Sunnydale. Which Angel and Buffy walk through the peaceful scene, another day behind them.
Supernatural, "A Very Supernatural Christmas"
This season three episode of Supernatural finds Sam and Dean investigating a series of murders where victims are pulled up through the chimney. It's not Santa ravaging these people, however, but a a demon with roots in pagan lore—one who walks with a limp and smells of candy. The episode also features a series of flashbacks to Sam and Dean's childhood, when Sam waited for his father come home and deliver a special gift.
American Horror Story, "Unholy Night"
FX Networks
The second season of the anthology series American Horror Story is set in an asylum that houses everyone from innocent gay women to gnarly murderers. Leigh Emerson (Ian McShane) is the latter, a man who experienced a psychotic break and killed several people while dressed as Santa Claus. McShane is excellent (as always) in this brief guest appearance, where he gets to play off Jessica Lange's sadistic Sister Jude Martin. The two make for an excellent, deprived pair.
Alfred Hitchcock Presents, "Santa Claus and the Tenth Avenue Kid"
This is another horror anthology series about a department store Santa. And while it's a little less saccharine than "The Night of the Meek," "Santa Claus and the Tenth Avenue Kid" also pulls at the heartstrings. It follows a man named Harold "Stretch" Sears (Barry Fitzgerald) who spends his days as a department store Santa. Stretch is a convicted felon who hides his past for his new job. But being around kids softens him. So much so, that when he bonds with a young boy who reminds him of himself, he breaks his parole so he can give him the Merry Christmas he deserves.
The Chilling Adventures of Sabrina, "Midwinter's Tale"
Netflix
The Chilling Adventures of Sabrina is a darker take on the vintage Archie witch, so naturally, the Christmas episode of the show is a bit twisted. "Midwinter's Tale" actually aired as a Christmas special in December 2018 on Netflix. It finds the Church of Night coven celebrating Yule, the Winter Solstice. Because the veil between worlds is thinnest on solstices, Sabrina holds a séance where she attempts to contact her mother. But it wouldn't be an episode of Sabrina if things didn't go a little awry.
Featured Image: Netflix