Giving presents is fun, but picking them out can be really stressful. So because we like our readers to feel relaxed, we're here to make the end of your year as easy as possible. We put together another holiday gift guide for you, our fellow pop culture lovers. This list celebrates some of our favorite properties with everything from ideal stocking stuffers and perfect Secret Snowflake options, to must-have collectibles and impressive big ticket items. There's something here for everyone in your life.
We've highlighted a few, but you'll find plenty of gift ideas under each entry. Make sure to check them out to find the right present for the special people in your life. And, let's be honest, to probably also pick out a couple for yourself.
Star Trek: Picard – Delta Magnet ($29.95)
This year saw us say farewell to Captain Jean-Luc Picard. Again. But we can always keep the iconic Starfleet commander close by with this Picard elegant Delta Magnet. Based on the insignia seen on the spinoff series, it measures 2 ¾-inches tall and has a bright silver delta over a matte finish black nickel.
Looking for more Star Trek gift options?
Sometimes we all need a little motivation to be our best. Other times we need someone to yell knock off the f***ing bull****. (We tend to really need both during the holiday season.) That's why we could all use a little Coach Roy Kent in our lives, and you can get just that with this Funko Pop! of the breakout Ted Lasso star.
Looking for more Ted Lasso gift options?
There's never a shortage of great Batman memorabilia, but we're partial to anything that celebrates the greatest live-action Batmobile ever. That's what this special McFarlane set does, with a replica of Tim Burton's 1989 car. It also comes with a figure of Michael Keaton's Batman.
Looking for more Warner Bros. icons gift options?
Ahsoka introduced a whole new audience to Star Wars' sassiest, prank-loving droid. Now you (or, you know, your kids) can also get the full Chopper experience with Hasbro's interactive Chatter Back Chopper droid. With more than 40 different sound and movement combos it will beep your ear off. We wouldn't want it any other way with old Chop.
Looking for more Star Wars gift options?
Star Wars: The Deck-Building Game ($37.99) – Baylan Skoll would love this. This new head-to-head tabletop game will let you fight for the Rebel Alliance or the Empire, bu without worrying any Jedi or Sith will get involved in the outcome.
Obi-Wan Kenobi Legacy Lightsaber Collectible Set ($249.99) – Sometimes you just need a super fancy replica of your favorite Jedi's lightsaber. That's just how it goes sometimes. Santa gets it.
Jakks Pacific's Super Mario Bros. collection was already one of the best in the toy business before the franchise's animated film hit theaters. Since that blockbuster premiered Jakks' Super Mario. Bros. collectibles have only gotten better, like with this fantastic fire-breathing figure of Jack Black's Bowser. It's so good even Peach would love unwrapping one.
Looking for more kids' pop culture toy gift options?
The Lord of the Rings – Horn Of Gondor ($184.99)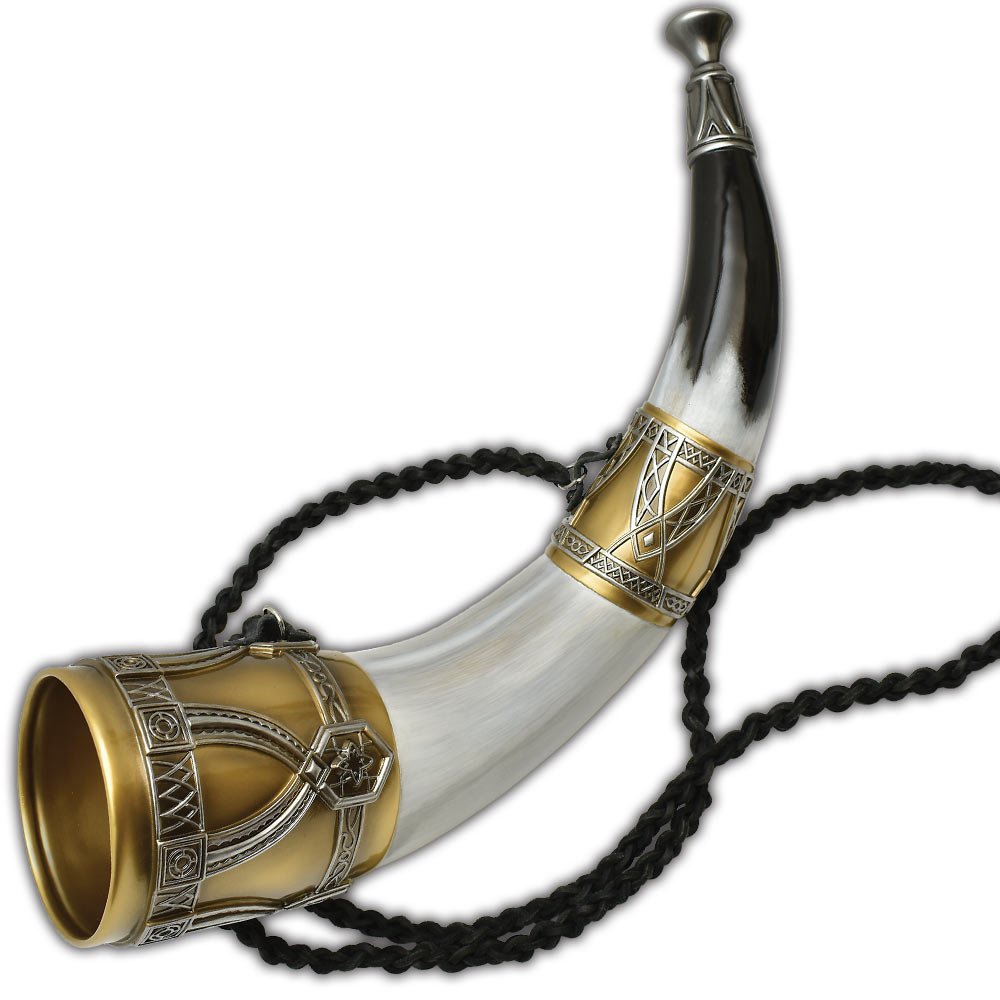 You don't need to be in the kingdom of Gondor to hear its legendary horn. You can let anyone anywhere blow it with United Cutlery's screen-accurate replica of the one Boromir used in Peter Jackson's The Lord of the Rings: The Fellowship of the Rings. This is more than just a collectible, though. It can be buried with you when you die. It's like a double gift! (Maybe don't mention that during the holidays.)
Looking for more fantasy world gift options?
Willy Wonka & the Chocolate Factory – Bluetooth Train Set ($449.99)
The priciest item on our list is a big item for big fans of an all-time classic. Lionel's new bluetooth-enabled Willy Wonka and the Chocolate Train set celebrates the beloved 1971 movie. Not only can you control this five-piece locomotive with your voice, you don't even need to be a train person to run it. It includes it's own track, making it the perfect present to chugga chugga chugga chugga choo-choose.
Looking for more food-inspired gift options?
Thames and Kosmos Rainbow Gummy Candy Lab ($19.95) Any kid (or adult) who watches Willy Wonka wants candy, but why not play with your food and create your own with this set?
Heroes of Barcadia ($60) – "Candy is dandy, but liquor is quicker," and this clever tabletop game from Rollacrit turns a board game into a drinking game.
This massive new 328-page collection from The Folio Society combines some of the most famous, most important Marvel Comics' stories of Earth's mightiest heroes. Whether a comic book newcomer or longtime fan this set is a beautiful addition to any library. Plus it also comes with a replica issue of Stan Lee and Jack Kirby's 1963 The Avengers #1. Excelsior!
Looking for more MCU gift options?
Being a kid is obviously way better than being an adult, with one major exception. Adults can buy themselves stuff, including stuff they would have loved to have as kids. So why not do that for your fellow '90s kids by getting them a blanket that celebrates Salute Your Shorts' Camp Anawanna. It will literally warm you with notalgia.
Looking for more nostalgic Nickelodeon gift options?
Don't settle for just buying a great gift for someone. Strive to climb the Ron Swanson Pyramid of Greatness introduced on Parks and Recreation. This 18×24 premium print comes on satin photo paper. It's one of our favorite options for an office swap, especially because there's a chance your colleague will hang it up at your place of work. Then you'll get to see Nick Offerman's face and remember the importance of "Cabins."
Looking for more beloved NBC show gift options?
Cinema Science – DIY Retro Film Projector ($79.99 $32 Black Friday Special)
If you want to help inspire the next generation of filmmakers this DIY Retro Film Projector from Cinema Science is a great way to get them excited about how stories get on screen. This 86-piece STEM set designed for kids eight and up will let youngsters safely build their own camera to learn how they work. It also comes a shark-themed film strip to watch. Our only complaint is this didn't exist 30 years ago so an adult could have given it to us.
Looking for more interactive story-telling gift options?
Create-A-Story Paper Center ($59.99) Even the youngest kids can learn how to tell a story with nothing but pictures thanks to this adorable set.
Zu3D Complete Stop-Motion Animation Software Kit and Set ($72) Once your favorite child is ready to go a little more high tech they can not only learn about stop-motion animation they can shoot their own films. We really love this set and would have guessed it costs way more.