Black History Month often celebrates many pivotal "firsts" in various arenas, including the pop culture and geek space. In our current world, it is not unusual to see Black heroes thriving both in print and on screen. The gargantuan success of films like Black Panther and Spider-Man: Into the Spider-Verse along with TV shows like Black Lightning more than proves what we've already known: Black heroes are beloved and needed in the entertainment realm. When thinking about the first Black superhero, most people point to Black Panther, the Jack Kirby and Stan Lee character who first appeared in Fantastic Four #52 in July 1966. However, the first Black superhero in US comics was actually Lion Man. Let's dive into this character and the comic he originates from.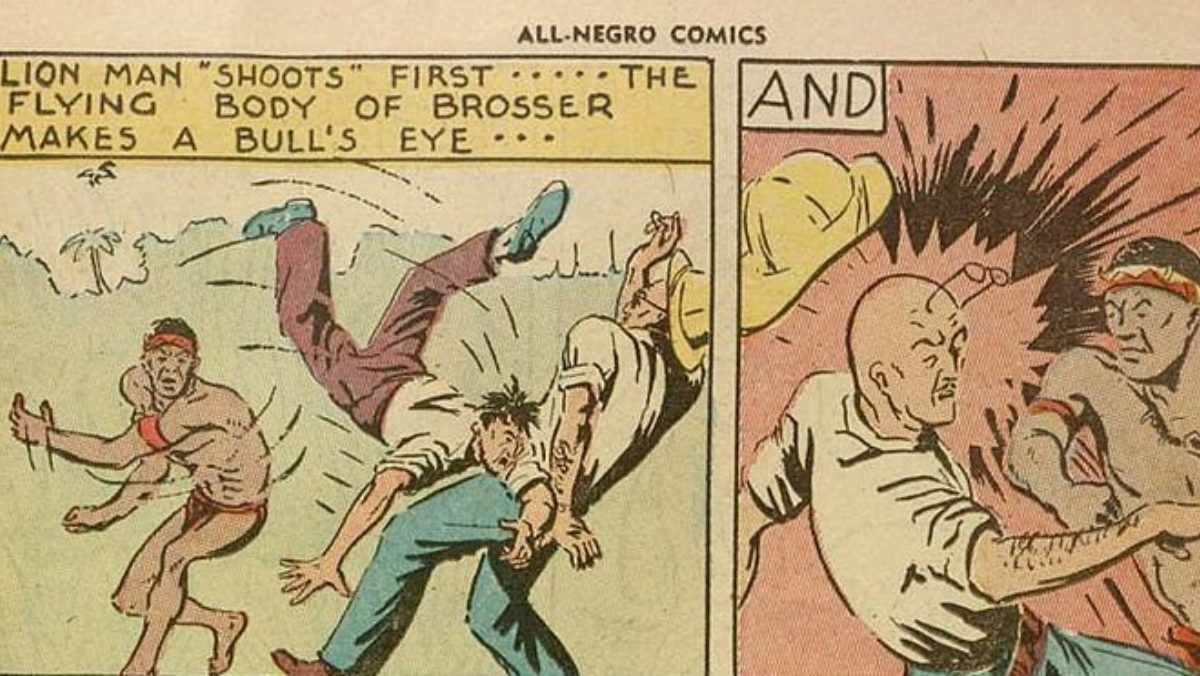 The Formation of All-Negro Comics
In 1947, a Black journalist named Orrin Cromwell Evans was working for the Philadelphia Record, an all-white publication, as a general news writer when the news producer shuttered. Needless to say, there were things Evans wanted to write about, specifically racial inequality, that he could not do. So, Evans created his own space to use comics as a medium for telling stories about Black experiences. He teamed with two former Record editors, Harry T. Saylor and Bill Driscoll, to found All-Negro Comics, Inc. In June 1947, they published All-Negro Comics #1. The 48-page book with a color cover and anthology of stories featured a range of characters, including Lion Man.
Evans' editorial message to readers radiates with pride in producing something groundbreaking with only Black creators involved:
Dear Readers: This is the first issue of All-Negro Comics, jam-packed with fast action, African adventure, good clean humor and fantasy. Every brush stroke and pen line in the drawings on these pages are by Negro artists… This publication is another milestone in the splendid history of Negro journalism. All-Negro Comics will not only give Negro artists an opportunity gainfully to use their talents, but it will glorify Negro historical achievements.
It is clear that Evans aimed to open doors for Black talent to shine. And, he also viewed comics as a serious storytelling medium, something that some people still don't do 'til this day. The first Black superhero, Lion Man, appears on the comic's front cover in the upper left hand corner. His garb resembles Tarzan with only a cloth covering his loins and he boasts quite an interesting backstory.
He's a scientist whom the United Nations tasks with watching over Magic Mountain somewhere in Africa's Gold Coast region. The area has enough Uranium for a deadly bomb; therefore, Lion Man must report any suspect activity to prevent war. But he does a little more than feed information. He's full on knocking folks out in this comic. Panels of a Black hero putting white antagonists on their back likely didn't go over too well with the general white public.
Of course, this boldness from All-Negro Comics, Inc. had unfortunate and devastating repercussions. When Evans tried to publish a second issue, racist distributors allegedly blocked him from purchasing the newspaper materials to do so. And white publishers began to produce their own "Black comics" where they could control the narrative as they saw fit. There's no way to "prove" that this took place but, considering the deep racial inequity of this time, it isn't hard to add things up. So that was the beginning and very swift end of Lion Man's story, which is a shame considering the gift that the first Black superhero was to many people during an oppressive era. Evans went back into mainstream journalism and died in 1971.
Grabbing an original copy of All-Negro Comics' only issue with Lion Man's story is nearly impossible. There don't seem to be any official places to read it online but it is in the public domain now so there are PDFs and such to explore. And, maybe some wonderful creator will decide to bring Lion Man back for more adventures. We will never really know to what extend Lion Man inspired characters like Black Panther. But he is a vital part of Black comic history who is worthy of honor. These creators laid a foundation for future independent Black comic artists to craft their own characters and build narratives as they saw fit. Long live Lion Man.