If you're a horror fan, then you've heard it before. Things like, "I'm a scaredy cat," or, "I don't do horror." Perfectly reasonable statements from friends who can't get behind the gory fare you gorge yourself on. To them, horror is jump scares and boogeymen and blood—triggers that warn them to stay away. But sometimes, horror can both frighten and soothe. It can maim, and it can heal.
Mike Flanagan made such a horror series back in 2018 with The Haunting of Hill House. The 10-episode Netflix show is one of the streaming service's best original programs. In fact, I'd argue it's one of the only true masterpieces of the last few years, horror or otherwise. It's poetry, really. A show that uses horror as a hook, but is ultimately a mediation on grief, mental illness, and how we grow beyond our trauma. It's a beautiful piece of work, and even better, it's an excellent gateway to the genre for non-horror fans.
Netflix
What is The Haunting of Hill House about?
The series is set in two timelines. The first, present day, follows the adult Crain children: Steven (Michiel Huisman), Shirley (Elizabeth Reaser), Theodora (Kate Siegel), Luke (Oliver Jackson-Cohen), and Eleanor (Victoria Pedretti). Steven is an author who got famous writing a book about their childhood in the eponymous haunted mansion that their parents—Hugh (Timothy Hutton in the present, Henry James in the past) and Olivia (Carla Gugino)—bought in the '90s with the intention of flipping it for profit. Those plans went awry; Olivia died under mysterious circumstances on the premises and the family fled the house, leaving it locked away to rot. We see it in flashbacks, as it comes to monstrous life, ready to consume the Crain family whole.
The trauma the children endured in the house spills into their present. Steven writes about the paranormal but is actually a cynical skeptic, the fed-up eldest brother sick of carrying his sibling's burdens. Shirley is a mortician who staves off emotion by creating a harsh outer shell. Theo is a child psychiatrist whose deep empathy (and psychic powers) helps her clients, but she is cold and impersonal in her social life. Luke is addicted to drugs and lives between rehabs, and his twin Nell is a widow with severe grief and depression. Their father is absent, their mother dead, and their relationships are all hanging on by a thread.
But then something happens. The house, dormant for a decade, comes to life again. And it's hungry. Nell goes to the house, and like her mother, dies on its grounds. Both deaths mimic suicide, but there is more to it than that. There is something alive in Hill House. Something supernatural, but also frighteningly real. It's a thing many of us can recognize within ourselves, or within the people we love. A hollow nothingness that annihilates.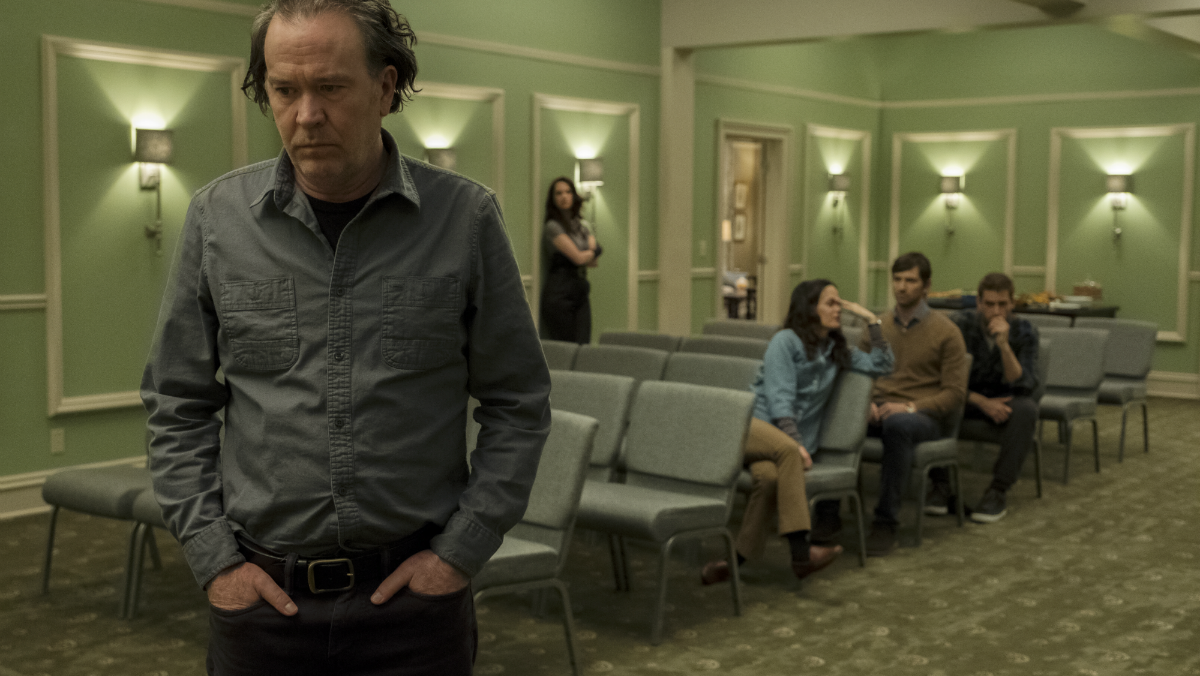 Netflix
Its layered storytelling makes it a masterpiece.
The Haunting of Hill House is based on Shirley Jackson's 1959 novel of the same name, but only vaguely. The house is the same, some character names carried over, but essentially, this is a brand new story created by Mike Flanagan, who directed every episode and wrote half of them. And what a genius move it was to take a familiar setting and mold it into something beautifully singular. It's what more creators should do with famous IPs. Hidden in these classic stories are threads to pull and weave anew.
Even better, Hill House rewards you on every subsequent rewatch. There are so many details hidden in the series that it's staggering. The siblings, for instance, represent the five stages of grief: denial, anger, bargaining, depression, acceptance. The color red is used symbolically, often in reference to a mysterious red room in the house that lures the children in like a viper to its den. Nell's ghost appears to her siblings, always in the outfit they last saw her in. Luke's neck aches and his body is cold to match the corpse of his twin. And time doesn't work chronologically in Hill House, but falls like confetti.
And that's because trauma doesn't come for us in a neat sequence. Grief doesn't fall on us predictably. We cannot map these things with order or precision, but are instead victims to its hungry beast. It comes for us when it wants. It haunts us forever. But it's how we arrive at acceptance that defines how we move forward. For the Crains, acceptance waits in the place that hurt them most. As it often does.
Netflix
It's a horror series that non-horror fans can enjoy.
So what does this have to do with the horror genre? Well, for starters, all of the things I just talked about have nothing to do with the show's horror elements. Those are there, yes, but they're the claws that beckon us in instead of what hooks us down. The Haunting of Hill House is ultimately a family drama with horror elements, instead of the other way around. And it is constructed that way: with the family and characters firmly in place before the spooky stuff is peppered in.
Not only does this feel deliberate, but it's recognizable to non-horror fans. That character work makes the horror stuff more palatable; almost gentle. When Nell's ghost springs from the backseat of a car, it jolts, but it doesn't linger. We dive right into Theo's monologue about depression, which was the real point of the scene to begin with, as it always is in Hill House.
If you're a horror fan looking for something to rope in your scaredy cat friends this October, I can't recommend The Haunting of Hill House enough. Walk them through the plot, share with them the nuance, and welcome them to this beautiful, scary world that so elegantly tells real human stories. Hill House is always ready to claim another.
Featured Image: Netflix