In 1969, a glorious summer celebration of music and culture took place in New York. And, I am not talking about Woodstock. The Harlem Cultural Festival enveloped New York City's Mount Morris Park in Black Pride with a series of live music concerts spanning six weekends from June 29 through August 24. The lineup featured some of the most influential artists in music history including B.B. King, The Staple Singers, Nina Simone, Stevie Wonder, Sly & the Family Stone, Moms Mabley, and Gladys Knight & the Pips. The free festival's total combined attendance boasted nearly 300,000 people; however, it has (unsurprisingly) not been heralded or iconized as similar fests of the era have. But the Harlem Cultural Festival's significance is more than worthy of the recent acknowledgement it's getting on a nationwide scale.
The Roots drummer and songwriter Ahmir Thompson a.k.a. Questlove's Summer of Soul documentary is revealing this event to the world. Thompson's directorial debut made waves at Sundance 2021 with archived footage and firsthand accounts about the festival. Prior to this documentary, a lot of people didn't know it existed, as the video footage lived in archives. A deal with Hulu means this film gets a change to enlighten millions of people.
Sundance Institute/YouTube
According to a Rolling Stones profile, the Harlem Cultural Festival was created by Tony Lawrence, a singer whose star began to rise in the mid 1960s as he took over night clubs with his blend of R&B and Calypso music. He began to use his minor fame for good, founding programs and doing civic work in Harlem. This led to a job with New York's Parks Department, where he pitched his idea for cultural festivals in 1967. The city's new mayor, John Lindsay, felt the initiative could help ease some racial tensions and appease Black residents. The first two festivals were relatively successful, but the 1969 event made major waves.
The 1969 Harlem Cultural Festival's success speaks to how this specific time is a significant snapshot of Black history. The 1960s were undoubtedly a turbulent yet pivotal decade for Black people. The Civil Rights movement continued to expand with Freedom Riders facing violence for protesting bus segregation and nationwide sit-ins at restaurants.
School desegregation put Black youth and young adults into hostile environments in hopes of leveling the educational playing field. People pushed back against housing discrimination and built their communities to be self-sustaining, even though they had fewer resources and less access to funding.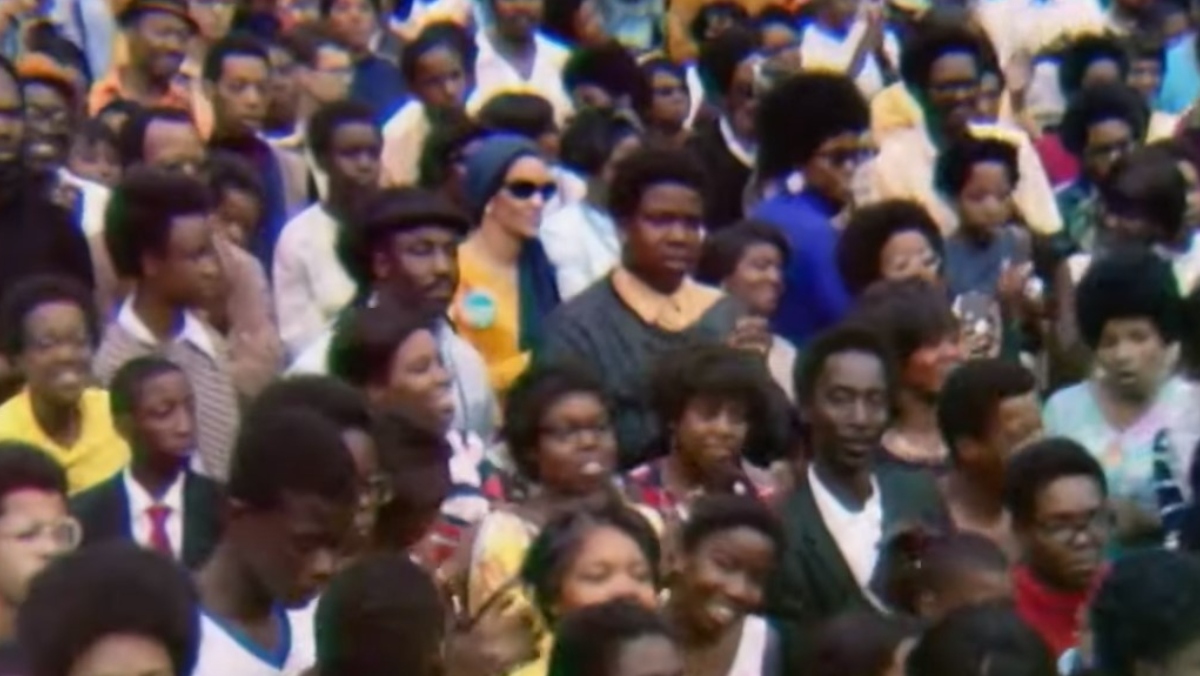 Sundance Institute/YouTube
The 1963 March on Washington and Civil Rights Act of 1964 further galvanized Black people and allies to continue to push for equality and freedom. It was also a time of collective heartbreak with events like Bloody Sunday and the assassinations of Malcolm X in 1965 and Martin Luther King, Jr. in 1968. In fact, Dr. King's friend and fellow activist Jesse Jackson spoke at the Harlem Cultural Festival.
The year of King's death was undoubtedly a major breaking point for Black people. They took to the streets to angrily vent their frustrations and pain. Tommie Smith and John Carlos raised their black-gloved fists in silent protest at the Olympics later that year. The election threw everyone for a loop following the assassination of Robert Kennedy (a clear Presidential nominee favorite for Black Democrats) and Richard Nixon's win.
A little over one year after all of this turbulence, The Harlem Cultural Festival served to celebrate what no amount of hatred nor systemic oppression can take away from Black people: talent, pride, and joy. It was a place for Black music lovers to convene and listen to artists who sung about love, heartbreak, and pride from our specific perspectives.
Sundance Institute/YouTube
The photos and video certainly tell the truth about Woodstock's crowds having been overwhelmingly white. Considering the above events (and history as a whole), it makes the Harlem Cultural Festival even more special as a safe space to have a good time. There's an inexplicable power and comfort in being in a sea of Black faces and enjoying a freeing experience together.
Any Black event always doubles as a fashion show, with attendees showing off an array of clothing and hair styles. The Harlem Cultural Festival wasn't any different, with billowing Afros, dashikis, floral patterns, fly shades, and much more. It was a place for self-expression through clothing and hairstyles, a time when Black pride and nonconformity reigned supreme. That slice of freedom and fun must have been an incredibly liberating precursor for the next decade.
Black music often ties into the social climate, making bold political statements to empower and speak for the people. In America, this goes back to enslaved people encoding their songs with plans of escaping towards freedom. At this concert, Nina Simone sang about being young, gifted, and Black while encouraging people to fight hard for their rights.
Sly & the Family Stone explored the humanity and equality of all people who have to live together with "Everyday People." The artists made people want to laugh, dance, fall in love, and advocate for themselves at the same time. These world-class musicians came out to become one with their fans in a place where everyone could temporarily escape the world's injustice and unrest.
Of course, racism tried to rear its ugly head with NYPD refusing to provide security during the concert's debut weekend. But the Black Panther Party stepped in to make sure everyone remained safe and secure. This speaks to a larger truth about Black people standing and advocating for ourselves when others refuse to do it. Only one professional videographer, Hal Tuchin, came to film the event. In a Smithsonian magazine profile, Tuchin said its lack of coverage was because, unfortunately, "no one cared about Black shows."
This heartbreaking sentiment that poses a major question: How much Black history is still buried or completely lost because the "majority" didn't think it was worth acknowledgement nor preservation? The Harlem Cultural Festival could have easily been lost in time outside of those who are still alive to recall the event and Harlem residents who celebrated its 50th anniversary in 2019.
The reality of concealed or lost history has a generational trickledown. Think about it; anyone can go onto YouTube and easily find video of iconic performances at Woodstock or clips from a documentary. People who weren't born until decades later know about it. Woodstock is so present in American culture that people can recognize certain photos from it instantly. Some people in those snapshots have become famous in their own right.
Sundance Institute/YouTube
It's not the same for the Harlem Cultural Festival. But perhaps this will change thanks to Summer of Soul. Even if the masses do not appreciate this cultural milestone, Black people can acknowledge, cherish, and pass this history on to descendants.
The festival has been called "Black Woodstock," an interesting moniker considering it wrapped up two weeks before Woodstock. But it is hardly just the "Black version" of an event that was undoubtedly a display of incredible talent but also benefitted from widespread recognition because of its largely white audience. The Harlem Cultural Festival should be a highlight of American music history and a cultural milestone for Black people.
Music binds us all together. We enjoy it together at concerts and sporting events. It edifies our faiths, soothes our sorrows, and highlights our happiness. Any major music event that brings people together for something pivotal and powerful is more than worthy of preservation. May we celebrate and honor the Harlem Cultural Festival across America from this point forward.