A major part of supporting Black people and becoming a progressive individual is amplifying our voices in all arenas, including the geek and nerd space. It's imperative to listen to Black people who talk about TV/film, gaming, comics, and more to gain a different perspective that may not mirror yours nor your inner fandom circle's opinions. If we are all being honest, many major fandoms—Star Wars, Star Trek, Doctor Who—tend to place White fans and their voices at the forefront of media (including podcasts) and the convention space.
White fans are not homogeneous in belief and thought; however, it's easier for a person who is used to seeing someone like them as the default (protagonist, hero, leader, the "fan expert") to dismiss the need for positive representation and diverse critical analysis. Art is a reflection of real-life, and when Black characters exist on the fringes or within stereotypical boxes, or are inexplicably left out of narratives altogether (hello futuristic stories), it says a lot about how non-Black creators (and some fellow fans) view us.
Black Girls Create
Ignoring these issues means the cycle will continue to ostracize people who have just as much "ownership" of a property as their White counterparts do. And, while calling for better representation is on our minds, Black fans also love to talk about the more fun, silly, wild, escapist, and enjoyable elements of our favorite things. We indeed have a knowledge base that extends far beyond the -isms of the world. We passionately love what we love, even when it can be problematic.
There are so many wonderful geek and nerd podcasts with all (or majority) Black hosts. It would be impossible to name them all, but get into this list, show them a lot of support, and get ready to gain a new perspective on what it means to be Black in spaces that don't (and do) center our experiences.
Wizard Team
This Harry Potter podcast is a Black Girls Create (BGC) production. BGC is a hub for Black content creators and fans which provides content, events, podcasts, and an online community celebrating and advocating for Black and NBPOC representation in media. #WizardTeam's Bayana Davis and Robyn Jordan break down Harry Potter's magical world in all its mediums and add a little (or a lot) of commentary about how they would re-imagine some elements.
Sailor Moon Fan Club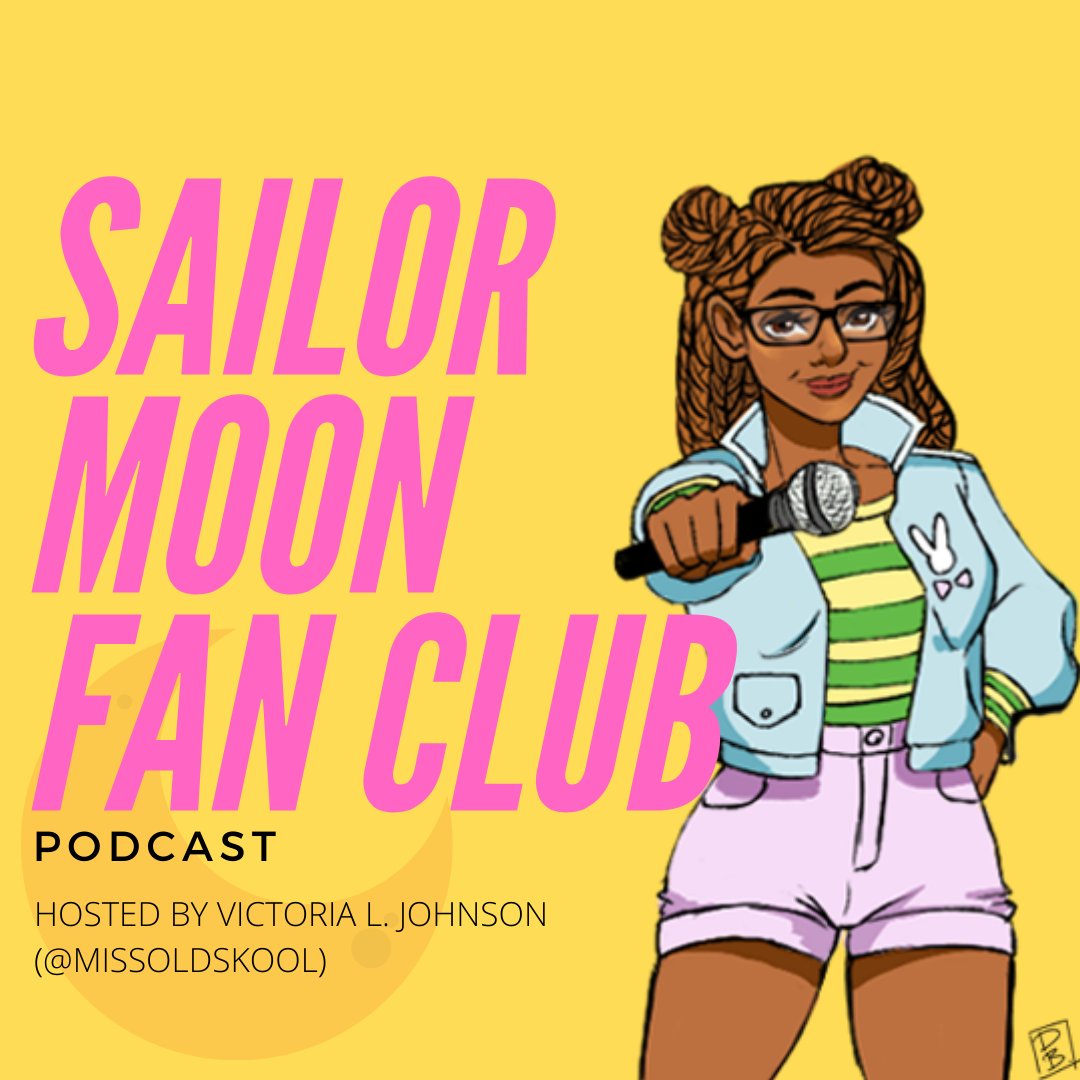 Destiny Italia/Sailor Moon Fan Club Podcast
Pop culture journalist and obvious Sailor Moon fanatic Victoria L. Johnson's podcast Sailor Moon Fan Club Podcast is all about the fandom. Johnson interviews fans of the anime series from various personal and professional backgrounds to chat about the ever-popular '90s series.
Castle Black Podcast
Game of Thrones might be over but this podcast will make you want to watch it all over again. This For All Nerds show brings an entertaining and thoughtful take on endless intricate issues within this series. Castle Black touts itself as "thee Blackest Game of Thrones podcast in all of the realms" and that statement is all facts.
MEGASHEEN Podcast
Megasheen Podcast
MEGASHEEN covers a wide variety of geek and nerd culture subsets from a queer perspective. Nick, a gamer and cartoon lover, and writer Vicktor chat comics, films, games, TV, and how they intersect with their Black gay perspectives. Listeners can tune in bi-weekly to hear these hosts speak candidly about what's going on in pop culture.
For All Nerds
For All Nerds
DJ Benhameen, Tatiana Jones, and Jeff J come together each week to discuss what's going on in the world and how it affects fandom for Black people. For All Nerds brings on a ton of guests from politics, comics, movies, and more to dive into the complexities of existing in those spaces.
Woke Doctor Who
Woke Doctor Who focuses on race and representation in Doctor Who with a few other fandoms in the mix. The podcast's hosts, Eugenia and Toya, have conversations about everything from the show's take on aging and a person's value to Whoniverse thirst traps.
Did You Have To? Podcast
Checkout and follow @DYHT_Pod hosted by me and my best friend @OhMyMithrandir!

We are a WOC lead anime podcast. We started our show because we didn't see ourselves in this space.

Now our podcast account is so close to getting 1K followers. Help us out and give us a follow 🙏🏾 pic.twitter.com/A6yGyBlrmQ

— Neysha (@NeyshaPlays) June 9, 2020
Neysha and Kate tackle all things anime on their podcast. The duo created the podcast to make space for themselves in an arena where their perspectives are often left out. They talk love, hate, romance, and much more with a lot of enthusiasm, brilliance, and wonderful laughs.
TARBIS
Black Girls Create/TARBIS
Time and Relative Blackness in Space a.k.a. TARBIS, is a Doctor Who podcast under the Black Girls Create and Nerds Of Color media umbrella. Two Black fans—Nicole of Black TARDIS fame and Delia—examine the sci-fi series from a fun and engaging yet critical perspective. TARBIS gives Black characters an in-depth analysis as they comb through the intricate issues that arise within the show's context.
Black Lightning Podcast
Black Lightning Podcast hosts Britney Monae, Clement Bryant, Nate Milton, and Vanessa Shark tackle the ongoing fight in Freeland in The Lituation Room. They review each episode of the series and breakdown all the details with ease along with how the real world affects Black Lightning.
Black Comics Chat Podcast
Black Comics Chat hosts a podcast and a series of live-tweets with Black comic creators. The podcast focuses on how comics and Blackness intersects for fans and creatives. Hosts Anthony Otero, Marcus Kwame, Leonardo Faierman, Grace Gipson, and Thelonious Legend have a lot of vital knowledge about the comic world and industry at large that makes this podcast sharp and informative.
House of Black Podcast
House of Black Podcast
Another Harry Potter podcast awaits you! House of Black Podcast takes a look at the book series from a Black and bi lens. The host J'Neia, a teacher, talks about social issues, trash characters, and how the fandom separates itself from the franchise's often problematic creator. Also, the theme song slaps.
Nerdificent
Nerdificent
Nerdificent hosts Dani Fernandez and Ify Nwadiwe hop into a different nerdy subject each week. They cover it all, from RPGs to comics and break down the past, present, and future of it all with a lot of laughs along the way.
Nerds of Prey
Nerds of Prey
The Nerds of Prey ladies are dynamic, brilliant, funny, and have built a dedicated listenership through their bi-weekly nerd culture podcast. Shannon, Melissa, Cameron, and Lauren are writers, pop culture critics, and all-around fun, geeky folks who love a lot of stuff: Marvel, Steven Universe, horror, Star Wars, among other things.
Y Tu Bantha También
Kayla Sutton/Y Tu Bantha También
Kayla Sutton and Catrina Dennis' Star Wars podcast Y Tu Bantha También takes a look at the overall franchise and fandom from their unique and intersectional perspectives. They call out things out when it's necessary, nerd about what they love, and celebrate a show they love, and know, deeply.
Spawn on Me
Spawn on Me
This one is for the gamers. Spawn on Me's host Kahleif Adams focuses on the awesome Black and NBPOC in the gaming industry as well as what's going on the Black community at large. Listeners gain a keen understanding of the industry from many perspectives, including what it's like to be a player and creative in a very White dominated space.
Getting Animated
Universe Jac/Gettnig Animated
This weekly show is all about celebrating anime, being a fangirl, connecting with other fans, and chatting with people behind the voices of Black anime characters. Getting Animated host Destiny Senpai's passion and in-depth knowledge about anime and manga shine through on each episode.
Sistah Speak: The Walking Dead
Sistah Speak Productions
Sistah K and Sistah J take on The Walking Dead with a rotating cast of hosts. The podcast encourages conversation, theories, and episode analysis from Black people's perspectives. There's always an honest opinion and a lot of humor along the way.
Two Dead Chicks
Two Dead Chicks
Two Dead Chicks called it quits shortly after Rick's TV exit, but this podcast is worth a listen. Hosts Kia and Mel have broken down almost every single episode of the series scene by scene. Kia's commentary about the treatment and issues surrounding Black characters like Michonne, Sasha, and T-Dogg are always on-point as she chats with friend and ally Mel. And, they might make a comeback if we ever get those Rick Grimes movies.
What are some of your favorite podcasts will all or majority Black hosts? Let us know in the comments!
Featured Image: Black Girls Create