The last time we got a new episode of Game of Thrones was the summer of 2017. That feels like 18 years ago. The eighth and final season is coming in April and that still feels like an eternity. Waiting is hard and we don't like it. What we need is a way to bide our time until we return the Realm, preferably more than obsessively checking HBO's YouTube page for a new teaser. Fortunately Adidas has given us such a way, while still keeping us close to Westeros. A new line of Game of Thrones sneakers have arrived, based on famous houses and characters.
The Game of Thrones x Adidas series (that we learned about at Kotaku) are the latest special edition of the company's Ultra Boost 4.0 model shoes. The six sneakers are inspired by Houses Lannister, Stark, and Targaryen, as well as the Night's Watch, the White Walkers, and Daenerys herself.
The Lannister pair, red with black and gold trim, are especially sharp.
House Stark's are a lot less colorful, which is exactly what we'd expect from the less flashy Lords of the North.
The Targaryen sneakers, with their fiery toes and ash-colored base, might be the best of the three House versions.
The simplicity of the White Walkers model are cool, though we'd feel weird running in them. (Get it? You get it.)
Fittingly the Night's Watch pair, primarily black with a white toe and sole, feels like the polar opposite of the White Walker's shoe.
The strangest pair belongs to Daenerys Targaryen. Rather than represent the fire and blood of her family, or even the fact she is the Mother of Dragons, they are inspired by her all-white look we saw during her trip beyond the Wall.
While we might not have known these were Game of Thrones sneakers without being told (save for each having their own house words or an appropriate slogan on the back tag), they do feature other touches from the show, including on the tongue. The White Walkers have their well-known "swirl."
The show's name is also found inside.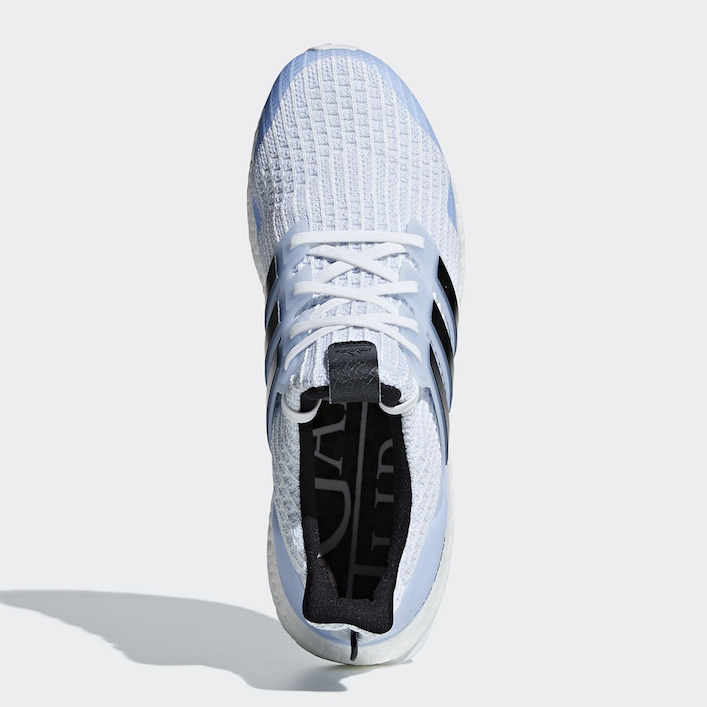 We still don't know how much these special edition sneakers will cost, but Ultra Boost 4.0's retail for $180, and we'd guess these will come in above that. There's also no official release date for when these sneakers will hit the market ( one rumor has them available in March). We expect them to be out no later than the season eight premiere on April 14.
Which means the real kicker is we are back to waiting. Seven bloody hells.
Images: Sneakernews