Like just about everything in 2020, Halloween is going to look a lot different. We're not going to be bobbing for apples or walking through any haunted houses. Worse though is that many kids won't be getting free candy from their neighbors. And even if they do it's going to be receiving a Snickers through a tube or from a ghost on a zip-line. It's the usual way to go trick or treating. Since kids won't be going door to door this spooky season, Hershey's is bringing the door to them. The candy company is rolling out a special Trick-or-Treat Door that serves up free Reese's Peanut Butter Cups.

Hershey's announced (in news we first learned about at Delish) that it's inverting the most delicious Halloween tradition this year, in the latest attempt to find creative, safe, socially-distanced ways to celebrate. Instead of kids going up to a door for candy, a one-of-a-kind robotic door on wheels will come up to them.

The nine-foot door is powered by three motors. It's operated by a remote control with a range of up to 5,000 feet. No humans have to be close to maneuver it through residential streets. It won't be hard to spot the mechanical candy deliverer coming either. You'll know it's nearby from its smoke, lights, and "epic Halloween soundtrack that comes along with it."

It's easy to use too. All you have to do to get a King-Size (Yeah! King-Size!) Reese's Peanut Butter Cup is say "trick or treat" to it. The built-in Bluetooth-enabled speaker then activates the mail slot from a retractable shelf which serves up the candy.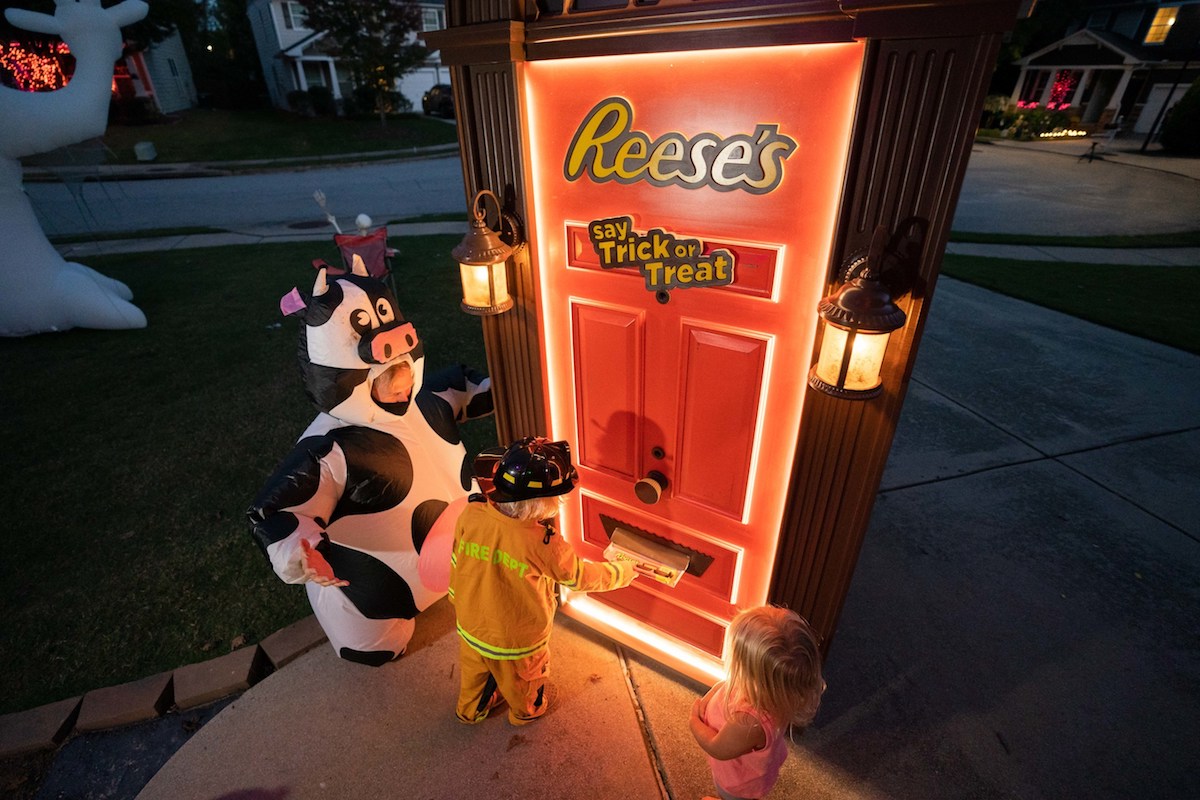 Hershey
If you want the Reese's Trick-or-Treat Door to visit you go to @Reeses on Instagram and tell them why they should visit your town with the hashtag #ReesesDoor.
"This Halloween is unlike any other, so we've upped the ante on creativity as a result," said Allen Dark, Reese's senior brand manager, in a press release. "A robotic Reese's dispensing door is just what the world needs right now!"
We really do. But even if Halloween 2021 is totally normal, we'd still like a robot delivering free Reese's Peanut Butter Cups to us. This door is pretty sweet.
Featured Image: Hershey