As we make our way through Noirvember, a month for celebrating all things film noir, it's always fun to take a look at the novels and stories that inspired some of the greatest films of the original era. While writers like Raymond Chandler, James M. Cain, and Dashiell Hammett remain well known to this day, the history of midcentury women crime writers always seems to remain hidden in the shadows. The fact is, women have been writing crime stories for centuries. Writer and editor Sarah Weinman has done a marvelous job unearthing many of these writers over the years. As has the Feminist Press with their Femmes Fatales series dedicated to bringing pulp novels written by women back into print. With that in mind, here are ten films adapted from captivating works written by women worth seeking out while you fill these dark nights with dark crimes.
The Fallen Sparrow, 1943 (dir. Richard Wallace)
Based on the novel of the same name by Dorothy B. Hughes, 1943's The Fallen Sparrow stars John Garfield as John "Kit" McKittrick, a Spanish Civil War veteran investigating the murder of his friend. Kit crosses paths with the beguiling Toni Donne (Maureen O'Hara) and finds himself entangled with Nazi spies. Born in Kansas City, Missouri, Hughes got her start in journalism and cited Graham Greene as an influence on her literary output. While the book is much more densely plotted, both it and the film adaptation feature femme fatales that subvert our expectations of what motivates supposedly wicked women.
Laura, 1944 (dir. Otto Preminger)
Adapted from the 1943 novel Laura by Vera Caspary, Otto Preminger's iconic film noir stars Gene Tierney in the titular role as the beguiling Laura Hunt, whose murder sets the story in motion. Dana Andrews gives one of his most idiosyncratic performances as detective Mark McPherson. Clifton Webb appears in a scene-stealing role as Laura's mentor, the vicious columnist Waldo Lydecker, Vincent Price as her debonaire two-timing fiancé, and Judith Anderson as her treacherous aunt round out the cast. While the film forgoes the book's unique structure, and with it much of Caspary's feminist bite, it remains one of the greatest films of the era.
The Lodger, 1944 (dir. John Brahm)
Previously brought to the silver screen by Alfred Hitchcock as 1927's The Lodger: A Story of the London Fog, Marie Belloc Lowndes's chilling The Lodger, inspired by Jack The Ripper, made for prime film noir in the hands of director John Brahm. In the original novel its left unclear whether the Lodger is indeed the murderer; and in Hitch's version Ivor Novello is proven innocent. But with Laird Cregar in the lead, we know things are going to get much more dark and twisted. Merle Oberon shines as Kitty Langley, a cabaret dancer who catches his eye. While it may not be a faithful adaptation of the source material, Brahm transforms the spirit into noir perfectly.
The Spiral Staircase, 1946 (dir. Robert Siodmak)
Best known now for writing the source material on which Hitchcock's film The Lady Vanishes is based, Ethel Lina White's 1933 novel Some Must Watch is deeply rooted in psychological horror. Transporting the action from England to Vermont, Robert Siodmak's film adaptation follows Helen Capel (Dorothy McGuire), a mute woman terrified by the news of a serial killer on the loose. Acting legend Ethel Barrymore received an Oscar nomination for her chilling performance as Helen's bedridden employer Mrs. Warren. The Spiral Staircase is a spine-tingling addition to the canon of gothic noir in the vein of Gaslight or The House By The River.
Bedelia, 1946 (dir. Lance Comfort)
Lance Comfort's adaptation of Vera Caspary's Bedelia moves the story's events from the United States to England and Monaco. Starring Margaret Lockwood as the decadently named Bedelia Carrington, the film sees the seemingly happily married woman's life fall spectacularly apart as her devious past is slowly revealed. Accused of being a black widow who kills her husbands for money, Bedelia franctly must prove to her newest husband (Ian Hunter) that this just isn't so! With lush art direction and wonderfully unhinged performance from Lockwood, fans of Gene Tierney in Leave Her To Heaven will surely enjoy this flick.
Ride the Pink Horse, 1947 (dir. Robert Montgomery)
Dorothy B. Hughes wrote 14 hardboiled crime novels. So it's no surprise that her work was adapted into many noir films. In this gritty adaptation by Ben Hecht and Charles Lederer, actor-turned-director Robert Montgomery stars as Lucky Gagin, a returning veteran seeking to avenge a friend's death. Although mostly shot on a soundstage, Russell Metty's striking cinematography brings its New Mexico setting to life, with the burning of the Zozobra effigy actually shot on location during the Fiestas de Santa Fe. Montgomery's co-star Thomas Gomez received a Best Supporting Actor Oscar nomination for his performance.
The Reckless Moment, 1949 (dir. Max Ophüls)
Straddling the line between melodrama and film noir, Max Ophüls' The Reckless Moment is based on Elisabeth Sanxay Holding's 1947 novel The Blank Wall. (A later adaptation, The Deep End, starred Tilda Swinton.) In this version, Joan Bennett plays Lucia, a mother who finds herself blackmailed after she covers up the death of her 17-year-old daughter Bea's (Geraldine Brooks) much older, criminal boyfriend (Shepperd Strudwick). The chemistry between Bennett's desperate Lucia and blackmailer Donnelly (James Mason) keeps the tension ramped up to eleven throughout, with Ophüls' penchant for lush staging at its zenith.
In a Lonely Place, 1950 (dir. Nicholas Ray)
Nicholas Ray's In a Lonely Place is probably the loosest adaptation on the list. It takes a kernel from Dorothy B. Hughes's searing novel about post-WWII toxic masculinity and runs in the opposite direction. While the film is a highlight in the career of all involved, with Humphrey Bogart and Gloria Grahame giving arguably the best performances of their careers, its plot barely touches on that of the novel. In the film Bogart is a screenwriter with rage issues, Grahame his unlucky neighbor and muse. As the two find themselves entangled in a murder plot, trust issues in their relationship arise when Grahame suspects Bogart is the killer. In the novel, we know who the killer is from the beginning, only all of the men refuse to listen to women's intuition. Both are great, but should really be considered separate works of art.
Strangers on a Train, 1951 (dir. Alfred Hitchcock)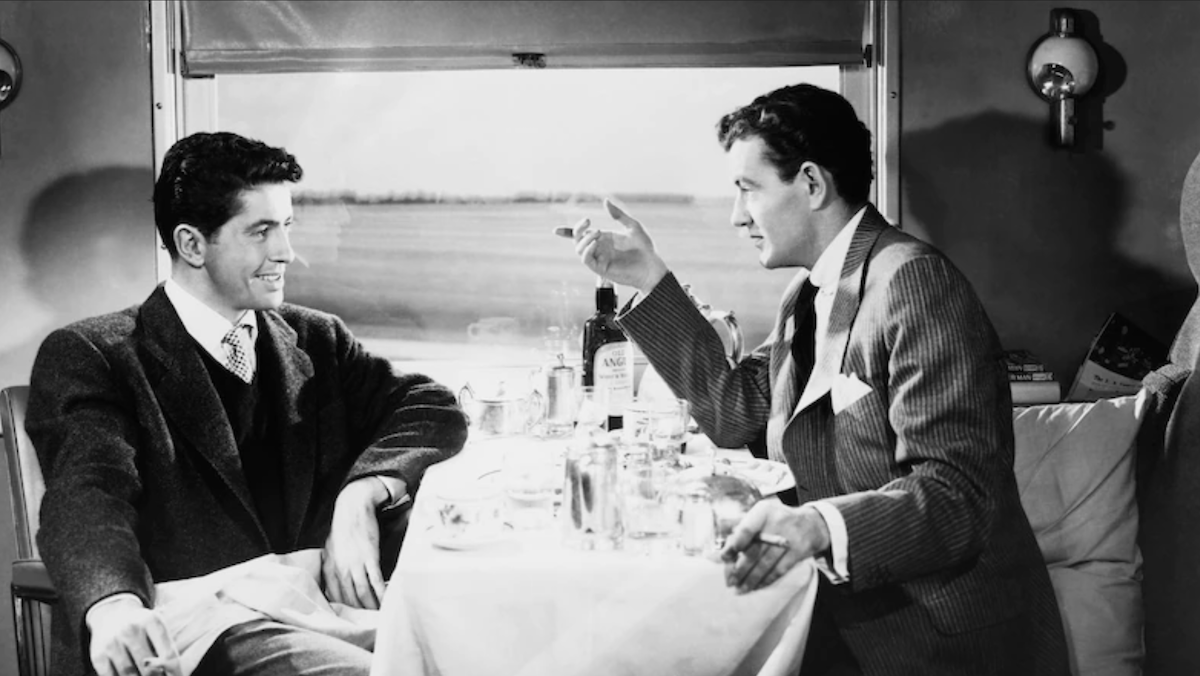 Based on Patricia Highsmith's 1950 novel of the same name, Hitchcock's film follows two strangers who meet on a train and joke about trading murders—only things go awry when one party doesn't think it's a joke. When wealthy psychopath Bruno Antony (Robert Walker) commits his murder, he stalks tennis player Guy Haines (Farley Granger) as he attempts to blackmail him into following though on his end of the bargain. Visually thrilling with cinematography from longtime collaborator Robert Burks, Hitchcock's take on Strangers On A Train is notable for faithfully keeping the homosexual subtext of the source material.
Jennifer, 1953 (dir. Joel Newton)
Although there isn't much known about writer Virginia Myers, whose story Jennifer first appeared in the February 1949 edition of Cosmopolitan Magazine, the film adaptation has given her a lasting legacy. Shot by the master James Wong Howe, the film stars Ida Lupino at the height of the women-in-peril era of her career. Lupino's Agnes is hired as caretaker of a large Southern California estate, after the previous caretaker Jennifer goes missing. Finding her diary, Agnes becomes obsessed with solving her disappearance. Director Joel Newton deftly combines gothic romance with film noir elements, anchored by Lupino's mesmerizing performance.