The COVID-19 pandemic put a stopper in a lot of film festival plans in 2020. But many fests, in an effort to safely provide during such trying times, are going virtual. That's the case for genre festival Fantasia Fest, which will host live screenings of new films online this year.
The international version of the fest, which takes place from August 20 to September 2, just announced its second wave of features. And if you're familiar at all with Fantasia Fest, then you'll know this wild, raucous, scary offering of titles is par for the course for such an inspired and fun genre festival.
Here's a sampling of some of the titles you can expect to see at Fantasia International Fest this year.
Unbroken Pictures
The Dark and the Wicked
Writer/director Bryan Bertino (THE STRANGERS) takes rural terror up another notch in this incredibly scary shocker, previously slated to launch at the Tribeca Film Festival. On a secluded farm in a nondescript rural town, a man is slowly dying. His family gathers to mourn, and soon a darkness grows, marked by waking nightmares and a growing sense that something evil is taking over the household. THE DARK AND THE WICKED stars Marin Ireland (Sneaky Pete), Michael Abbott Jr. and an uber-creepy Xander Berkeley (CANDYMAN, The Walking Dead). International Premiere.

Broken Cage Studio
Alone
A cold-blooded killer stalks a fleeing widow through the wilderness in ALONE, a blistering remake of the acclaimed 2012 Swedish thriller GONE. Starring Ozark's Marc Menchaca and Bloodline's Jules Wilcox, the thriller – from UNIVERSAL SOLDIER: DAY OF RECKONING director John Hyams – transports the story to the Pacific Northwest, amplifying it with riveting performances and an inspired use of locations to create an air of realistic suspense that pushes the viewer to nearly unbearable extremes. International Premiere.
Overdrive Productions
A Mermaid In Paris
Following his animation hit JACK AND THE CUCKOO-CLOCK HEART, French music superstar Mathias Malzieu brings his extraordinary and heartwarming world to life in his live-action musical debut A MERMAID IN PARIS (Une sirène à Paris). One of France's most anticipated cinematic events of the year, released in its homeland by Sony Pictures, this visually dazzling fantastical love story stars Nicolas Duvauchelle (SPELLBOUND), Marilyn Lima (BANG GANG), Rossy de Palma (WOMEN ON THE VERGE OF A NERVOUS BREAKDOWN), and Tchéky Karyo (NIKITA). North American Premiere.

Yûji Shimomura
Crazy Saumrai Musashi
Martial artist Tak Sakaguchi (VERSUS, WHY DON'T YOU PLAY IN HELL, YAKUZA WEAPON) is back in the spotlight with CRAZY SAMURAI MUSASHI – a long-in-the-making, unique take on swordsman Musashi Miyamoto's most fabled battle, shot here as a single 77-minute action sequence by director Yûji Shimomura (DEATH TRANCE, RE:BORN). It's Tak, 588 foes, and no room for error! Canadian Premiere.
NL Film
The Columnist
Columnist and author Femke Boot (Westworld's Katja Herbers) is endlessly taunted with abusive posts and death threats via social media. Becoming obsessed by these hateful messages from strangers, she spends every moment checking her Twitter feed… until one day, she steps back from her keyboard to take brutal, in-the-flesh action. A savage, horrific black comedy for our times by Dutch filmmaker Ivo van Aart (AMUSE), THE COLUMNIST tackles the toxicity of cyberbullying with ferocity and wit. North American Premiere.
1 Production Film
Detention
In 1962, Taiwan is in the grip of Martial Law, a period known as the "White Terror". Fang, a high schooler, falls in love with Zhang, a counseling teacher who introduces her to the books banned by the regime. However, when he disappears, she finds the school gradually slipping into a terrifying realm of ghosts and spirits… Adapted from the popular video game of the same name, John Hsu's feature film debut, DETENTION, is a powerful, allegorical film about the horrors of repression and authoritarianism. A hit on the festival circuit (Busan, Rotterdam, Fantasporto), the film was nominated for twelve prizes at the 56th Golden Horse Awards, where it won five, including Best New Director. Canadian Premiere.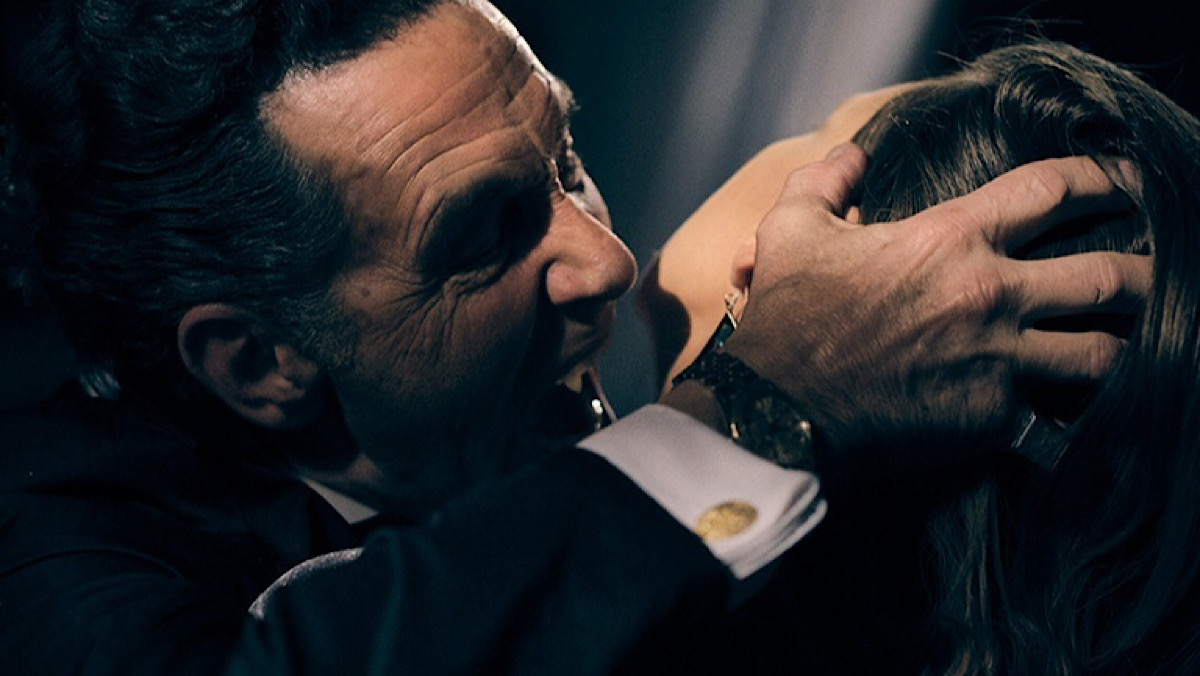 Perm Machine Productions
Climate of the Hunter
Wine, jello and vamps! Oh my! With CLIMATE OF THE HUNTER, legendary underground filmmaker Mickey Reece (STRIKE, DEAR MISTRESS AND CURE HIS HEART) pits two sisters (the unforgettable Mary Buss and Ginger Gilmartin) against each other as they vie for the affections of a man who may or not be a bloodsucking vampire! A film teeming with oddball characters, star swipes and horrifically appealing jello platters that will leave your mouth watering and your stomach churning. Quebec Premiere
You can see the rest of the second wave titles over at Fantasia Fest's website. Be sure to check out their new merch too!
The full programming lineup will be released on August 6. Stay tuned to Nerdist and Fantasia Fest's social media handles for updates and coverage.
Featured Images: NL Film/Overdrive Productions/1 Production Film