Stan Lee was a cultural icon, whose stories and characters touched countless lives and helped create the Marvel Universe as we know it. To honor this comic book titan, Legion M, Agents of Mayhem, and Stan Lee's POW! Entertainment have teamed up to produce an exciting tribute event to called "Excelsior! A Celebration of the Amazing, Fantastic, Incredible & Uncanny Life of Stan Lee."
Fans and celebrities alike will have the chance to explore Stan's accomplishments during the event as the forecourt of the TCL Chinese Theatre in Hollywood, California will be transformed into a touching memorial featuring an exhibition of photos, artwork, comic books, and memorabilia alongside a special preview of The Legacy Collection of Stan Lee by artist Rob Prior.
The event will begin with the arrival of filmmaker Kevin Smith leading an honor guard of cosplayers representing many of Stan Lee's characters from the Avengers, Spider-Man, Dr. Strange, and more. To celebrate Stan's military achievements in World War II and his support of law enforcement, a group of veterans from Veterans in Media & Entertainment and The American Legion of Hollywood Post 43 and Chief Paul Cell, President of the International Association of Chiefs of Police will be walking the red carpet alongside family from the other co-creators of the Marvel Universe like Tracy and Jeremy Kirby (grandchildren of Jack Kirby), Mark and Stephen Ditko (nephews of Steve Ditko), and Jenna Parker (daughter of Sol Brodsky).
After guests walk the red carpet, the evening will continue in the TCL Chinese IMAX Theatre where Kevin Smith will be moderating talks about Stan's life and work with celebrities such as Mark Hamill, Felicia Day, Clark Gregg, Rob Liefeld (Co-Creator of Deadpool), Michael Uslan (Executive Producer, "The Dark Knight"), RZA, and Tom DeSanto (Executive Producer, "X-Men"). There will also be exciting live celebrity performances and video tributes from those who are unable to attend.
"Excelsior! A Stan Lee Celebration" will be held on Wednesday, January 30th from 4PM to 10:30PM in Los Angeles, CA. If you would like to attend, you can purchase a limited number of tickets at legionm.com/stantribute. All proceeds from the event will go to the non-profit organization The Hero Initiative, which supports comic book creators, artists, and writers in need.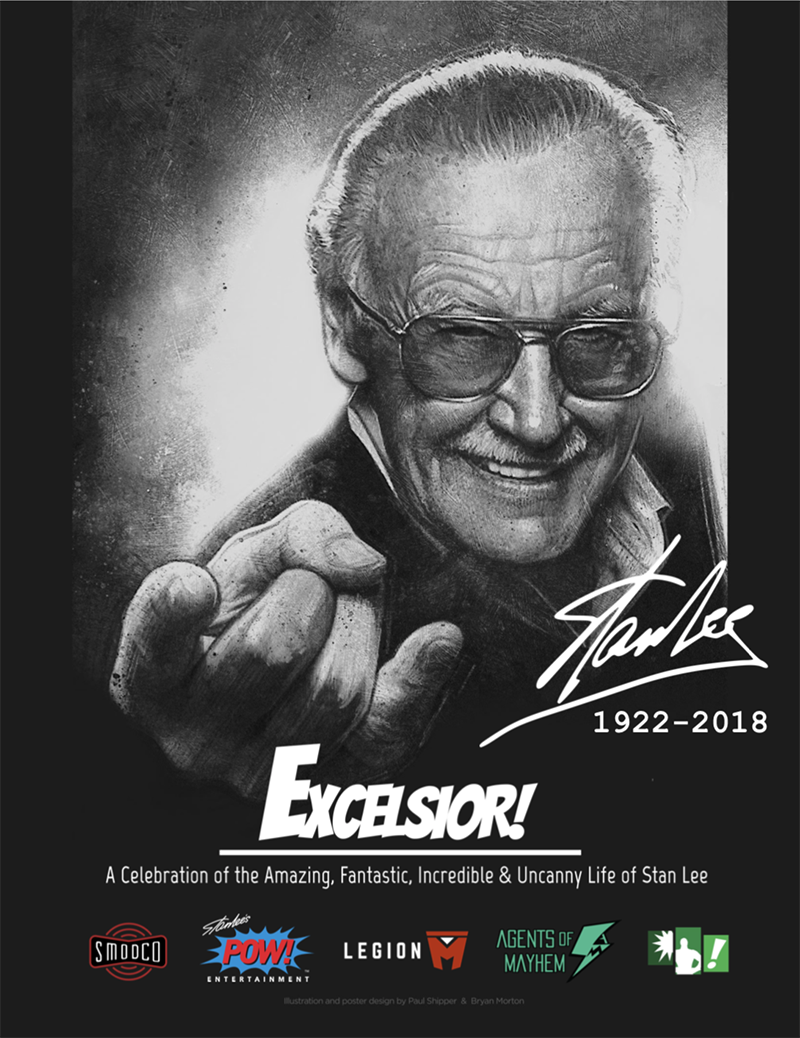 Image Credits: Paul Shipper, Stan Lee's POW! Entertainment