Friendship and cooperation are core aspects of Bethesda Game Studios' Fallout 76. Unlike past titles, 76 will be the first in the series to be an always-online-multiplayer game. Taking place in West Virginia and serving as a prequel to all the other entries in the franchise, 76 has replaced interactions with NPCs with other gamers all around the globe. It's new, it's interconnected, it's personal, and it's honestly a lot of fun.But this new system has led to a certain degree of criticism online, with some fans wondering who asked for this shift away from a single player experience—especially when the Fallout franchise is known for its engaging, single story modes. The answer? Quite a lot of people.
"One thing that always came up over and over in…Fallout 3, Skyrim, Fallout 4, was that people want to play with their friends,†said Emil Pagliarulo, Bethesda's design director, at a preview event that took place at the Greenbrier Resort in West Virginia. "Some of the most popular mods would be multiplayer mods so they can play with their friends. It's like the one most requested thing from us.â€â€œIt's not really a multiplayer shooter,†said Chris Meyer, development director, in a discussion about how 76 feels much more personal than traditional multiplayer shooters. "It is Fallout with your friends, and that is the vibe we were going for.â€For those who are worried that the multiplayer aspect removes the need for a compelling main story, the team was quick to reassure us that's not the case. "There is definitely a main quest, and you get that thread right in Vault 76 when you listen to the Overseer's holotype on her terminal,†Pagliarulo said. "She's like, 'Listen, I have been given a mission. I'm supposed to secure the nuclear silos.' And so you're following her path.â€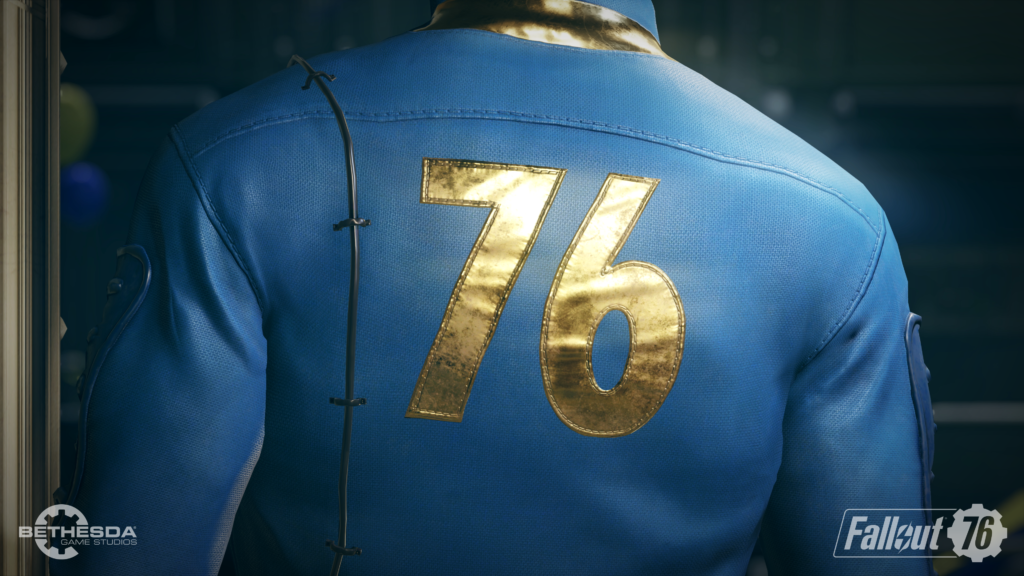 You're allowed a maximum of four people on your team, and the game is incredibly forgiving at the beginning as you get your bearings and learn the new systems. "We do not have friendly fire in the game,†said Pete Hines, SVP of marketing. "So if you accidentally shoot your group teammates while you're playing, it does no damage.â€Every player also begins in what's called "pacifist modeâ€: until a player reaches level five, it's literally impossible to engage in PVP. This was done to avoid a potential massive shootout—and the ensuing frustration—right out of the gate when the game debuts. "It's the reason we defaulted the pacifist mode on,†said Meyer. "And then we have that message that comes up at level five. It sort of explains what you're supposed to do if you want to engage in PVP. We hope that's enough, and we'll make adjustments obviously after launch to deal with emergent problems that we didn't think of.â€To further cut down on potential aggravations of playing with strangers, there's also the strict griefing policy. "So murder literally means killing somebody who was innocent and not participating in PVP,†Hines said. "When you do that, you get marked as a murderer. You show up on the map as a big red circle to everybody else in the game. You will notice all the other players in the game no longer will appear on your map…you have a bounty on your head, which you will pay out of your pocket when somebody takes you out.â€
And that's not to say PVP can't be a thing; it's just not necessarily the main focus of the game, at least not from the get-go. There are plenty of high-difficulty areas where not having a team, or at least not cooperating with other players, makes progressing pretty difficult. And one of the most enjoyable aspects of the game is knowing there are folks who have your back; there's a certain level of comfort in knowing that the person backing you up is an actual person, not an AI who may break your sneak, run right into the line of fire and get immediately downed, or suddenly go missing at inopportune times. (I'm looking at you, Dogmeat and Strong.)Still, solo play isn't out of the question if that's truly your thing. "One of the cool things about the game is that being in a group does not mean you have to stay with the group,†Hines said. "It never costs to travel back to the Vault. It never costs to travel to your camp. And it never costs to travel to anybody who's in your group, so it sort of encourages you to go off and do whatever.†Just don't get mad when the game dishes out more than you can potentially take on alone!Fallout 76 releases November 14, 2018.What are you most looking forward to in Fallout 76? Let us know in the comments!
Images: Bethesda Game Studios