Love tabletop games? So do we! Join Becca Scott where she breaks out fantastic board games on How To Play and Game the Game every week here on Geek & Sundry!
For all of us book-loving board gamers, Ex Libris from Renegade Game Studios is a dream come true: a game about collecting, organizing, and shelving hundreds of books? Yes, please!
With your helpful assistants on hand, you'll find the most impressive tomes and get them properly shelved into your collection. It pays to have a sharp eye, though, since some books are banned by the village council, while others will increase your collection's value.
Who will have the best library in the land and be named the grand librarian?
Ex Libris is a worker placement game where each player is a collector of fine literature, hoping to accumulate the most valuable books into their libraries. Becca shows us exactly what it takes to play this game in her How To Play video:
Books are represented on over 150 cards and each card has been beautifully illustrated with the books you'll be adding to your collection. Whether you're shelving Cursing Your Cousin's Crockpot, Blessings Through Salad Dressing, or Two Hundred Pages To Start Fires With, you'll be looking to place your books in alphabetical and numerical order.
Like other worker placement games, once you put your assistant on a location tile, other players may be blocked from that same spot. Standard assistants perform the action listed, while special assistants may provide additional benefits. The different location tiles provide actions that allow you to gain extra cards, shelve extra cards, or move your shelves.
However, the tiles and their actions change every round, so you and your fellow bibliophiles must pay attention while building your libraries. Your workers need to stay alert to changing conditions!
While building your collection is best done through the community actions, if you find yourself blocked, you can always use one of your two home base actions: draw a card or shelve a card. After drawing cards, you'll typically need another action to shelve them in your play area.
Of course, with all of your newly acquired books, shelf stability is a must. Once a player builds the predetermined amount of cards, the game ends and everyone checks their shelves. Librarians and fans of the Dewey Decimal system will appreciate the shelf stability rule: cards placed in alphabetical and numerical order that make up the largest rectangular area will score additional points.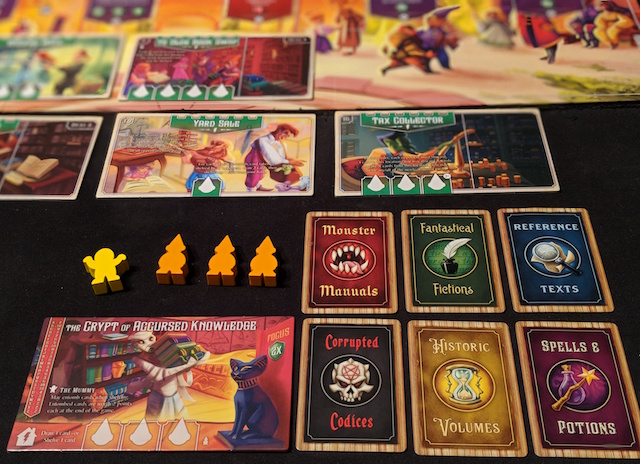 Finally, players score points based on the categories of books they've collected. Whoever has collected the most prominent works scores points, while anybody who's added any banned books to their library loses points. The player with the most points is deemed the town's grand librarian and wins the game.
At its heart, Ex Libris is a worker placement game and card drafting game with set collection, all neatly integrated into its library theme. Player's workers are sent out to do the collecting and shelving of books, while looking to collect books from as many categories as possible.
The clever use of shelving is has a similar spatial element to Sagrada, where you're restricted by adjacency rules when placing your books. Instead of simply collecting the different categories of books, you'll have to manage your shelf stability as the game progresses. This puzzle-like element in Ex Libris sets it apart from other games in the genre and will appeal to both bibliophiles and ludophiles. Want to see the game played for yourself? Watch our playthrough of Ex Libris from Game the Game:
Grab your copy of Ex Libris from Renegade Games online or at your friendly local gaming store!
WANT MORE BOARD GAME GOODNESS?
Image Credits: Ruel Gaviola

This post is sponsored.
Ruel Gaviola is a writer based in Southern California. He loves board games, books, cooking, traveling, Star Wars, and date nights with his wife. He writes about games for iSlaytheDragon, podcasts about games for The Five By, and his name rhymes with Superman's Kryptonian name. Follow him on Twitter and read his blog here.