What do you get when you mix grindhouse horror and '70s noir with the oldest vampire story ever told? Dracula Motherf**ker. The latest offering from Image Comics by the Eisner nominated writer Alex de Campi (Twisted Romance, Archie vs. Predator) and Eisner Award-winning artist Erica Henderson (Squirrel Girl, Archie) is just in time for Halloween.
The timeless Dracula story, at its core, has always been about one man turning many women into his mindless "puppets." In Dracula Motherf**ker, however, his Brides are reclaiming their power, despite the inability to reverse their circumstances. "The classic Dracula mythos from Bram Stoker's Dracula onwards tends to be built on the backs of female victims," de Campi said. "With them either violently turned against their will (like Lucy Westenra, and the attempt with Mina) or, as is often the case in later interpretations of Stoker's work, they fall under the thrall of the handsome Count because he's hot. That's not how women end up with monsters."
Image Comics
In the first few pages, it's clear: Dracula's brides have had enough. They are no longer going to tolerate his philandering, murder, and mind control. So they nail him to the bottom of his coffin to make him rethink his life choices while they figure out how to be rid of the Transylvanian for good.
De Campi, a veteran of the horror and grindhouse genres, writes a Dracula that is simply a horrific monster, not romanticized in any way. "No more Dracula as a heartthrob, no more mothball-smelling dinner jacket and am-dram velvet cape," she told me. "My exploration of this mythos started with, 'Let's give the female characters some agency in their choices; let's make them walk into the darkness willingly.' And let's truly make Dracula a monster. Everything flowed from there."
Image Comics
Although the story is about the Brides of Dracula, the plot unfolds through the eyes of an updated version of Stoker's original character Quincy Harvey. Not as Dracula's child that no one knows, but an adult African-American freelance crime beat photographer in 70's Los Angeles. This Quincy Harvey has a knack for documenting gruesome murders of Hollywood starlets at just the right time. "The character of Quincy Harker is really a clean slate, but both he and the book as a whole are the child of what Bram Stoker started. And of course Quincy [still] roams the night and lives off the dead," de Campi explains.
Bouncing between 1940s Vienna and 1970s Los Angeles, I was curious why de Campi didn't decide to bring the story into the 21st Century. "No cellphones!" she said. "I wanted a restless story of the night, where people felt alone and not connected to each other, and it just felt right in that weird shivery time in LA where the drugs were getting bad and youth culture had kind of been corporatized and institutionalized, and the long shadow of Charles Manson still lay over the city."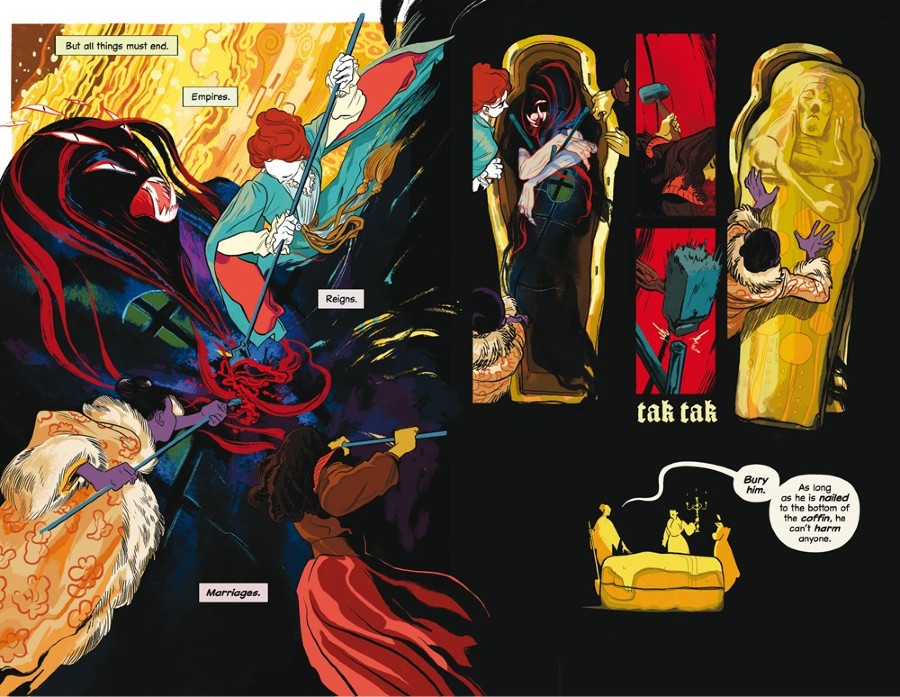 Image Comics
Dracula Motherf**ker flows so well it's hard to believe that it is the first time that de Campi and Henderson have worked together. I was curious about the collaboration process. "It's fairly unusual for me, but Alex sent me a finished script and asked if I was interested," Henderson said. I read it and said I was in. The collaboration was pretty easy breezy." De Campi, who has been busy as of late with MADI and her creator-owned True War Stories, agrees. "We'd been friends for a while and we share a lot of the same likes and influences, for example, Jean-Claude Van Damme's ass. Or the Showgirls poster. I knew she could do this level of work. I knew she had it in her—the love of horror and the ability to do something truly transformative visually. I'm so glad now everyone else knows it, too."
Image Comics
The strong linework and bright palette of Dracula Motherf**ker feel like vintage movie posters designed by Gustav Klimt. Henderson, who served as both line artist and colorist on the project, was deliberate in her bold choices. "I don't feel the need to stick to real color," Henderson said. "Emotional color is far more interesting to me since we're not dealing with reality anyway. There's a lot of influence in the color from giallo, which is the Italian genre of horror noir. Giallo uses a lot of colored gels to heighten emotions." De Campi agrees, citing Dario Argento as one of her favorites of this style.
Japanese horror manga influenced the style of the project as well, de Campi confirmed. "Junji Ito and Hideshi Hino, or Kyoko Okazaki's Helter Skelter, and there's a lot of anime and manga influence in how we depict Dracula. ('Oh no,' thinks some ignorant reader, 'these two chicks drew Dracula with big sparkly eyes.' Well, yes, friend, we did that. Just… maybe not the way you think.)"
Image Comics
Halloween was so close when we spoke that I couldn't help but ask what the team's favorite classic horror picks are. "I've been a fan of horror for forever…my faves from when I was growing up were [everything from] The Phantom of The Paradise and X-Files, to comics like Books of Magic and Hell House," said Henderson. De Campi, despite writing several horror comics and stories, is on the opposite end of the spectrum. "I'm a giant scaredy-cat," she said. "I find that horror writers are either like super solid, scared-by-nothing types or they're folks scared of their own shadow and I'm definitely the latter. I mean, I've watched the first third of a whole lot of horror films".
Dracula Motherf**ker is out now and is published by Image Comics
Featured Image: Image Comics