For years now, fans of the classic Disney animated fairy tales have been getting married in the Disney theme parks. They've been living out the Disney princess fantasy to its fullest, or at least as much as reality will allow. So no enchanted carriages or frogs that become princes, sadly. But you can take your wedding photo in front of a castle, so that's something. But now, we are one step closer to making those Disney fairy tale dream weddings even more authentic.
According to the official Disney Parks Blog, Allure Bridals and the Walt Disney Company have teamed up to create officially licensed wedding dresses based on the classic Disney princesses. Below, you can see preliminary designs for the upcoming Ariel and Belle wedding gowns, both of which are heavily inspired by their original animated looks.
The Walt Disney Company
This gorgeous new collection will showcase some 16 different gowns, all inspired by the style and spirit of the Disney Princess characters. These include previously mentioned characters like Ariel from The Little Mermaid and Belle from Beauty and the Beast, along with Jasmine from Aladdin, Cinderella, Pocahontas, Rapunzel, Tiana from The Princess and the Frog, and of course the original princess, Snow White. So far, no mention yet of Anna from Frozen. But we can't imagine that she's too far behind, given the enormous popularity of those films.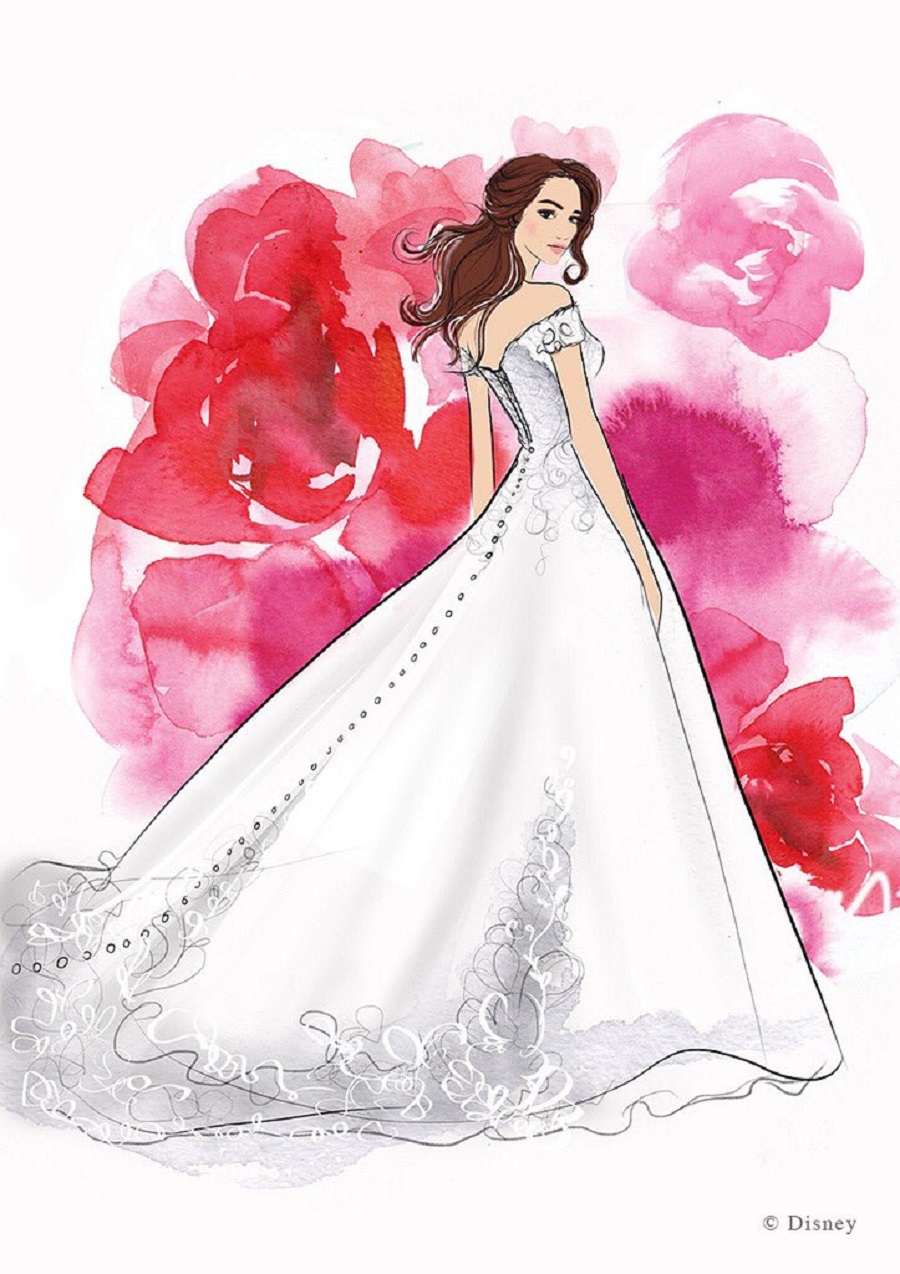 The Walt Disney Company
The Disney Fairy Tale Weddings Collection, as it it will officially be called, will be available at select bridal boutiques across the United States. Seven of the sixteen different styles will be featured exclusively at Kleinfeld Bridal stores in New York and Toronto. Disney has also released an image of the stunning new Tiana Platinum gown, which embodies both Tiana's practicality and creativity in an elegant ballgown design. The dress is covered in bayou-inspired shimmering vines and blossoms, evoking the spirit of New Orleans.
The Walt Disney Company
The entire collection will be revealed on the runway during New York Bridal Fashion Week in April. So if you ever wanted to see Jasmine sashay down the catwalk, or Rapunzel giving it a supermodel twirl for the cameras, then your time has come. The gowns will arrive in stores not long after their big Fashion Week debuts. So if you're planning a summer wedding Cinderella style, or a fall wedding inspired by the colors of the wind from Pocahontas, this could be your chance to make that dream a reality.
The Walt Disney Company
No word yet on who the other dresses will be based on. Moana, Mulan and Merida are possibilities, as they are all considered Disney princesses officially (even if only one of them technically is a princess). But none of them got married in the films. But that doesn't mean they couldn't make wedding gowns inspired by the characters and their personal style. And might we suggest we get some princely duds get designed for the grooms too? After all, every Cinderella needs her Prince Charming, and ever Ariel needs her Eric. We think that it's not really a true Disney princess wedding unless it's a full matching set!
Featured Image: The Walt Disney Company