When reflecting back on the legacy of his most formidable literary creation later in life, Sir Arthur Conan Doyle famously said, "I should have made him a Pikachu." But while Sherlock Holmes may not have been gifted with the powers of electricity and an adorable yellow mouse face, the greatest fictional detective of the modern era can lay claim to both, as well as the Baker Street mainstay's investigative prowess. As we can see in the first trailer for Detective Pikachu, there is a dire mystery in need of solving, one that has plagued mankind since the dawn of time: where's daddy tho?[brightcove video_id="5863738855001″ brightcove_account_id="3653334524001″ brightcove_player_id="rJs2ZD8xâ€]Set in Ryme City, Detective Pikachu follows a young man named Tim Goodman (Justice Smith), who abandoned his dreams of being a Pokemon trainer in favor of being another cog in the corporate machine. One day, Tim receives news that his father, private eye Harry Goodman, has gone missing. What happens next is an unexpected encounter with Harry's old father…the one and only Detective Pikachu (voiced by Ryan Reynolds). Unlike other Pokemon, Detective Pikachu can speak English and, even better, Tim can understand him! Unfortunately it seems as though it's a link that is only shared between this particular Pikachu and the Goodman family because everyone else can only hear adorable squeals of "Pika! Pika!" when Pikachu talks. Together, these unlikely allies must partner up with a junior reporter named Lucy (Kathryn Newton) and her trusty Psyduck to uncover a sinister plot that could threaten the entire Pokemon universe as we know it.
The Detective Pikachu trailer gives us our first look at how exactly they will be bringing Pokemon to life, and holy smokes are they bringing a lot of them to life. Dozens and dozens by my count, but then again I'm genuinely bad at math. Adopting a photorealistic style, director Rob Letterman and his talented VFX team are trying to depict Pokemon as though they are real animals. The best example is Pikachu who has a furry, textured look that he shares with his real-world rodent counterparts.It feels a bit jarring at first, given that we've only seen the comparatively smooth versions of these combative critters in the Pokemon video games and anime, but Pikachu is so dang cute, it works. Who knew that giving Psyduck actual feathers would make him even more lovable? And this movie even got me excited for Mr. Mime. MR. MIME! Regardless of where you come down on the hyperrealistic debate, no one can deny that seeing a Charizard unleash a torrent of flame is incredibly badass.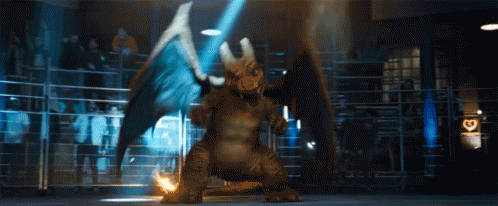 If you found yourself scouring the trailer and asking yourself, "Who's that Pokémon?" — you are not alone. For a full breakdown of all 100+ in the trailer, stay tuned to Nerdist News later today! In the meantime, feast your eyes on the film's brand new poster as well.
Written by Nicole Perlman (Captain Marvel) and Rob Letterman, Detective Pikachu opens on May 11, 2019. The film is produced by Legendary, Toho, Universal, Warner Bros, and Toho. It is the first live-aciton film based on Pokemon.Are you excited for Detective Pikachu? Tell us why, either in your native language or a series of "Pika" squeaks of varying inflection, in the comments below!
Images: Warner Bros
Editor's note: Nerdist is a wholly owned subsidiary of Legendary Digital Networks.