Each week on Twitch and Alpha, hosts Erika Ishii and Trisha Hershberger talk video games with special industry guests, insightful coverage and a ton of audience interaction on our show Game Engine. Be sure to tune in every Tuesday starting at 4 PM PT to learn about what's new and cool in the world of video games.
Art can often make or break a game; with bad screenshots turning you off before you even try a game out or fantastic visuals that make you want to throw your wallet at the screen before the game is even released. In the past few years hand-drawn art styles for games have become very popular and it's easy to see why. The line-work and color choices make for original looking games with a sense of style all their own. Here are 5 games that stand out in a crowd with their beautiful and occasionally quirky looks.
Battle Chef Brigade

The team at Trinket Studios, developer of Battle Chef Brigade, are obviously fans of the over-the-top Japanese cooking TV show Iron Chef. You can clearly see their homage to the show's host, The Chairman, as he takes his traditional chomp out of a yellow pepper in the animated teaser trailer for the game. In Battle Chef Brigade adventurous cooks hunt and consequently cook tasty-looking monsters into delicious dishes to be judged in an epic culinary tournament. The art style is gorgeous; tapping into some Miyazaki inspiration and we would totally watch several seasons of any anime based on it (especially if it features The Chairman). You can get a look (and a taste) of Battle Chef Brigade on Steam and Nintendo Switch.

Hidden Folks

Hidden Folks is what you get when someone says Where's Waldo is just too easy. Bereft of color cues and having to click past obstacles that might obscure your targets, Hidden Folks is a maddening, yet delightful game. The picture-book style art is accompanied by goofy man-made sounds that will have you giggling even as you wrench your hair out trying to find that one last squirrel that's half the size of the people and, by golly, yes I did search the…oh wait…there it is. You can spot Hidden Folks on Steam, iOS, and Google Play.
Hollow Knight

Dark, yet adorable, the insect kingdom of Hallownest is rife with adventure, danger, and mystery. Playing as the empty-eyed cutie, Hollow Knight, you'll descend deep into the heart of the Hallownest ruins fighting the infected inhabitants in this Metroidvania-style platforming game. Considering the breathtaking art of Hollow Knight, we would have expected an entire team of animators would be needed to produce this quality, but shockingly the game comes from meager beginnings. Originally Kickstarted for just AU$ 57,138 (around $44,399.55 US) it only had a team of three people working on it! Hollow Knight is as beautiful as it is fun and currently available on Steam with a release on the Nintendo Switch coming soon.
West of Loathing
West of Loathing looks like something that you'd find scribbled in the margins of a bored high-school student's notebook. Produced by the same team that made its predecessor, Kingdom of Loathing, back in 2003, West of Loathing embraces the same stick-figure art that is the series signature style. Both Loathing games capitalize on a quirky sense of humor that is rife with oddities like a meat-based economy, character skills like "Deploy Snake and "Shootenanny", and enemies such as a cactus-suited goblin. The questionable art is as delightfully absurd as the rest of the game (just look at the eyes on that horse… It's seen things). You can wrangle up a copy on Steam now or on the Switch and iOS later this year.
Jotun: Valhalla Edition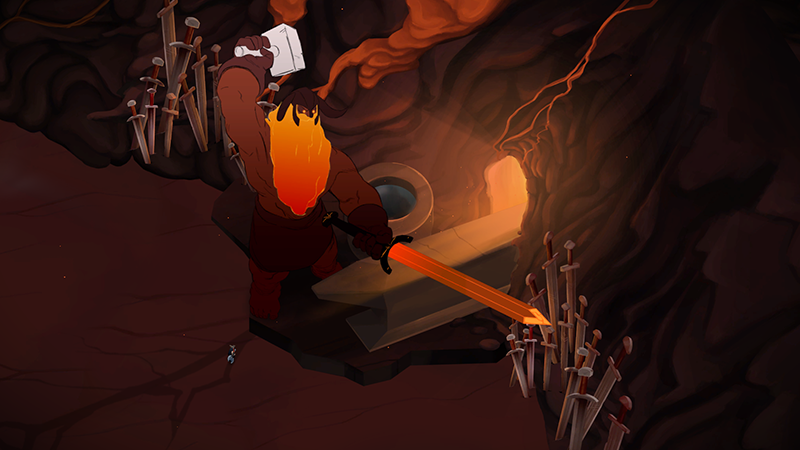 We haven't watched too many cartoons featuring Norse mythology, but the hand-drawn, action-exploration game, Jotun, makes us want to see more. In the game, you play Thora, a warrior who should have earned her place in Valhalla on the fields of battle, but instead drowned when her ship sank beneath the waves of the merciless ocean. In order to prove her worth to the gods, she must defeat the giant elementals called Jotun. With its painterly backgrounds and cell shaded art, Jotun is reminiscent of some of the older Disney films. Our favorite art in the game is for Kaunan, the Fire Jotun (pictured above). The dark background makes the lava of his hair and firey cracks in the ground really stand out. You can check out Jotun: Valhalla Edition now on Steam, PlayStation 4, Xbox One, and Wii U or Nintendo Switch when it comes out on April 27th.
What are your favorite games that feature fabulous art styles? Let us know in the comments below and be sure to check out Game Engine (on Twitch and Alpha Tuesdays at 4 PM Pacific) to learn more about the coolest things in the world of games with Erika and Trisha.
Want more video game goodness?
Hailing from New York, Jessica Fisher is a writer, artist, and all around geek. In addition to Geek & Sundry, she writes for Gameosity.com and produces the Gameosity Reviews Youtube Channel. Find her talking about all things geeky on Twitter as @miniktty.
Image Credits: Trinket Studios, Hidden Folks, Team Cherry, Asymmetric, Thunder Lotus Games